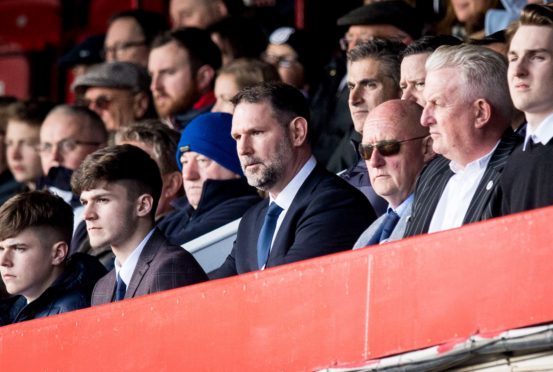 Dundee managing director John Nelms hopes the move to a new state-of-the-art stadium will be completed by 2020.
The club announced last year that they intended to leave Dens Park and build another ground and training facility at a site off the Kingsway, close to Camperdown Park.
Nelms is at the forefront of the complex project that also involves the likes of Transport Scotland and Dundee City Council.
The American is confident they are now close to "pushing some buttons" to take the stadium plans to the next stage in their development and the club will be in their new home within two years.
He said: "We have gone quite quickly to get to the point where we are at.
"We are in negotiations on a couple of different levels that are very important to the whole process.
"Once we get past those two or three milestones, then we will be off and running.
'We are very close'
"But we are very close to pushing some buttons and reaching those milestones.
"We are getting ready to appoint a development partner and we are working on how we are going to enter and exit the site.
"The trunk road system goes through Transport Scotland and they have been good to work with but we are just trying to make sure it is right for everybody.
"Local government has been fantastic all the way through and very supportive.
"Dundee City Council is very progressive and they really want the city to take another step forward."
Nelms added: "Ideally, we would like to be in the stadium by the 2020 season.
"Now whether that is the beginning of the 2020 season or the middle I am not really that bothered.
'Everybody is excited'
"I just want it up and running in the right manner and I don't want to rush it.
"This is something we need to get right first time so when we go in everybody is excited.
"I would even like to have a few dry runs with concerts or something like that before the football crowds come in just to make sure everything is spot on so you have a really good experience and you want to come back week in, week out."
While Dens is very much Dundee's spiritual home, the famous old ground has become an intolerable drain on resources with Nelms revealing it is costing a huge amount to maintain it.
He said: "Just to keep Dens standing is very expensive – £300,000 plus per year.
"That's not enhancing it in any way for fans coming through, that's just to keep it standing.
"Since we started here, we have probably rewired most of the building, re-plumbed a lot of the building, anything we can do to keep it going.
'Dens….is almost like the Forth Road Bridge'
"We have added certain things for safety but it is almost like the Forth Road Bridge – you start at one end and by the time you get to the other end you need to start over again.
"This building was built in 1899. It is always going to need work.
"Every match to make sure we get our safety certificate, there are always works we need to do. That's every game."
Dundee rent Dens Park from former Dundee United director John Bennett with the club tied into a lease that is set to run until 2036.
However, Nelms insists that when the time comes to finally move to the new stadium, he will "solidify" things with Bennett.
He said: "For a long time, John and I have had an understanding of what has to be done with Dens at the time.
"John is a man of his word and we have a good relationship.
"At the time when we are ready to go, we will solidify all the things with John.
"John has allowed Dundee to be here at a time which was our darkest hour (administration) and working through that.
"He was very helpful to the club at that time and has been very good to the football club."
While there is still a huge amount to be done before building work can even begin, Dundee fans have already started contemplating what the new stadium will be called.
However, Nelms admitted he has doesn't have a name in mind at the moment.
He said: "Not yet. The fans might have a name for it already but I think when we get closer, we will put it out there and start to talk about what the name can be and what's important in the name.
'The Nou Campy might stick…'
"People are already calling it the Nou Campy, Dens Park West, all these different bits and pieces.
"I think the Nou Campy is quite funny and that might stick, you never know.
"But it is something we will take seriously as that is what it will hopefully be called for the next 100 years."
Nelms also admitted he would not have a problem with the stadium carrying a sponsor's name in its title.
He said: "I would definitely contemplate that. But for instance, if we had a sponsor for Dens Park, then it would be whatever stadium at Dens Park.
"That would be the same (at the new facility) where you would have the underlying stadium name and then the sponsor that goes with it.
"We are always looking to bring more funds into the organisation and if someone is wanting to put their name on the stadium then we are obviously doing something right."
---
Read the second instalment of the John Nelms interview in Thursday's Courier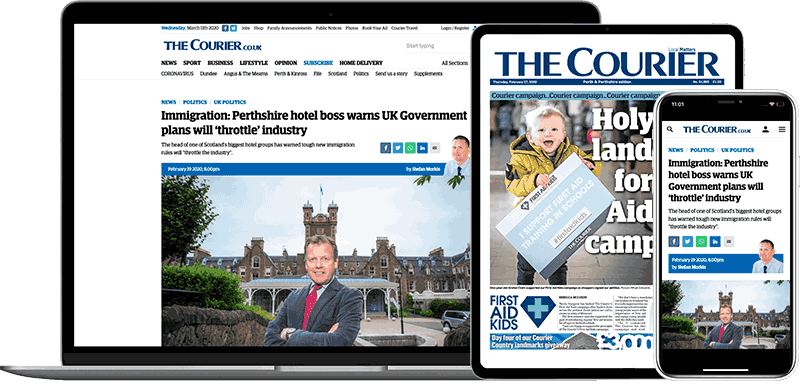 Help support quality local journalism … become a digital subscriber to The Courier
For as little as £5.99 a month you can access all of our content, including Premium articles.
Subscribe