 Blair Spittal has absolutely no doubt Dundee United can still catch Hibs in the Championship promotion race.
But, right now, the attacker insists all the Tangerines are concentrating on is getting back to winning ways.
A winless January has seen United drop eight points behind the second-tier leaders.
Spittal doesn't pretend to be happy about it but his attitude is very much 'we've caught them before and we can do it again'.
Right now, he sees no sense, though, in looking too far ahead.
"We've been in this position before where we've been quite a number of points behind Hibs and we've come back to catch them.
"We know we are capable of doing that again but, for us, it's all about the next game against Raith Rovers, winning it and then taking things from there.
"We are capable of going on another run like we did earlier in the season but, right now, we just have to take each game as it comes and concentrate on getting back winning."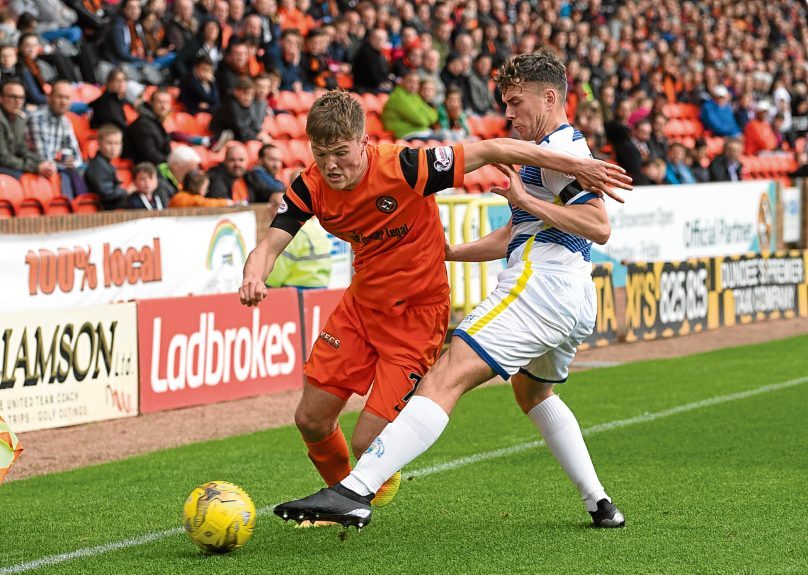 As they attempt to do that against off-form Raith this evening, Spittal believes United can take heart from last week's draw at Dunfermline.
The Pars held them to a 1-1 scoreline but, if the result wasn't right, he feels there was not too much wrong with United's quality of play.
"The past few weeks it's not been good enough, especially after the standards we set earlier in the season. No one needs to tell us that, we know ourselves.
"Last week we went out and we were by far the better team in the game at Dunfermline and had plenty of chances to win. We just couldn't put one away and sometimes you have days like that.
"The encouraging thing was the performance was there and we have to build on that.
"We knew it was going to be a tough fixture and I think they hadn't been beaten in 11 games but we were the better team and I think anyone who was there could see that.
"We just have to look for more of the same against Raith and make sure we win this one."
And although the two meetings with Gary Locke's team so far this season have ended in stalemate, he believes the first half of the 2-2 draw last time the sides clashed at Tannadice is a reason for optimism.
"First half against them that day was one of the best performances we've had this season. We went two up and should have gone on to win.
"We didn't play well second half and they got back to take a point but if we can take that opening 45 minutes and make it into a full game we can win this time.
"They have been struggling a bit but they'll still be a threat, we know that. The times we've played them earlier in the season it has been very tough. They are well organised and they've got good players.
"We just have to concentrate on ourselves and make sure we win."
Today will also mark what's become a rare day at home in recent weeks. Since Christmas Eve only one of United's five fixtures has been at Tannadice and Spittal is looking forward to getting back there.
"We have played quite a few away games recently, so it will be nice to get back and, hopefully, get a win in front of our own fans.
"It's a wee bit different with what we're used to with the game kicking off after five o'clock but it will be good to be at Tannadice ."