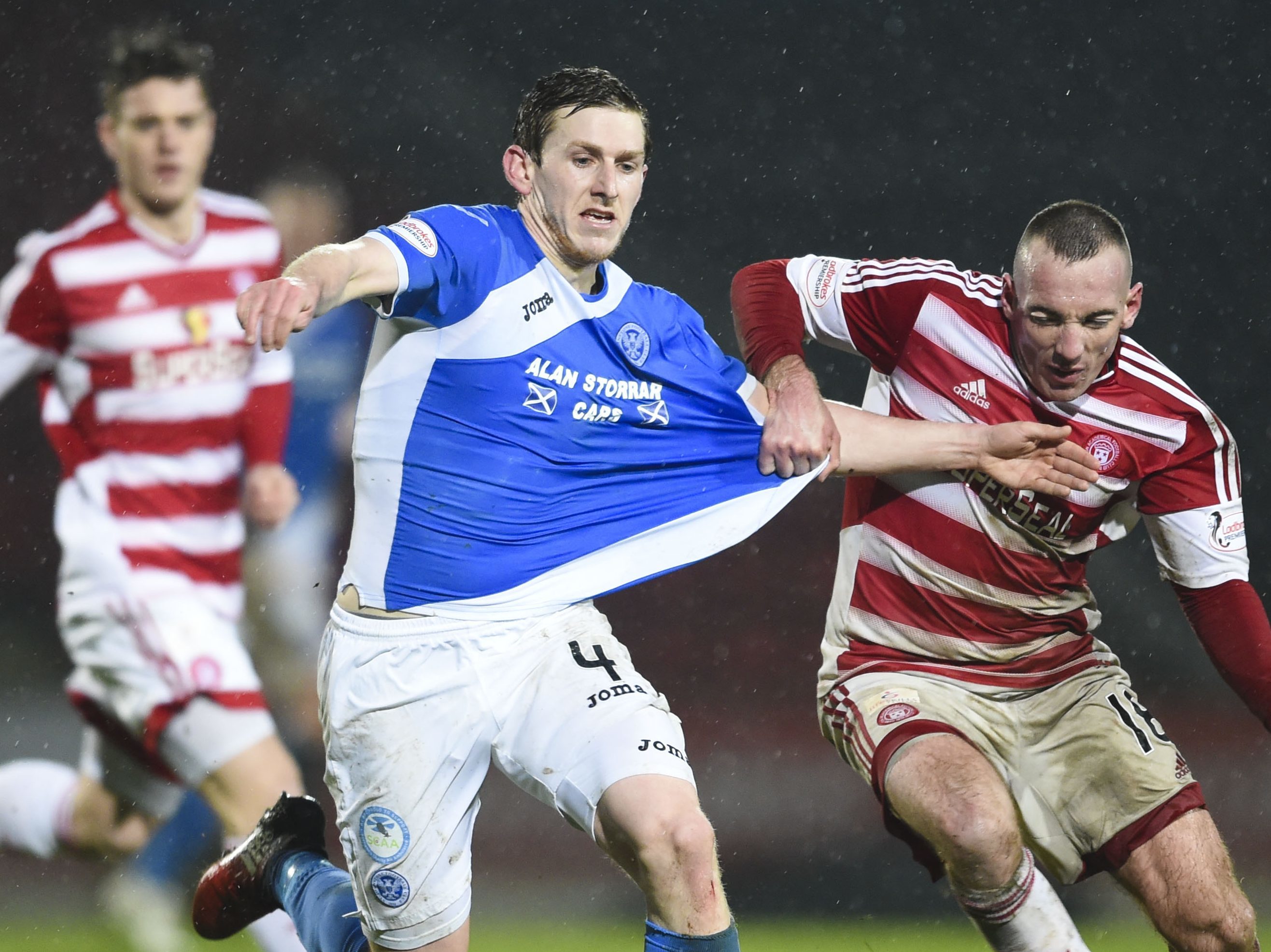 Blair Alston might not have been the most willing participant in St Johnstone's #PaintItBlue marketing campaign.
But one of the 'stars' of the Perth club's promotional video that became an internet sensation is relieved that he and his team-mates produced a result against Hamilton to make it all worthwhile.
The crowd of 3,279 that witnessed Saints' 3-0 win was thought to be around 800 up on what they would have normally expected for this fixture.
And Alston hopes the convincing victory will bring a lot of them back to McDiarmid Park in the future.
"It was just supposed to be a bit of a joke to get people talking about the game," said the former Falkirk midfielder. "Nobody expected it to go as viral as it did.
"I got a fair bit of reaction – and some of it wasn't great! It was a mixture.
"I think Midgey (Chris Millar) volunteered but the rest of us had to be told to do it!
"Most people saw it for what it was.
"I probably won't do it again but it did the job and I think it came across well.
"The club were trying to get more people to come along and it seemed to work.
"When you look at the weather today it was a big crowd for us. Hopefully they'll want to come back.
"As players it gives you a massive lift when the crowds are bigger. The 12th man is a cliché but it's true. Support can make a difference.
"The more we get, the better.
"It was important we won. It would have been easy not to turn up when the weather was so miserable, so you want to send them all away happy with a good performance and result.
"First half we didn't play very well but, when that has happened, it can almost be a good thing to go in 0-0.
"You know it can only get better. We upped it a bit. They had chances too but from the moment we scored we looked quite comfortable and it was a good win in the end.
"After the second half hopefully they'll think that it is worth coming back."
It was indeed all about the second half for Saints.
The first was a bit of a non-event, with Hamilton probably just the better side.
And that continued into the start of the second period, with Ali Crawford passing up a glorious chance to put Accies ahead when he was through on goal.
The response from Saints was excellent. Graham Cummins scored twice in six minutes – firstly with a header from a Danny Swanson corner and then from an Alston cross.
Murray Davidson completed the scoring, with a glancing header. Brian Easton was the provider on this occasion.
When you saw the way Cummins took his goals, you wouldn't think this was a man who last scored over four months ago.
"Goals are such a massive thing for strikers," said Alston.
"They come alive again when they get one.
"Graham's got two good goals today and hopefully he can now build on that and get a few more for us."
Saints struggled to put away teams like Hamilton at home earlier in the season so this result bodes well for their bid to overtake Hearts in fourth.
"You always have to look at the team above you and do your best to try and catch them," said Alston.
"We want to make sure we finish in the top six but we want to push on as well.
"The club have managed to do that in the last few years and we want to continue that.
"If Hearts are the team above us then they're the ones we're looking to catch.
"We've got some tough games coming up – away to Partick on Wednesday and then Celtic again.
"We've got a good result at Firhill already this season. We know it will be tough but we'll so into it with the same approach as this one and hopefully get the same result.
"We'll just be trying to pick up as many points as we can and see where it takes us."
Manager Tommy Wright reflected: "To win 3-0 would suggest we were the dominant team throughout but that wasn't the case. We put in an improved second half performance and won the game with a bit of quality. It's all credit to the players and it was a pleasing day in the end."