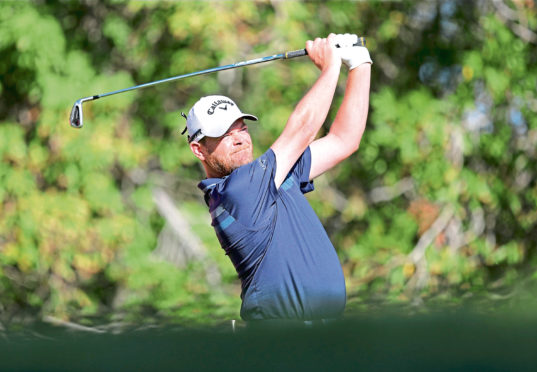 It's not as if David Drysdale hasn't ever had to deal with heartache before, but this one must have hurt even this most stoic of characters.
Truly – and apologies to Jorge Campillo – the fates must have been particularly vicious or whatever supreme being directs us had to be looking elsewhere in Qatar on Sunday.
In his 498th European Tour event, Double D had the chance to win at last, only a 15-foot birdie putt on the 18th green just to negotiate. It flirted on the low side but stayed out.
Five play-off holes later, two of them shared in birdie, Campillo completed his second tour win at Drysdale's expense. The two-decade long search goes on.
The record for most European Tour events without a win is now plainly in sight for Drysdale. There are some who might smirk at this, maybe those obsessed with "winners" and "losers" whose only experience of actual competition is their weekly fixed odds coupon.
They're utterly wrong, of course. While winning that elusive first title – he's been second four times now – is still a firm desire of Drysdale and he strives for it every week, he's actually an exemplar for budding Scottish professionals and any golfer in how to compete, handle himself and, yes, to succeed.
You don't get out on tour unless you're a pretty decent player. You don't stay there unless you're a very good player. David Drysdale is in his 16th successive season as a European Tour player.
Davie's had 19 seasons on Tour in all. In his initial forays on to the Tour, he lost his card by less than £500 in winnings one year, and once lost out at Tour School by one missed putt on the final green.
But he fought off those disappointments and has made himself a fixture on the circuit.
There's a lesson there for the scores of young Scottish pros playing the mini tours who dream of big tournaments and Augusta and The Open.
We can't all be Rory, or even Robert MacIntyre. The truth is that for the vast majority, the real career target should be to stick at the job in the way that Drysdale has.
Is he a journeyman, that term the tour hate so much? Well, yes, but like most journeymen I know, he's reliable, professional, he turns up and does his job.
There are few more popular and united teams in the world of European golf than DD and his wife and childhood sweetheart Vicky, who acts as his manager and has been carrying his bag for the last three seasons.
Team Double D are often an antidote to the characterless world of the modern golf tournament. They are together every day, almost all day, and still seem to be besotted with each other.
Still, no wins, eh? After nearly 20 years. It's too bad.
In 19 seasons as a tour professional David Drysdale has won approaching £6 million in prizemoney. Some loser.
And although his playing form is prone to flucuations, it now seems that Davie will be on tour again for a 20th season, heading well past 500 tournaments and still striving for that win.
If the fates or the supreme being were truly just, he'd get it. In the meantime, he and Vicky have already won at life.
THAT tour's players doing decently
At the Honda Classic last week NBC's Paul Azinger classlessly disparaged those European Tour players – "that tour", he spat – who hadn't won on the PGA Tour.
What he was directly saying was that all those players who have backed into a PGA Tour win, never to be seen again, had proved themselves while World No 10 Tommy Fleetwood had not.
Nobody pretends that the European Tour is the equal of the PGA Tour, not even Keith Pelley these days.
But to suggest the only defining mark of quality is winning, say, the Shriners or the Humana Challenge one year is simply wrong, and an embarrassing take by someone who purports to be a senior analyst on a major network.
Some defended Azinger's "honesty". It was a crass comment not even worthy of those looney radio talk shows he likes so much – or at least used to, he's toned down his right-wing rants on Twitter since moving to NBC.
Still, the best response was for a player on THAT tour to win the very next week. Tyrrell Hatton's victory in the Arnold Palmer Invitational was the fifth successive win by an international (that is, non-American in NBC-speak) player at the late great Arnie's event.
Does this now make Hatton a better player than Fleetwood? Of course not.
The Players goes ahead?
The wannabe fifth major (reminder: it's not) is this week at Sawgrass but tennis has cancelled the lucrative Indian Wells ATP event in California, because of coronavirus fears.
Here, Cheltenham goes ahead as the government debate playing major sports events behind closed doors. We badly need some clarity.
If a few weeks of over-caution (even if it is only that) take us through this fraught spell, then we'll not miss much.
There's a Players every year. There's been 148 Opens so far and we'll probably play at least 148 more, one would hope.
A short gap for the sake of the general public's safety is a tiny price to pay.