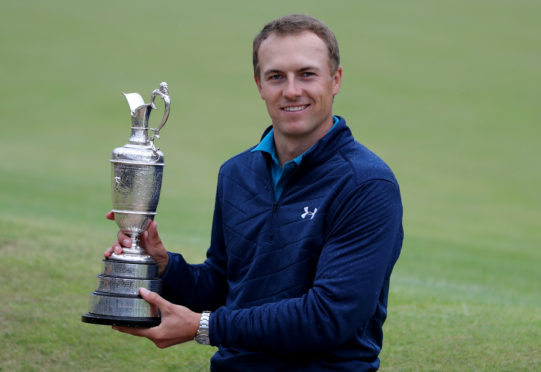 In normal, "precedented" times, this would be Open week. For the first time in over three decades, I'm stuck at home this week in July.
Obviously, it's emotional. 31 Opens in a row broken by a bloody virus. So, through the tears, here's the most memorable element from all 31. Warning: sometimes (often) the golf was NOT the most memorable bit.
1989 Royal Troon. My digs were – no joke – with the local minister and family. Norman's final day 64 was a huge thrill, only for the first of many anti-climax play-offs.
1990 St Andrews. My senior that week claims to have written his "Faldo wins" Monday paper story on Saturday night.
1991 Royal Birkdale. Seve leading on the first day, and the palpable excitement that was in the Southport air.
1992 Muirfield. The Nether Abbey Hotel, North Berwick.
1993 Sandwich. Norman's Sunday 63 to win from the front, pursued by everyone else who was halfway good at the time.
1994 Turnberry. First time as Courier lead golf writer, and I luckily picked Nick Price as the winner in my preview. Only happened one other time.
1995 St Andrews. The wild, excited reaction in the media tent when Costantino Rocca holed out from the Valley of Sin.
1996 Lytham. So hot they had to open up the ends of the media tent to get air in and stop people fainting. Digs on the South Esplanade at Blackpool…I still shudder 24 years on.
1997 Royal Troon. First year pro Tiger Woods experiencing gorse for the first time – a lot. We all wanted Jesper Parnevik to win; it was not to be.
1998 Royal Birkdale. Stayed in St Helens…not a great idea. Mark O'Meara's anti-climax play-off win against the never-seen-before-and-never-seen-again Brian Watts.
1999 Carnoustie. I think you might all recall this one. Eventful.
2000 St Andrews. Tiger had it won Friday lunchtime, before he started his second round. He was that good then.
2001 Royal Lytham. 10 different people led on Saturday, and Ian Woosnam had too many clubs on Sunday. Our rental house was literally one street from the clubhouse.
2002 Muirfield. I'm a long-time Ernie Els fan, but in the end we just wanted anyone to win the double play-off involving twenty people. Well, it felt like that many.
2003 Sandwich. Tiger took a triple on the very first hole, and eventually lost by two shots to unknown Ben Curtis. The country pub across the road from our rental house did lock-ins.
2004 Royal Troon. I had £50 on Ernie to win, and he lost a play-off to unknown Todd Hamilton. Still bitter.
2005 St Andrews. Monty got to within a couple of shots at one point, but…my pre-championship prediction was right for the second and last time.
2006 Hoylake. Possibly the best off-piste Open of them all – insanely hot, a big rental house in lively West Kirkby where the owner left us a keg of his home brew. Sergio Garcia deciding an all-yellow ensemble was a good way to intimidate Tiger on the final day.
2007 Carnoustie. Harrington winning after doubling the last. Sergio in defeat trying to claim that some higher power was against him. He had a point.
2008 Royal Birkdale. The Brazilian (I kid you not) Golf Association do on Southport pier. Also, Paddy's last nine holes to win after he almost withdrew pre-championship with elbow issues.
2009 Turnberry. Can you imagine having the greatest story in your reporting career in your grasp and having it stolen away by…Stewart Cink?
2010 St Andrews. Wet and miserable. Louis Oosthuizen coasted it with a highly favourable draw.
2011 Sandwich. A night lasting well into the morning at the Zealand Arms, a pub which sits right on the beach just south of Deal. Going back there next year? Hope so.
2012 Royal Lytham. Discovering my hotel on St Annes seafront was just across the road from a statue of the great Les Dawson. And a totally unexpected second Ernie Els Jug.
2013 Muirfield. Fabulous weather, the grass baked brown, the Old Clubhouse Bar in Gullane, and Phil Mickelson playing a course like marble superbly on a dramatic final day.
2014 Hoylake. The Plasterer's Arms, Hoylake village. Rory dodges some of the most biblical rainstorms I've ever seen, and hugs his Mum at the 18th.
2015 St Andrews. A gruelling week with floods and gales, but a better tournament than most remember, only for the standard anti-climax play-off won by Zach Johnson.
2016 Royal Troon. The best golf and final 36 holes in my time. A two-horse race between Henrik Stenson and Mickelson, and genuinely thrilling from Saturday morning to Sunday night.
2017 Royal Birkdale. Jordan Spieth leads comfortably, blows it, loses his marbles and regathers them in the space of, roughly, 150 minutes. The Scarsbrick Hotel bar and its enormous array of real ales and whisky.
2018 Carnoustie. Brown and beautiful Carnoustie played like it should on the final day. Francesco played the weekend without a bogey, Tiger blew it.
2019 Royal Portrush. The town played a complete blinder. The championship not so much…well, the Irish liked it, and of course they should have.