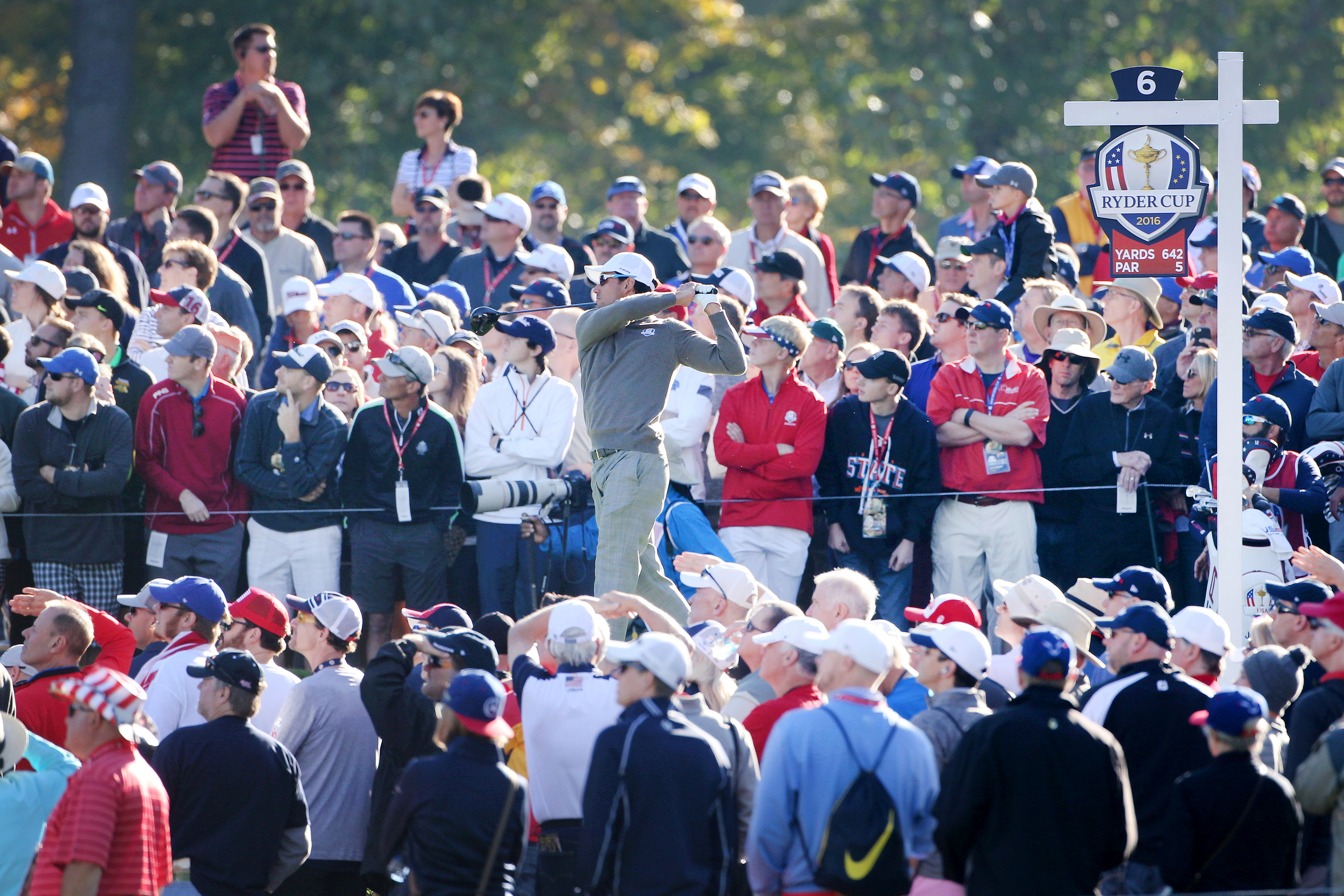 One loss in four editions, two in the last eight, three in the last eleven. Yes, Europe's Ryder Cup predicament is some kind of crisis.
Given Europe's utterly predictable loss at Hazeltine, the panic has set in, apparently. An overhaul of Europe's system is needed, the USA have stolen a march on us with The Task Force!
We've even had calls for a call to bring back the Professor Emeritus of Ryder Cup Studies Paul McGinley as Europe's saviour, which is hugely ironic for reasons I'll address below.
Seriously, people, calm down. Nothing needs to change.
Now, accuse me of having my head in the sand if you like. But to me tampering rather than the natural tinkering with Europe's template is throwing the baby out with the bathwater.
There's been much talk of changing the qualification system, especially in the initial period.
There were unquestionably European players at Hazeltine who had edged on form, but none of them had qualified "too soon". Chris Wood and Matt Fitzpatrick got across the line in the last two weeks.
Rafa Cabrera Bello tied up qualification at the WGC Matchplay in April but took two and a half points out of three.
The only two who qualified early but didn't win points were Andy Sullivan (who got just two matches) and Danny Willett. Is there any scenario whatsoever other than serious injury where a Masters champion does not play for his Ryder Cup team? Of course not.
Two years ago at Gleneagles the European template was the stuff of genius, so good that The Task Force! borrowed it wholesale. But somehow now it's not fit for purpose?
Of course not. Europe had six rookies in what was a transitional team. I don't think Darren Clarke handled things as well as he could have but he was always too reliant on his senior players.
He wasn't to know – and it was horribly cruel timing – that his great friend Lee Westwood was about to burn out as a Ryder Cup player after such a magnifcent career in the matches. And he was also unlucky to discover that Martin Kaymer, while an fantastic player, is not leadership material.
The reaction of some reminds me very much of the reaction when Tom Watson was appointed US captain for Gleneagles. The self-same people now calling for an overhaul of the system wanted McGinley, then a warm favourite for the European captain's job, removed for someone with more "star quality".
Mercifully, wise heads among the players prevailed. Watson turned out to be a disaster as captain, McGinley ran a near faultless campaign based on the template.
It worked, and it'll work again. There's no need for an overhaul.
For my money, with the transition now underway (albeit painfully) Europe are warm favourites for Paris.
Too many cooks? Do it yourself
It's been a rollercoaster for Marc Warren, who bounded free of Tour Card worries at the Alfred Dunhill Links on Sunday.
Yes, it's ridiculous that a player of his ability – the best natural talent of his generation in Scotland, most agree – and a three-time winner should be battling to stay on the Tour.
It's only 18 months since Marc was cracking the World's Top 50. But even that was only three years on from when he regained his card with a similar performance at the Dunhill.
There's no way he should be relying on the inflated prizefund at the Dunhill Links to keep his playing rights, although we should be pleased he has.
I have to admit that I had begun to think Warren might not have it mentally to be a consistent force.
Sometimes the impression was he seemed too content to be a big fish in a small pond rather than push on into the elite where his talent could certainly take him.
But his story at the weekend suggested otherwise. Although not blaming anyone but himself, he drew a picture of a player striving for swing perfection but with just too many opinions swimming around his head.
The weekend's turnaround came, he said, from just figuring it out for himself, having the strength to be self-reliant.
And rather than super-technical swing advice, a couple of £30 training aids he found online and bought with his wife's Amazon account got him swinging the club freely.
It's early, but if self-reliance means Marc Warren starts to live up to his full potential, watch out.
To the brink, but still no Tiger
Rumours were circulating widely at Hazeltine that Tiger Woods would not make his scheduled re-entry into elite golf at the Safeway Open in Califronia scheduled for this week.
The fact that "The Big Cat" (when did that start?) didn't seem to take even a swing during his week's duty as vice-captain certainly didn't bode well. But then on Friday his name was on the player list by the deadline and it seemed all systems go. There was even talk of him being paired with new best mate Phil Mickelson.
Instead, by Monday afternoon US time Tiger's real best mate Notah Begay revealed that the Big Cat's claws weren't up to standard on his short game. You have to assume it's the chipping yips again that plagued him towards the start of his torturous 2015 season.
He's also not playing in his second "hoped" start, the Turkish Airlines Open. So by a fairly roundabout way, I was (eventually) right in saying in January that his first start of 2016 – if he played at all – would be in his own season ending knockabout, the Target World Challenge.
He says in the statement released last night that he's going to work as hard as he can, inspired by his experiences at the Ryder Cup. But you have to think that this might be the point of no return; if he's freaked out enough to avoid the Safeway Open, has his nerve gone completely?
The comeback seems as far away as ever. And if it is the end, what a sad way for it to happen.