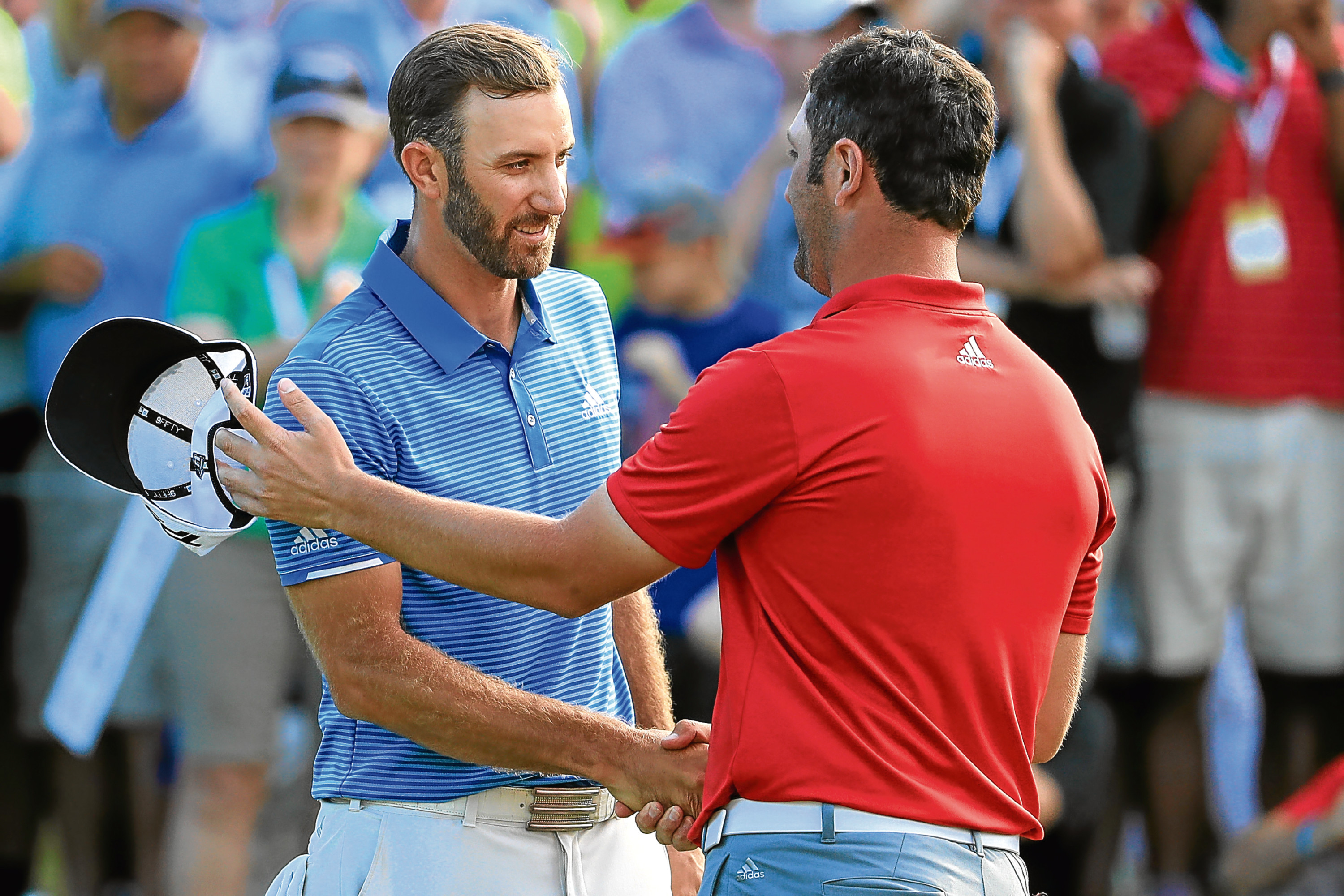 There's no question and should be no debate whatsoever now – Dustin Johnson is the best golfer on the planet.
DJ's win in the WGC Dell Matchplay at Austin at the weekend – he never trailed in seven matches and required to play the 17th and 18th holes just once because of the doggedness of Jon Rahm in Sunday's final – is his third victory in succession.
It's also his second win with the "burden" of being World No 1 on his back. Both of those, remember, have been WGC events with as strong fields as the entire season will provide.
He now has a full house of WGC victories – I can't bring myself to call it a grand slam – which is a unique achievement. Yes, even Tiger Woods, who collected the Wedgwood WGC trophies for fun, never won the HSBC in Shanghai.
It's odd but right up until his US Open victory at Oakmont last year Johnson was not really spoken about as being part of the big rivalries at the top of the game.
Much of that was down to the series of brainstorms he'd endured at top events but even Rickie Fowler, who really isn't anywhere near DJ's class as a player and as a winner, was quoted as potentially forming a big four with the staples of the modern day "Big Three" of McIlroy, Day and Spieth.
Still we have some saying that there's still not so much as a Rizla paper between Johnson and the rest of the world's top five "when they're all playing at their best". Maybe so.
But I don't see any of the others being anywhere near their best and little prospect of them suddenly happening upon it, certainly not in time for Augusta.
Rory McIlroy alone among Johnson's rivals is the sort who can flick a proverbial switch and go on a streak – he did in in 2014 after the emotional trauma of Wentworth that year.
But that seems clutching at straws as he continues form which varies wildly from round to round. After missing the weekend in Austin he seems seriously underplayed and unlikely to find the consistency required to win next week.
Spieth, with a 2nd-1st-2nd record at Augusta, should have no qualms but with his trademark honesty admitted last week that he can't wait for the 2017 Masters to be over so he can banish the memory of his demons from last year. Doesn't overload you with confidence for his attitude, and neither does his absence from the weekend at the Matchplkay..
Meanwhile Day has had another distraction in his understandable reaction to the serious illness suffered by his mother. Given recent injury, illness and now this emotional trauma, it's impossible to believe that the Australian – who appears to be a sensitive sort anyway – can be anything like properly prepared for Augusta, although no-one would blame him at all for that.
In contrast to his supposed rivals, Johnson is switched on, focused and all elements of his game seem to be in complete order. He's won at a classic course at Riviera, at altitude in Mexico City, and now in a quirky layout at Austin.
There's no Big Three, or Four, or Five right now. DJ is out on his own and he's as prohibitive a favourite for Augusta as there's been since Tiger was going for four majors in a row in 2001.
Rahm on the rise
You can hardly deny the results of the Matchplay at Austin in the first two years there. Jason Day, the world No 1 at the time, won in 2016 with Rory McIlroy in the final four.
This year we saw the pre-eminent player of the moment winning with a likely contender to challenge him if not right now, certainly within this calendar year.
Jon Rahm hasn't exactly risen without trace; the 22-year-old Spaniard had an exemplary amateur career and we knew he was coming…just not with this speed.
But that's two top threes in his first two WGC events and a win at Torrey Pines already in 2017.
Rookies don't tend to win at Augusta so I'm not piling the family silver on him there, but he's certainly got every bit of the power game that plays so well now, and a big win somewhere is inevitable.
Too slow even for the slowies
The annual Golf.com Anonymous Player Poll found 84% of those on the PGA Tour think slow play is a problem there.
Which surely encompasses some prominent miscreants because I'm positive more than 16% are guilty of it.
More than four-fifths of the tour think this is a live issue. Which makes one wonder why commissioner Jay Monahan has publicly dismissed it and the tour referees habitually do nothing to combat it.
Last week William McGirt's ludicrously prolonged pre-putt routine was featured on Twitter by – of all people – rebellious cricketer and golf enthusiast Kevin Pieterson.
KP's exasperated commentary as McGirt examined all angles of an eight foot putt (before missing, inevitably) went viral in the US as well as Europe.
McGirt's antics provoked almost universal condemnation. Maybe we've got a welcome groundswell of opinion developing here.