Justin Thomas may, like so many before him, fulfill the template of the modern player who breaks his major championship duck at the PGA Championship.
In exactly half the 28 years since 1990, the PGA has been won by a first-time major winner who has not gone on to win another major.
Okay, none of us expect Jason Day to be a one-time major winner (although the odds are shorter than they were two years ago), but that's still a lot of guys. Of all first time winners in the PGA during that spell, only three – Nick Price, John Daly and Martin Kaymer – have gone on to win another.
Thomas is just 24, the youngest of all those debut winners. He's paid some degree of major dues already, including being the last of the legion to shoot 63 in a major before Branden Grace erased them all with his 62 at Birkdale.
He's been in the shadow of his famous mates Jordan Spieth and Rickie Fowler until this year. Oddly, Quail Hollow was his first Tour victory on the US mainland; his previous four wins were all in Malaysia and Hawaii.
But there's been a feeling for a while that Thomas was on the brink. I hastily picked him as one of 5 to watch at Royal Troon last year (on the theory that it is historically a good venue for unfancied Americans) but just 13 months too early.
Justin rode his luck a little – twice on the 10th, when his ball took a favourable kick off the trees and his birdie putt took a long pause before dropping – but even after a tough start it seemed he had a little more gumption for the final stretch than his playing partner and the probable favourite for the final 18, Hideki Matsuyama.
Thomas' tee shot and birdie at 17 proved that beyond doubt. Matsuyama, notably described by Graeme McDowell as "the best player in the world for the last 12 months" may find this one stings for a while; his game went missing in the middle of the back nine just when he needed it to be rock solid.
As with so many PGA winners, there's this 230-day gap before the next major. Thomas is in a peer group that will probably keep him intense (how much pressure is on Fowler now?) and there's a couple more majors at least in him.
Take a break, Rory
As we discussed last week, Rory McIlroy's prohibitive odds for Quail Hollow were logical if you hadn't watched him play the last five weeks.
His short game is in bits, and no matter how awesome his long game is (and it's plenty) it doesn't get the job done. He's done well to stay relevant in the last three tournaments he's played in.
Now the McRib, as it's been cruelly dubbed by some, has flared up again. I don't buy it's the whole cause of his current malaise (it shouldn't hurt him on wedge shots or putting) but it's clearly an issue.
Rory said we might not see him until next year, and that seems a sound move to me. He's got absolutely no reason to play the end-of-season beanfeasts on both tours if he's hurt. Unlike Tiger Woods did, take the time off now.
A year to go…
If the Ryder Cup were next month instead of 2018, Europe would have a decent team – better than Hazeltine – but few of them are exactly in top form.
The four automatics off the world ranking would be Rory McIlroy, Sergio Garcia, Jon Rahm and Henrik Stenson. The four from the European Tour list would be Tommy Fleetwood, Rafa Cabrera Bello, Francesco Molinari and Justin Rose.
Thomas Bjorn's got four wildcard picks (two too many in my opinion) but if he were to take the next four guys off the OWGR, they would be Alex Noren, Paul Casey, Thomas Pieters and Tyrrell Hatton. Since Casey's currently a conscientious objector for some reason, we'd take in Bernd Wiesberger, although Ian Poulter's current strong form and past heroics would certainly make a compelling case.
The US would have a pretty formidable core unit. The eight from the FedEx Cup rankings would be Justin Thomas, Jordan Spieth, Dustin Johnson, Rickie Fowler, Brooks Koepka, Daniel Berger, Kevin Kisner and Brian Harman.
Jim Furyk also has four wildcards and if he doesn't make heinous errors like predecessors Lanny Wadkins, Hal Sutton and Davis Love (in 2012 at least) then the next four off the OWGR are Matt Kuchar, Patrick Reed, Charley Hoffman and Kevin Chappell, although Hazeltine "co-captain" Phil Mickelson is next and might get bumped up.
That's four rookies for Europe (if Poulter were picked instead of Casey and Wiesberger) and six in the US team. But course there's the joy of 12 months worth of buildup madness to Paris still to come.
Being fair to the Beeb
T2G is no great fan of BBC TV, and the way it has effectively walked away from covering live golf. But most of the criticism levelled at them for their "broadcast" of the PGA was stupid, disingenuous, agenda-driven or all three.
Four weeks ago we had no UK TV pictures of the championship, due to the breakdown of talks between the PGA of America (actually IMG, their TV rights mediators) and Sky.
The BBC, for once fulfilling their public interest remit in golf, stepped in. There was no bidding competition between Sky and the Beeb for the rights, it was a cheap, expedient deal to get pictures on UK screens somewhere.
With such late notice (and the World Athletics Championships on), the BBC squeezed it in where they could. They were never going to match Sky's coverage because there was no time and anyway they don't have the resources.
The Beeb are not coming back into live golf. They don't have the money and, hard as this is for golf fans to accept, the sport has zero ratings value for them.
In these circumstances, comparing the Beeb's cut-price package with Sky is plainly ludicrous. Those complaining at the quality of the coverage last weekend are like homeless people being given a flat and then constantly moaning that it doesn't have a butler and maid.
All the ire should be directed at Sky and the PGA whose mutual brinkmanship meant we almost got no TV pictures at all. The BBC's "tired and laboured" coverage was definitely better than nothing.
Personally, while the BBC coverage was dull and basic, I didn't much miss Sky's ads, their constant nattering away from the golf, the cheerleading and Butchie shouting "attaboy Rickie!".
But hopefully the result of all this is them swiftly negotiating a deal for proper coverage for the future.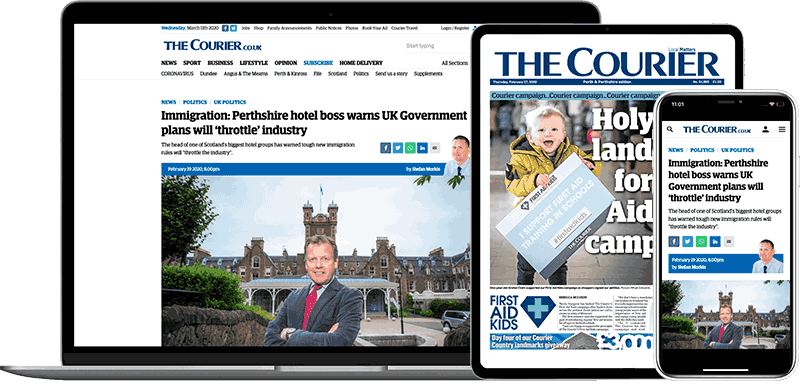 Help support quality local journalism … become a digital subscriber to The Courier
For as little as £5.99 a month you can access all of our content, including Premium articles.
Subscribe