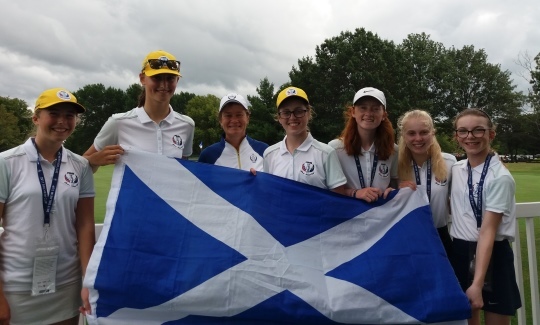 The idea was only that six golfing girls – all under 14 – would try to inspire each other to reach for and maybe gain a place on the Junior Solheim Cup team at Gleneagles in 2019.
The six formed a WhatsApp group, using the social media messaging site to encourage each other and set goals. As far as the Solheim Cup in 2017 was concerned, the initial idea was that they would simply get together to watch it together on TV.
Instead, on Sunday two of the #Project19 girls, as they became known, were on stage at the Solheim Cup closing ceremony to accept the handover from Des Moines to Gleneagles.
Crail's Anna McKay and Eilidh Henderson from Kirkcaldy were the two of the six chosen for the nerve-wracking ceremony in front of millions watching on TV across the world, and they and fellow Fifer Evana Hynd (Balbirnie Park), Scottish Girls champion Hannah Darling (Broomieknowe), Turnberry's Rachel Foster and Carmen Griffiths from Aboyne were unquestionably Scotland's most popular ambassadors at Des Moines.
The girls started #Project19 largely themselves, but word perculated through to their coaches, to Scottish Golf and eventually to VisitScotland, who were looking for a different kind of representation in their party at Des Moines to "men in suits".
"It was really just a bunch of friends trying to inspire each other," said Hannah, who became the youngest-ever winner of the Scottish Girls title at Scotscraig in June. "We wanted to make some team goals and set on making the Junior Solheim Cup team in 2019.
"We didn't ever dream of coming to this Solheim Cup. We were just planning to get together to watch it on TV! To actually be there was just amazing."
The girls even raised funds towards their trip with a golf day in June, and since they were told in April they were going to Iowa, it's redoubled their playing efforts. Hannah won the Scottish girls and Under-14s and played in the home internationals for Scotland at still only 13 years of age. Anna, meanwhile, became the youngest-ever Fife Ladies champion and reached the quarter-finals of the Scottish Women's Championship.
"This year I was just so inspired after knowing we were coming here," said Hannah. "And now I've been here I'll be even more inspired, having watched the pros and watched what they do, everything about them, it'll push me on me so much. It's been one of the biggest experiences of my life."
The girls were given a free run of the Des Moines Golf and Country Club, and for Anna it's also an experience she'll never forget.
"It was really good to be out here," she said. "It was amazing getting to see some of the world's top players close up and also doing their own thing, both on the course and on the practice area.
"It has definitely topped a great year for me. I won the Fife Women's at St Andrews and I also got to the last eight in the Scottish Women's. I also won the Crail ladies' championship and also now hold the course record after shooting four-under.
"It would be so special to play in the 2019 Junior Solheim Cup, especially as it is so close to home for me. All the girls in the #Project19 group are all the same age and close friends so we bring each other on."
Nothing could be much more nerve-wracking than appearing at the closing ceremony, where even European skipper Annika Sorenstam praised the girls' performance.
"We were only finding out at the start of each day what was in store for us and that was a huge honour.
"It was nerve-wracking but what we had to say seemed to go down well and it was great to see all the players smiling when we were up there alongside them."
The girls met the players from both teams and left galvanised for their main goal – making the Junior Solheim Cup team in 2019.
"The thing is now we know if we work hard enough we can achieve it," said Hannah. "We saw the standard of the girls here (in the junior event) and they're all class players, but it's not far away.
"I just need to tweak some more things, become a bit steadier as a player, and I can definitely do it."