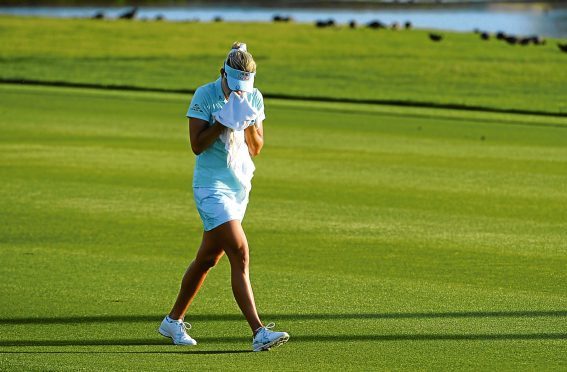 It's no good, the urge to play devil's advocate is just too strong. But I'm not driven by mischief, I just think there's a lot more to yesterday's rules policy change by the R&A and USGA than meets the (TV) eye.
The governing bodies, after consulting with the major tours, have decided that from January 1 viewer "phone-in" TV evidence can no longer be considered for breaches of the rules which are not picked up by players or referees.
Seems fair enough, you think. The cliché of the self-important armchair ref calling up about a ball moving an infinitesimal amount to "catch" a blameless player seems to be the overriding narrative here.
Yet in all but a couple of instances where phone-in evidence has resulted in penalties, this has not remotely been the case.
Most "call-ins", historically, are not from Joe or Jim-Bob Weekend Hacker. Those are generally dismissed by experienced tournament directors, quite rightly.
The ones they pay attention to are those from qualified refs who have noticed a rules breach and are generally motivated not by "catching" an innocent player but wishing to help fellow refs avoid controversies or errors.
The most famous "call-in" instance of all, of course, was Tiger Woods' dreadful drop at 15th on the Friday of the 2013 Masters.
The caller there was not a hack but David Eger, a distinguished former amateur player and qualified referee and he simply didn't want his friends and colleagues at Augusta (where he'd reffed himself) to be embarrassed.
And Woods' drop was a very blatant breach of the rules – which wouldn't have been acted on at all had he not boasted about how clever he was in a post-round interview, blissfully unaware he'd made a rules breach.
Similarly blatant was Lexi Thompson's clearly erroneous marking of her ball on the green at the ANA Inspiration, which seems to have been the instance that has provoked this change in policy.
One aspect of the policy change is welcome here; no more secondary two-shot scorecard penalties, which were always unfair.
If a player is unaware he or she has made a rules breach then how can they be culpable for the scorecard? That makes no sense at all and was an example of golf's rules being simply too brutal.
But Thompson definitely, although inadvertently, breached the rules. It was a real shame it cost her the championship but we're not dealing with any miscarriage of justice here.
I still wonder if things had happened the other way around, and So Yeon Ryu had lost the title while Americas's golfing sweetheart had benefitted, whether there would have been quite so much furore.
But indeed, where in all the instances of phone-in penalties has there been an actual miscarriage of justice?
I'd make a case for Padraig Harrington at the Abu Dhabi Championship of 2011, where his ball barely moved a dimple.
But Paddy took his medicine and didn't consider it an injustice, under golf's old "a millimetre is as much as a mile" philosophy (which was and still is daft in my opinion).
This change of policy is a bit like the imminent change allowing repair of spike marks on the green, an alteration that seems reasonable on the face of it but has definite potential to be a charter for cheats.
While we're here, can the R&A and USGA plese stop faffing around with their outdated three-yearly "review" of the rules?
They seem to easily find an excuse to change some rules when they want. Just renew the rulebook every January.
Tommy at Carnoustie – don't bet the farm
It's still eight months until we head for Carnoustie for the Open but there's some early speculation.
A reasonably well-argued treatise for finding a Claret Jug winner I read suggests, not entirely implausibly, we should study Dunhill form, that being where so many players get a good look at Carnoustie.
And after all, didn't Padraig Harrington win two Dunhills and then win the Open the last time it was on the Angus links in 2007?
And looking down recent form on Carnoustie, Tommy Fleetwood not only now has the course record of 63 but also the best record to par of any player over the last five years! Sign me up! Where do I put down the whole farm?
Except…Tommy had the best cumulative record on the Old Course in the Dunhill prior to the 2015 Open, some laid heavy on him as a result, and he missed the cut.
The Dunhill is a totally different animal to the Open, a cuddly puppy to the Open's rabid wolf. Pins set up for amateurs, no rough to speak of, only a few of the back tees in play. It's the same topography, but not a valid comparison.
Yes, Paddy in 2007. But that's a tiny sample size, and mental fortitude as much as anything carried him to the Jug that year.
Ball strikers who keep it in play are what you should be really looking for. And not until June at the earliest.