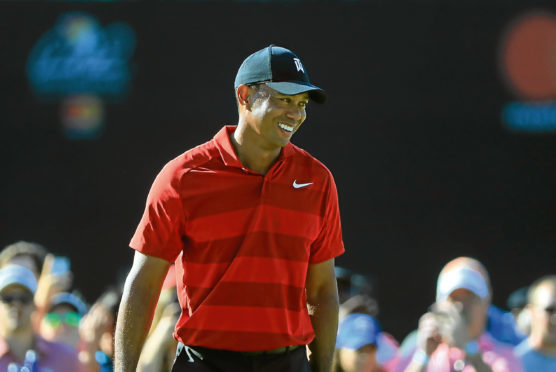 Okay, this is going to be something of a departure from recent editions of T2G. About as opposite as you can imagine, in fact.
The column has, I must freely admit, been a tad gloomy of late. Indeed a colleague of mine recently asked whether I had penned another missive on my "impending death of golf" series.
So I've been conscious that we've been needing some light relief or optimism in this page. The weekend, however, went a lot further than that. This may in fact be no less than joy unconfined.
The events at the Arnold Palmer Invitational offer a massive shot in the arm to the game as a whole. Even watching during an eight-hour flight delay at Heathrow, this was uplifting viewing.
There's no sense in pretending – as the PGA Tour usually do – that there's precious little trickle down of influence from the elite game to the ordinary golfing world. What's happening at the elite end now can surely lift the entire sport.
The foundation to it all, no question, is the comeback of Tiger Woods. It's a fantastic development for the game, a redemption story in the making that could match anything in the history of sport.
There is no-one who is truly honest out there who is not astonished by Tiger's speedy competitive relevance. That includes him – as he said at the weekend, if offered two top-five finishes eight weeks ago, he said, he would have grabbed them.
Perhaps healthy for the first time in nearly a decade (hindsight is pointless, but if he'd not tried to play hurt so often what might have happened in that time?) and playing within himself mostly, his old instincts and golfing brain have taken over rather than brute power, although he's still showing a bit of that.
.@TigerWoods in Florida in 2018:
12th
T2
T5

It was another sensational Sunday for 🐅 @APInv. pic.twitter.com/5hoHUkSc1s

— PGA TOUR (@PGATOUR) March 19, 2018
A big part of it also is the redemption narrative, that the public as a whole seems to want to embrace.
It helps – a lot – that Tiger seems less aloof and a more sympathetic character. There is definitely a will from the galleries for him to succeed much more than he had at his peak.
He's still not won yet, and there's been a lot of silly stuff coming out of various bookmakers about Augusta and what lies ahead. But what a joy it is to see a Tiger who looks engaged and consumed by the challenge rather than hunted.
And what a joy it is that his presence seems to have inspired everyone else.
Rory McIlroy, after some dispiriting form since he returned to America after a decent start to his 2018 on the European Tour's Desert Swing, sprung to life to win the API in fabulous fashion, birdieing five of the last six holes.
Back-to-back-to-back.

Rory was absolutely on 🔥 in the final round. pic.twitter.com/hj7rlJsWrv

— PGA TOUR (@PGATOUR) March 19, 2018
It was Vintage Rory, the kind of unexpected surge that often leads him into a streak of form when he can be all but unstoppable.
Is Woods' re-emergence the catalyst? Rory seemed to indicate no, it's just the breakthrough he expected sooner rather than later since he himself is now healthy.
The best shots from @McIlroyRory's victorious final round at Bay Hill.

👆▶️🎥 pic.twitter.com/QTgt7VqICI

— PGA TOUR (@PGATOUR) March 19, 2018
But I'm not so sure. Woods' return is a clarion call to all those young players near the top of the game who in interviews over the last few years have wistfully wished to have had the chance to compete with Tiger in his prime.
Maybe this isn't quite the 2000-01, and 2005-06 primes, but it still looks pretty good. So no wonder the younger guys feel they have to step up.
That counts for Justin Thomas and Dustin Johnson, and it seemed to have inspired Justin Rose and Henrik Stenson at the weekend.
Jordan Spieth, meanwhile, would appear to have picked a particularly bad time to be enduring his first prolonged slump as a pro.
All this with the Masters just a few weeks away, of course. If Woods can contend there – I don't think he even HAS to win a tournament to keep this rollercoaster of emotion and positivity going – then golf is going to benefit hugely in terms of box-office and attention.
Golf boring? It certainly doesn't look that way right now. The game's still got problems, for sure, but Tiger's true worth to the game might be to save it, second time around.
The oddity of Tiger's record
While it was thrilling to see Tiger's charge on Sunday, ultimately it fell pretty short. He wouldn't have caught Rory even without the winner's final streak of birdies, likewise he was some way from catching Bryson DeChambeau, Rose and Stenson.
Similarly, he couldn't catch Paul Casey last weekend in the Valspar Championship. It's actually a pretty common thing.
One of my favourite Tiger stats is that he's never won a major coming from behind on the final day. In every one of his 14 wins, he's been leading or tied (three times) going into the final round.
My friend and colleague Matt Cooper reckons that of his 79 PGA Tour wins, just 23 have come with "last day charges".
It's an oddity because you'd think that with Tiger in your rear view mirror, your average player would panic.
Largely the opposite is true. Even the Robert Rocks or Rich Beems as well as Rory McIlroys seem inspired when Tiger's chasing them down.