It wasn't one of the more satisfying interviews of my career, that's for sure.
It happened huddled around a press officer's phone "on speaker" with five or six colleagues in a back room of the lavish clubhouse at Wentworth, listening to a crestfallen Russell Knox convey his disappointment at not being selected for the 2016 Ryder Cup team.
We'd actually had a while to get over our own disappointment that there'd be no Scottish presence at Hazeltine.
On getting off the commuter flight at Heathrow earlier that morning in transit to Darren Clarke's press conference to announce his wildcards, I'd had a text from a friend stating "Knoxy…doesn't look good".
That was firmed up before we'd even gathered for the taxi share to Wentworth: "Kaymer, Pieters and Westy" read the next text. On arriving, an English colleague, often given to unbearable smugness, greeted us with "Wasted journey, boys?"
A couple of hours later we heard Knox philosophical but obviously upset that he hadn't been picked. He'd won twice in the USA that year and been barely short of automatic qualification, and it didn't feel right.
We're now in an uncannily similar position again, although the circumstances are slightly different. Knox's victory in the Irish Open at the weekend, following his second place in the French Open on the Ryder Cup host course, plus a strong perfromance at the US Open, have pitched him back into the mix for Team Europe selection.
There's a strong case building for the Inverness-born, Nairn-schooled, US-based to be picked. But once again, there's that feeling that Russell isn't one of the European Tour clique, and he's going to have to make his case unanswerable.
Back in 2016, it felt that Clarke was taking a punt on Thomas Pieters' undoubted promise.
On reflection in hindsight – using the Belgian's 4-1 record at Hazeltine – it was more Clarke's reliance on his old friend Westwood and on Kaymer that needed questioning. The pair eventually managed just one point from a possible seven.
One could understand Clarke's belief that the experience of the two stalwarts would hold sway with five rookies already automatically qualified, but he never made that defence.
The best he could do to explain Knox's omission later was his own hunches and that "if he'd automatically qualified, then there would be no issue".
Knox had won the Travelers event on the PGA Tour three weeks before selection and Clarke had requested he play the Wyndham Championship the following week, ostensibly reasoning that the Scot could win more world ranking points to automatically qualify.
Knox declined, reasoning he thought he had done enough – his other victory was the HSBC WGC title in Shanghai which fell outwith the official points race – and anyway he had a prior engagement that week – the launch of his wife's new business in Florida.
Notably, Clarke made no such request or demand of any other player.
Knox had also ruffled a few feathers even among his fellow Scots by selecting his long-time friend Duncan Stewart as his partner for the World Cup a few months before. The rules allowed him as the lead qualifier for Scotland to pick whoever he wanted, but the accepted "protocol" was apparently to select whoever was next in the rankings.
But both these examples showed his loyalty to people close to him, even at the expense of being "one of the guys".
Certainly Clarke's captaincy was always going to be marked by the clique on tour of which he was unquestionably part.
Thomas Bjorn, a major off-course figure within European golf, isn't part of a similar "buddy" clique but you'd expect he'd be markedly loyal to those who play this side of the Atlantic rather than US-based players when it comes to picking his four wildcards.
So while with our tartan-tinged eyes we might think Russell's a shoe-in for Paris, the reality is that he's still got a bit to do. This is shaping up to be an exceptional race and there's a swathe of big-earning events stacking up now.
If Knox can get more strong finishes in big earners – this week at Gullane, Carnoustie, the PGA, the WGC at Firestone – he can win selection under his own steam. It's the only sure way.
Burned brown is beautiful
It's been an astonishing few weeks of endless warm weather and as a result our golf courses look amazing.
Moray forthe Scottish Boys' and Girls last week looked pure gold. Even those courses with fairway watering seem to have embraced brown-is-beautiful, which is better for the planet and makes for better golf as well.
Carnoustie was still pretty green until two weeks ago, but since play stopped ahead of the Open head greenkeeper Craig Boath and his staff have let it burn. Craig tweeted a picture last week showing the sixth fairway going magnificently golden.
Their timing looks perfect. We can expect a proper fast-running summer links, which we've maybe just three or four times in 20 years. Can't wait.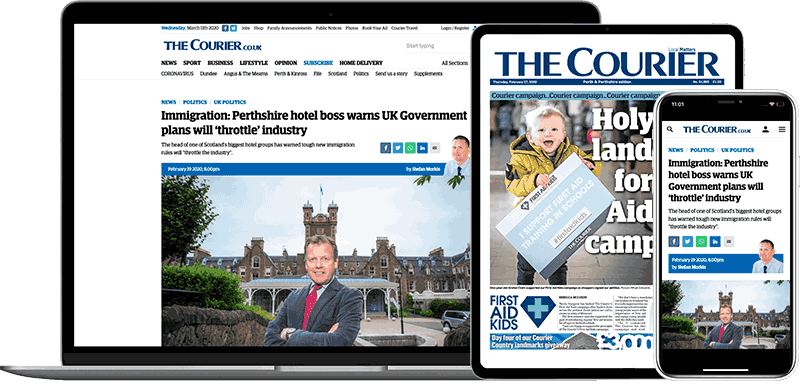 Help support quality local journalism … become a digital subscriber to The Courier
For as little as £5.99 a month you can access all of our content, including Premium articles.
Subscribe