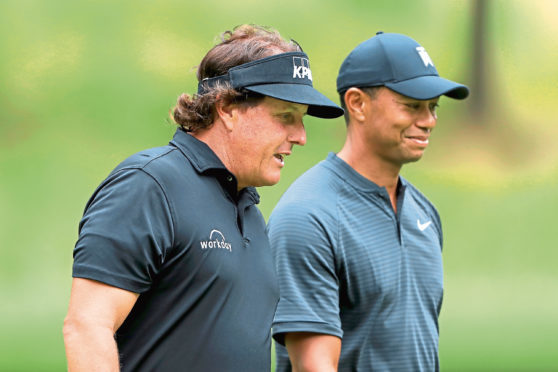 Here's the question no-one seems to be asking about the already over-hyped "The Match" between Tiger Woods and Phil Mickelson, now confirmed for Las Vegas in November.
What if they actually DO need all that money?
It seems to be the best explanation why they are wasting their own and everyone else's time, if you discount absolute greed, which of course is probably the primary incentive.
Tiger, as we know, doesn't have nearly as many endorsements as in his prime, sizeable alimony payments to ex-wife Elin, plus one imagines that the mansion in Jupiter and the famous yacht "Privacy" suck up maintenance costs of a different kind. And he's just gone nearly two years without earning anything at all from his primary job.
Phil hasn't got the same kind of issues, but he's known to be a keen gambler, and has got himself in hot water in that respect more than once in the past. The "dress shirt" sponsorship and the promotional video he did for it prior to the PGA suggest he'll do anything for money at the moment.
So maybe the reported $9 million at stake for this one-off game – and the fact that it's not their own money they're playing for, which would be considerably more entertaining – is actually because they're both a bit skint.
Maybe this is also the line that those charged with the promotion of the event have missed. The creditors waiting at the 18th would certainly add a certain frisson to the affair, certainly much more than the affected "banter" that appeared on Twitter last week.
Mickelson finally joined the social media site last week, it seems with the express purpose of this contrived back-and-forth with Tiger's account that followed the announcement of the contest.
I don't know for sure whether Phil writes his own tweets, but I know for sure that Tiger mostly doesn't, unless he customarily talks about himself in the third person. The exchange certainly read like a couple of PR lackeys pretending to be their bosses.
The $9 million is guaranteed, of course, but there are further riches to be had with the announcement that it's to be broadcast only on pay-per-view TV.
This is the Vegas way, of course, well established in boxing. But this is a different audience we're speaking about and at least in boxing PPV events there's usually a world title or a significant grudge match at stake.
I'm not entirely sure that $20 for a bounce match between anyone – not even Woods and Mickelson, two players who are inarguably in decline in their powers – is particularly attractive to the golf fans they expect to be signing up for this.
I'm not entirely sure if Mickelson is the prime mover in this arrangement, but it seems fairly clear that he must be as he has so much more to gain.
He's had a modest summer, barely an afterthought in playing terms since his WGC win in Mexico and most notable for the attention-seeking brainstorm he had on Saturday at Shinnecock Hills (when he was miles out of the tournament but made himself the story – classic Phil).
In this challenge match he gets a piece of the Tiger comeback story that's been the primary narrative of the season.
Phil doesn't move the needle on his own, especially when he's not playing terribly well. The window for him and Tiger to capitalise on their "rivalry" – such as it ever was – is closing.
If they're truly not in penurious circumstances, then Tiger and Phil should give a sizeable chunk of these riches to charity, first and foremost a considerable donation to the fund for the daughters of Jarrod Lyle, the tour player who lost his battle with leukaemia last month.
There might be some positive gain out of this circus rather than the shameless lining of pockets, whether they presently be empty or not.
Sergio on the edge
Of course, one way to ramp up the Phil and Tiger hype would be for Jim Furyk to pick and play them together in Paris during the Ryder Cup, whereby some of the historic antipathy between the pair is likely to resurface.
Phil isn't guaranteed a place on the US squad as Tiger certainly is, and as we mentioned last week there is a definite risk of picking him on past glories – not that there's that many of them in a Ryder Cup context, of course.
Thomas Bjorn has a more acute problem with Sergio Garcia, who has been a stalwart of successive European teams.
Is it unthinkable to leave him out? Of course not, Colin Montgomerie did so at Celtic Manor, when the Spaniard was in a similar slump to the one he's in now.
Bjorn has five rookies inside his qualifying places at the moment, so some added experience would be helpful. Ian Poulter will almost certainly be one pick, you'd imagine.
But does he go for a player as hopelessly out of form as Sergio is now? Or does he place trust in at least one more rookie – Russell Knox or Eddie Pepperell are the leading players not qualified.
Sergio will be there – Bjorn has a vice-captain's spot still to fill – but can he really be risked in competition?