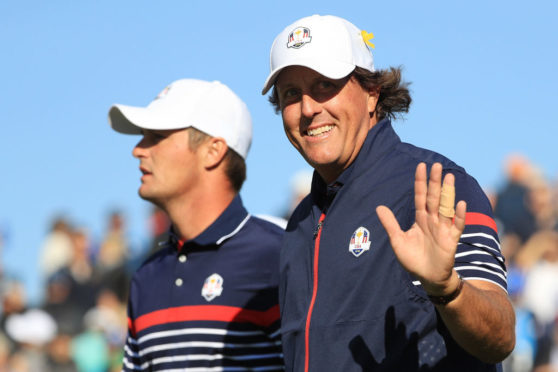 There's just oo much going on in the world of golf for my distracted mind to focus on one specific subject so it's time for one of the occasional columns of whimsical miscellany…
What changed his mind?
Here's Phil Mickelson, in his sit-down interview on the Tuesday prior to the Ryder Cup, speaking about Golf National…
"I think it's an incredible golf course. I think the consensus amongst all the players is that it's a wonderful test of golf.
"The setup is as good as it could possibly be. It's just in pristine, immaculate shape, and yet provides a very good challenge that's a fair challenge. I think it's a wonderful test."
A week later, Phil thought it was "borderline unplayable" and "a waste of my time".
What could have possibly happened in the intervening week to have changed his mind so radically?
I'm sure I have no idea…
Shotgun destroys the drama
My love-hate relationship with the Alfred Dunhill Links Championship – it fluctuates, but edges towards the latter – got a frisson of excitement on Sunday with a shotgun start to try and get everyone home and hosed before predicted 40mph gusts swept over the Old Course.
But it what should have been a thriller became a damp squib. Tyrrell Hatton's second nine collapse and the emergence of Lucas Bjerregaard would have been much more exciting had they played in orthodox order.
Imagine if both Hatton and Tommy Fleetwood's final putts HAD actually been to force extra holes? Instead they were almost routine.
But was it even really necessary?
The shotgun start was surely not to accommodate the leading players but the amateurs still involved in the ADLC.
I get that the money they pay to play helps finance the lucative event. I get that it's a fantastic experience for them.
But I will never accept why they are allowed to get in the way of professional sportsmen playing for career-changing opportunities.
With bad weather forecast, this was the perfect time for the organisers to do what they should always have done; wind up the amateur section of the tournament on Saturday night with the dinner and fireworks, and let the pros play for the championship unencumbered.
Instead, the shotgun start was a pretty clear statement by the ADLC that it's the rich amateurs and not the professionals who are the most important people at this tournament.
In addition, 30 mph gusting to 40 mph is tough, but not uncommon for links golf. The way the 11th green complex on the Old Course plays now, however, such wind speeds are unplayable.
Slow greens are an intergral challenge of links golf. The 11th – and some other Old Course greens – are cut far too slick, especially for October.
Hard hats not required, but safety needs tweaking
Let's face it, somebody gets hit at just about every golf tournament where there is a gallery. But the high profile incidents at the Ryder Cup and then again last week at Kingsbarns seems to have raised awareness.
We addressed this in T2G earlier this year when balls propelled by Rory McIlroy hit two spectators and a marshal in one round at the BMW PGA Championship at Wentworth.
It's not necessarily a result of players hitting the ball further – the instances of Brooks Koepka and Tyrrell Hatton in the last two weeks came both on wayward approach shots.
Neither is it entirely down to players failing to shout warnings, although this has definitely become more prevalent.
But as I wrote in May, it's gone beyond mere etiquette and become a safety issue. Which means that everybody – not just the players – has a duty to shout warnings.
Every golf event I'm at now is awash with volunteers and marshals, all of whom are golfers themselves. If everyone was aware and empowered to shout fore, I bet we'd have less of a problem.
Scottish Golf lurches to a solution
So after another year of turmoil, Scottish Golf (SGL) last week voted through a package that involves a levy rise 50p less than that roundly rejected in March.
Some Areas and Counties, by requisitioning a EGM and tabling the proposals, effectively bailed out SGL, but only after they discovered the full effects of cuts as a result of rejecting a levy rise.
The extra money is a little more ring-fenced than the original proposal, for sure. But once again the internecine workings of the organisation – most of them retained from the two antiquated organisations that merged three years ago – result in "you couldn't make it up" levels of pointless intrigue.
All clubs have a vote in SGL, and of course the clubs all vote for reps on their Areas and Counties as well.
Why is there this unnecessary extra tier of bureaucracy? The clubs already have their vote, do they really need to be represented twice?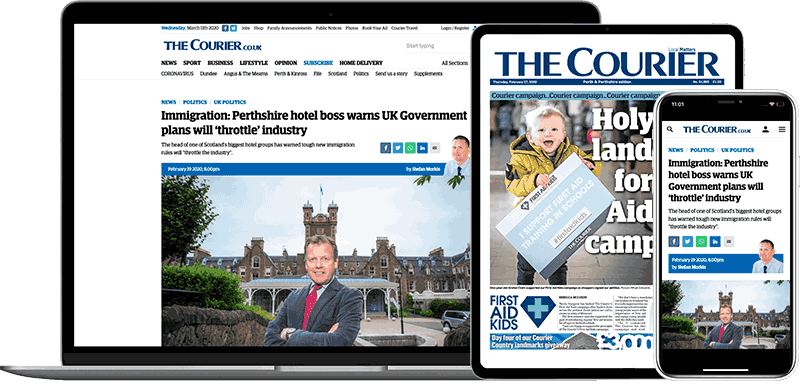 Help support quality local journalism … become a digital subscriber to The Courier
For as little as £5.99 a month you can access all of our content, including Premium articles.
Subscribe