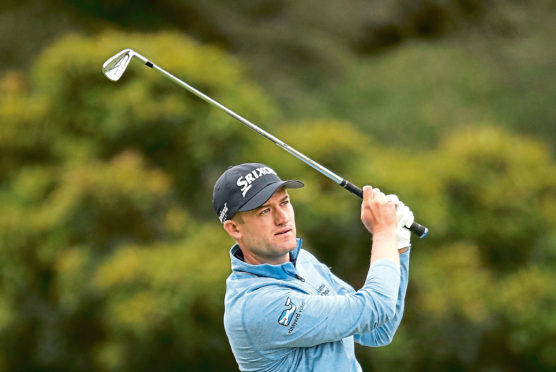 Those of you who don't like a little constructive criticism – and I know there's some out there – look away now. It's time for my annual report of Scottish professional golf.
For a good amount of the year, it seemed to me 2018 would be the worst-ever season for Scottish golfers on the European Tour. At the beginning of September, it look entirely possible we might see six of our eight tour pros lose their status.
Using varying degrees of brinkmanship, five experienced players saved themselves in the final two months of the season and made it for 2019. In the end the two lost were the two young rookies, Connor Syme (and by just 11 places) and Bradley Neil.
The new season started, augmented by four graduations from the Challenge Tour, sees 11 Scots on tour, so my negativity three months ago would appear to be misplaced.
Except, I think we'd be wrong to think that what happened in 2018 was anything more than a lucky escape, or to be convinced that Russell Knox's Irish Open win – the first Scottish win on Tour for three years – was anything but an outlier.
Okay, 2018 wasn't the disaster it could have been. But getting three experienced, battle-hardened guys over the line in the last week and another in Q School is a pretty low bar to judge 2018 as a raging success.
And while the four graduates from the Challenge Tour raised the spirits – and decent early finishes in opening events for Grant Forrest and Robert MacIntyre haven't quelled the optimism – I'm still concerned that the support structures aren't quite there, and what happened to Connor and Bradley could easily happen to them.
But since everyone's different, let's go case-by-case…
RUSSELL KNOX (Race to Dubai 16th, best finish 1st, Irish Open). PGA Tour based Knox spend four weeks in Europe in high season and got all he needed then with a second place in France and the win in Ireland. By the time he came back for the last few Rolex Series events his form has edged and he dropped from a top 10 in the rankings to the mid-teens, still easily the best placed Scot.
But to tell the truth, he's hardly a real product of the Scottish golf system anyway. That's not meant to disparage, nor to suggest his pathway to the Top 20 of the R2D would be good for everyone; it's just a simple fact.
STEPHEN GALLACHER (R2D 82nd, best T7, India) An odd season for Stevie; he missed only six cuts but wasn't really safe until a little run of finishes in September. I don't know if he'll ever get back to the form he had in 2014, but I'm certain he could turn a few of those top 30s into top 10s at the very least.
DAVID DRYSDALE (R2D 107th, best 3rd, Belgian Knockout) The arch-survivor did it again, his 6th place in Holland being the key. At 43, should have a few more years of grinding in him yet. Playing in his 17th season on the Tour, DD has proved himself our most durable of players and an example to all.
SCOTT JAMIESON (R2D 109th, best T4, Czech) A puzzling case; 26th in the R2D in 2017, we were expecting something at least similar in `18 but he fell into borderline status, finishing close to the card cut line for the third year in the last four. He has the ability to do much better.
RICHIE RAMSAY (R2D 114th, best T6, Dubai) A final round 68 in Valderrama saved Richie, who you could never accuse of lack of effort or determination, but he seemed lost at times this year. Clearly too good a player to be saving his card in the last week, here's hoping he finds something in the off season.
MARC WARREN (R2D 130th, best T5, Spanish Open) A top 50 player in the world just three years ago, Warren has had just two top fives in the last five years, and an early injury and some poor form had him missing his card by too big a distance for a player of his quality.
He retrieved the situation in a determined performance at Q School, and his past career will see him get a few more starts in 2019 than the average graduate. But he needs the ordeal of 2018 to be a wake-up call, and there are signs it could well have been that.
CONNOR SYME (R2D 126th, best 2nd, Austria) The evidence, confirmed by Connor himself as he flew back from South Africa last week, was that the rookie simply ran out of fuel.
Three solid finishes in July and August seemed to set him up well after the super finish in the Shot Clock Masters, but he made less that €15k in seven events after that. A year on the Challenge Tour to regroup may be no bad thing, and he'll get a few starts on the big tour.
BRADLEY NEIL (R2D 191st, best T21, Scandanavia) I was optimistic for Brad watching him in the first round of the BMW PGA at Wentworth, when he was on the leaderbard for a while. Sadly, that was his high water mark, and he never really got started in his rookie year.
Ridiculously, there was no safety net for him either; he didn't get a Challenge Tour category and will get limited opportunities in 2019. This double-relegation is plainly unjust – the same thing happened to Craig Lee some years back – but I have confidence that he'll be resilient enough to bounce back.