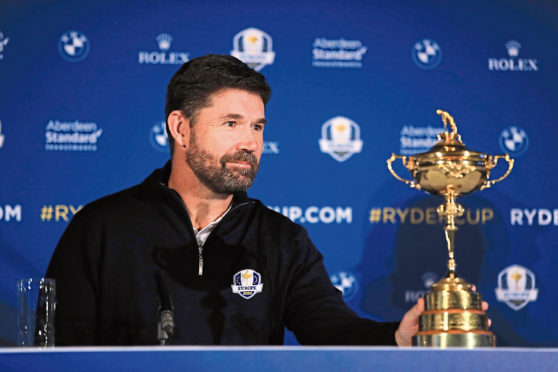 The first thought of Europe's golfing press when Padraig Harrington was being confirmed as European Ryder Cup captain last week was probably "Is Renee on speed dial?"
Renee is a stenographer with ASAP Sports, the company that provides almost instantaneous transcripts of sports interviews and press conferences, and she's specifically detailed to work on the European Tour. Without Renee's expertise at transcribing Paddy, we may not see our families for 18 months.
Harrington's press conferences are lengthy, often illuminating, sometimes confusing, but always full of valid and often well-considered points. He's eloquent and smart, and not afraid to be honest.
This is great for journalists but does not necessarily make for a great and inspiring Ryder Cup captain. At times during the announcement of his captaincy at Wentworth last week Harrington sounded a little like he'd been in two minds about taking on the job.
He talked specifically about putting his "legacy" on the line – this from a three-time major winner and until Rory McIlroy muscled in, pretty much the greatest-ever Irish sportsman. It begged the question whether he's more concerned about that or Europe's success.
Harrington's actual playing record in the Ryder Cup is not that great; 9 wins and ten and a half points out of a possible 25. Even when Europe had the record win at the K Club in 2006 – and Padraig's face seemed to be on every advertising space in Dublin – he returned half a point playing in all five sessions.
Is he an inclusive sort, like McGinley or Thomas Bjorn (and Darren Clarke)? Not particularly. Padraig has had testing relationships with some leading names – Sergio Garcia and he had a long-standing emnity which, according to Sergio was finally patched up at Rory McIlroy's wedding, of all places.
He said himself last week he's not a cuddler, not the sort to put an arm round a colleague. One suspects, especially in an away game with three or more rookies on the team, that's kind of a necessity for a Ryder Cup skipper, although as he said himself, Bernhard Langer was similar and did okay.
But to be honest Harrington's obvious doubts probably stem from the fact he's been given the toughest task imaginable – winning away from home.
The lightning-in-a-bottle that was Medinah in 2012 is the only break in home advantage in a Ryder Cup since 2004.
The home team's ability to set-up their home course to their preference has now become a huge advantage.
Strangely, Paul McGinley and Tom Watson in 2014 had apparently agreed that this "home field" tinkering would be discontinued, and the Europeans were surprised to turn up at Hazeltine and find it with no rough and set up blatantly to favour the US team.
Watson's agreement with McGinley had apparently been thrown out by the famous Taskforce, enthusiastically led by, of course, Phil Mickelson, who whined so much about the set-up at Golf National in Paris last year.
One thing in Harrington's favour is that Whistling Straits, the 2020 venue, is a "faux-links", well-bunkered with seaside grasses, and can't really be set up American parkland style.
But part of me thinks that Harrington has this tenure because Lee Westwood – his only real challenger if he'd declared an interest – would far rather captain in Europe, in Rome in 2022. It was left to Paddy to take the poison chalice, and that might explain his slight reticence.
Paul Lawrie misses out, predictably
The 1999 Open champion might well have been a candidate for the 2020 capotaincy, and apparently had indicated his interest, but he probably knew he'd lost that chance as far back as 2014.
McGinley's choice of Harrington rather than Lawrie as a vice-captain at Gleneagles was hugely significant.
It put Padraig in the line of succession, and although Lawrie was later an assistant to Darren Clarke at Hazeltine, he wasn't picked as part of Thomas Bjorn's backroom team in Paris.
Since the three immediate past captains now choose the next one, Paul knew himself that he had no chance; reasoning that if two of them hadn't considered him worthy of a vice-captain's role, they weren't likely to pick him to be a captain..
It means that the last two Scottish men's major champions, Paul and Sandy Lyle, will most probably not be Ryder Cup skippers.
There are good and understandable reasons that this has happened; timing and the queue of quality candidates now assembling for the future being paramount among them.
There was plenty to commend Lawrie. But his two appearances in the event were probably not enough, and with so many significant names lining up – not many of them major winners – it was really now or never for Paul.
But it's undeniably odd, especially that now three of the last four captains have been Irish.
And, to repeat a favourite line, future generations will be baffled that Mark James, Paul McGinley and Thomas Bjorn were Ryder Cup captains, and Sandy Lyle and Paul Lawrie were not.