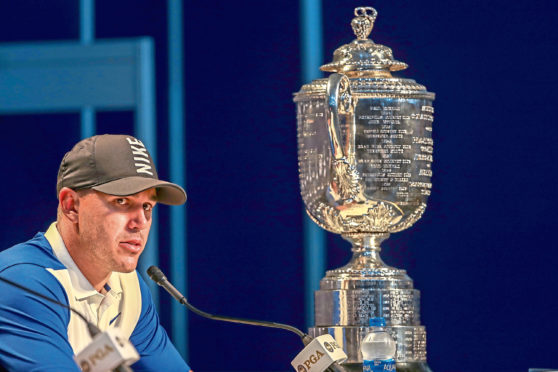 If anything, the little wobble Brooks Koepka endured in his procession to the PGA Championship title is going to make him all the more formidable.
As often happens in the PGA it seems, there was a little artificial excitement at Bethpage on Sunday night. The imperious Koepka cruise to the Wanamaker Trophy was taking on a little water.
Dustin Johnson got within two at one point midway on the back nine, but it's less likely DJ backed off (as has been his custom in most majors bar one blinding example) than simply the brutal Black course, with 30mph winds and gusting, caught up with him.
It also did with Brooks. But he was like this writer with a long deadline…it's starting to get close to squeaky-bum time, but he's always had plenty of room and it's going to get done in time.
In the end, there was no lasting damage, the trophy went back into his hands, and the experience will be more educational than anything else down the line.
Brooks hasn't had a whole lot of wobbles in his major career thus far. There was the tee shot in Rae's Creek at the 12th at the Masters, but the three he won prior to Bethpage were, for the most part, fairly stress-free, as much as these can ever be.
Well, at least they were for him, who seems utterly immune to pressure and almost closed off to anything but his own "super-focus".
Now he's been "rattled" and come through it, can we expect anything else than an even-steelier resolve the next time he's in the mix?
Nothing is guaranteed. Rory McIlroy was supposed to dominate after he won successive majors in 2014. He hasn't won one since.
After Rory, it seemed Jordan Spieth would contend at every major after his blistering form in 2015. Getting a tied third this week was actually regarded as something of a comeback for him.
As we mentioned last week, because Tiger Woods dominated so overwhelmingly for just about five years from 1997 to 2002, and again from 2004 to 2006, we expect all domination to be like that. Instead, it's usually much more of a streaky kind of thing.
Is this just a hot streak? Certainly, those of us who pinned this one to Brooks way in advance of the event can't claim any miracle prescience. Bethpage set up so well for him (and Johnson, the other Bash Brother, was duly second) that it was pretty obvious what kind of player was going to win.
Pebble Beach and Royal Portrush are not really the same kind of challenge, mercifcully. There's every likelihood that Koepka and Johnson will challenge to win at both, but the list of possible winners at both venues is far deeper than it was at Bethpage, and the odds are therefore greatly reduced.
But against that is that Koepka clearly has the measure of the majors, although his comment about them being "easy" wins this year's award for quote-most-taken-out-of-context.
Four wins out of the last eight. He missed the cut in his first two majors, and in his 14 in the last three years (he missed two due to injury) he's been outside the top 20 just twice.
He's a contender every time he tees it up in one of these things. Right now, we are definitely in the Koepka era.
Golf being golf, unlike The Age of Tiger, this era may be a short one. But I have a feeling this is the closest to complete domination we're likely to see for some time.
Tiger: less rust, more reality
From the double bogey that started his week to rather meekly dropping outside the cut mark just as he needed to rally, Tiger Woods was a massive buzz-kill at Bethpage.
Quickly identified as the cause was not playing between the Masters and the PGA, and the inevitable rust as a result.
It was only a month. If anything, his own human reaction to the cathartic relief of victory at Augusta might have been more of a factor.
Who knows, amidst the usual fog from manager Mark Steinberg, whether he actually could play between Augusta and Bethpage?
More illuminating was the WAY he played. Misses right and left. Real struggles with the pace of the greens.
Tiger can still frighten people, the Masters proved that. But it's certainly not going to be every week. His game – maybe his body – is not robust enough.
The Open must reject Daly's cart
John Daly, we are told, remains a box-office draw, hence the PGA's allowing him to play from a cart at Bethpage.
Daly can't walk a full 18, due to osteoarthritis, a common ailment in golfers, and treatable. The USGA rejected his plea to use a buggy at the US Senior Open. The R&A are, reportedly, "giving consideration" to his request for one at Portrush.
It's hard to believe the R&A are giving this even a cursory thought. Maybe they're being polite – they are always deferential to former champions, no matter what the circumstances.
But this should be where they draw the line. Daly's appeal – whatever it is nowadays – is no additional attraction at a sold-out Portrush.
The Open has proper standards to maintain. Everyone walks. No carts.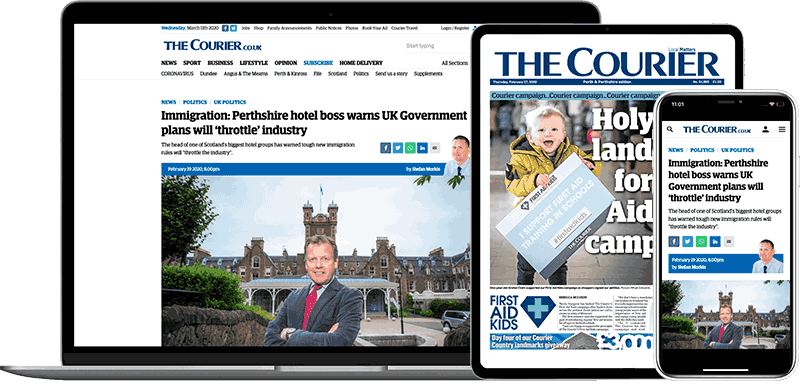 Help support quality local journalism … become a digital subscriber to The Courier
For as little as £5.99 a month you can access all of our content, including Premium articles.
Subscribe