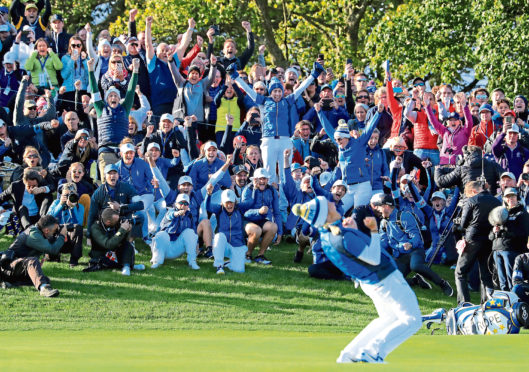 Juli Inkster, the three-time US Solheim Cup captain and seven-time major championship winner, is a treasure of golf, not just of the native country of which she is so proud.
If I was American, I'd insist on a Senate Committee or something being formed to insist that she be US captain again in two years' time at Toledo.
But she has nothing left to prove, as we'll detail further below. I'd just like to repeat her words said after she was a huge part of the most dramatic finish of all of golf's team events at Gleneagles on Sunday.
Asked what she thought of some considering the Solheim to be the premier event in all of women's sport, Inkster said "I'd say they're right.
"I mean, no one can really understand yesterday how tough that day was and how well everybody played.
"I think a lot of people underestimate women's golf and they don't give it the credit that we deserve.
"But these ladies are athletes. They're amazing at what they do. And it really irks me how we always have to take a back seat because I don't think they should take a back seat to anybody.
"Not only their golf, but the way they handled themselves and who they are. We have to grind for everything we do and they are why it is so successful."
You know why there was an element of frustration and defiance in Juli's words. Women's golf struggles for a platform and on the occasions that the mainstream media are engaged, we're often accused of tokenism.
Women's golf knows it probably won't ever get equality with the men's game – the gap's simply too wide. What it wants is respect and the attention it deserves.
This is NOT tokenism – Sunday was the most dramatic and almost emotional contest in team golf that I've witnessed. And I was at Medinah in 2012, which I thought would never be surpassed for drama and emotion.
The only comparable situation to Suzann Pettersen's win-or-bust putt on on Sunday in these contests was Kiawah Island and the Ryder Cup of 1991, when Bernhard Langer had a final, must-make putt for Europe and missed.
That drama of that event gave the Ryder Cup the boost in the USA it never previously had, and with the rise of Tiger Woods later that decade, was the foundation for the prosperity men's professional golf enjoys now.
One can only hope Gleneagles has the same effect on the Ladies European Tour, which is so much in need of investment and support.
As T2G has mentioned in the past, a thriving LET is essential to the overall health of golf in all of Europe.
Not nearly enough of one half of the population play our game when it should be a popular pastime for them, and the role models of Catriona Matthew's Team Europe all started on the LET.
Matthew's triumph
I won't lie, there were times during Catriona Matthew's time as Solheim Cup captain when we in the Scottish golf press corps were…a little apprehensive.
"Beany" is not the demonstrative sort. She's not the greatest with the nannies (nanny goats = quotes).
She's always polite, but the template for a skipper is her counterpart at the weekend, Inkster – in equal parts tactician, motivator, cheerleader and PR person's dream.
But there's more than one way to do that job. Beany knew her people – especially Pettersen, whom she insisted against the odds and all recent evidence had to play – and she was able to instil the steely competitiveness that was such a hallmark of her own career without screaming and shouting about it.
Respect and integrity, gained over nine Solheims and 20 years on the tours, meant she was ideal for the job.
Hers is a peculiarly Scottish triumph. And she's the greatest woman golfer this country has ever known, I'd say definitely in the top five of either sex.
But Juli was great too
As hinted above, T2G is a great admirer of the US captain. But 2019, her only loss in three captaincies, was nearly her greatest triumph.
She took a young team with six rookies, clearly in transition from one generation to another, to within half a point of retaining the cup on foreign soil.
And her best player got her just one point from a possible four. No-one could have complained if the US had won.
Mercifully, the narrative changed
If we'd had an ordinary ending on Sunday, everyone would still be talking about slow play.
But it hasn't gone away. The Solheim Cup took much too long, although the PGA Centenary is the slowest playing course in the game outside the Old Course, the weather was tough and all the other reasonable excuses that were proferred.
Slow play is a problem for all golf, certainly not just for women and definitely not just at the Solheim.
This week at the BMW PGA at Wentworth, with a real-time tracking system, the men's European Tour are starting to do something about that.
I'll be an interested observer – from afar – to how that goes. For golf's future, one hopes it goes well.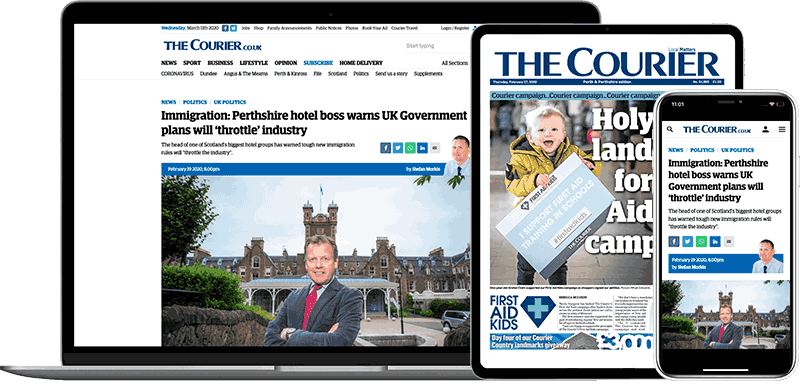 Help support quality local journalism … become a digital subscriber to The Courier
For as little as £5.99 a month you can access all of our content, including Premium articles.
Subscribe