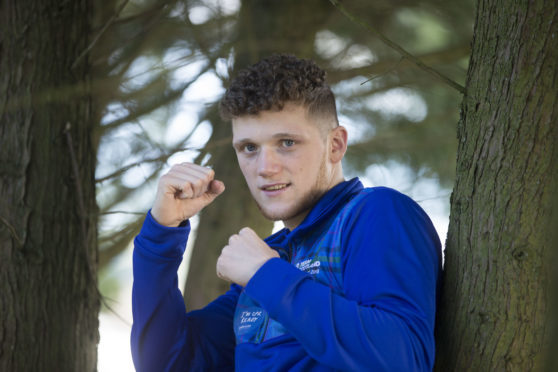 Many of the star names in British professional boxing are in the super-middleweight division.
And when Montrose amateur prospect John Docherty gets round to joining the likes of George Groves, Chris Eubank Jnr, James DeGale and Callum Smith in the paid ranks, he will be coming after them.
The 20-year-old is one of Scotland's big medal hopes in the Commonwealth Games and, as part of the Team GB podium set-up, is also on course to go to the Olympic Games two years later.
That he will throw away the vest and the headgear is inevitable, even if the timing of his switch to the professional game isn't set in stone. And when he does cross over, Docherty will do so feeling he belongs in the company of his weight division's A-list cast.
Hype comes with the territory in boxing and there are no guarantees that a good amateur will be a good, or better, pro.
But Docherty won't lack for pedigree, self-belief, or ambition.
"I will probably be a super-middleweight when I turn pro and people have spoken to me about it already," he said.
"My style is more suited to the pros because I like to fight as well as box. And I'm tall at the weight.
"I've been in the gym with the likes of Eubank and Groves. I'm getting well trained and well looked after.
"I'm only 20 and when I get my full man strength and make the transition, whenever that is, hopefully I can go on to do big things.
"I want to beat recognised fighters to get titles. I want to be mixing with the likes of Smith, Eubank and Groves. I feel I'm well above a lot of professionals already.
"But there was no way I was turning down the opportunity to go to a Commonwealth Games.
"I'm on Team GB so if I win the gold in Australia, I should have the Olympics to look forward to. We'll just have to wait and see what happens.
"If you win an Olympic gold you get 10 times the contract you'd get after a Commonwealth Games.
"These are things you have to weigh up.
"I'll take advice from my dad (Frank). If it wasn't for him I wouldn't be a boxer. He got me into it.
"The pros aren't on my mind just now. All I'm thinking about is a gold medal."
Docherty, who has already won gold in the Commonwealth Youth Games, has had top level preparation for the Gold Coast, sparring with the best America and Eastern Europe has to offer.
Had it not been for a fractured foot, he may have been going to the Games as a world champion but the 75kg fighter will undoubtedly be a medal favourite all the same.
"I don't see any rivals," said Docherty. "Ben Whittaker (of England) will be there but I've already beaten him in the Youth Commonwealth Games final.
"When I'm in top form and fully fit I'm the biggest threat out there. I know that because I've fought them all."
Docherty boxes out of the Byron Boxing Club in Aberdeen and is spending a lot of time in Glasgow just now as Scottish and English GB team-mates are kept apart in the build-up to the Commonwealth Games.
But when he is down at Sheffield under the guidance of British performance director Rob McCracken, Docherty is picking up pearls of wisdom from the biggest name in the sport.
"Anthony Joshua is there a lot," he said. "He gives us lots of advice.
"You wouldn't know he was a world champion the way he acts. You'd just think he was a normal person.
"For man of his stature to tell me what to do is amazing.
"He tells you to stay focused and never switch off. I used to get caught up in name-calling and things on Facebook – putting videos one, stuff like that.
"I've cut all that out. My whole focus is on the gold medal – silver or bronze won't do me."
Docherty won't be the only Montrose athlete representing Scotland in Australia. Squash player Lisa Aitken is a potential medallist in the mixed doubles and will also compete in the women's singles and doubles.
"Hopefully me and Lisa can put Montrose on the map," he said.
"There haven't been any boxing champions from this part of the country for a long time and it would be great to change that."