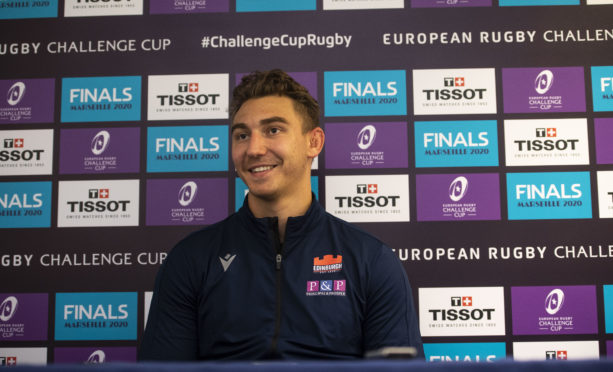 Jamie Ritchie was probably Scotland's outstanding player at the Rugby World Cup but he's itching to get going again straight away and for as long as possible for Edinburgh.
Ritchie got a short run as a replacement in the win over Dragons last Friday but he wants to opportunity to build on what he did in Japan and keep improving as a player.
"I'm 23 so I'm still pretty young and I don't think I've peaked," he said. "I think I've got more to offer and there's bits of my game that I'd like to work and that I can get better on, and have got better at over the last couple of seasons.
"I just want to be better within myself. I'd love to keep playing for Scotland if I get the opportunity but my bread and butter is Edinburgh. I love this club, and if me playing well means that we start winning stuff, that's great."
The World Cup was "an enjoyable experience" but he's keen to push on after some rest.
"From a personal point of view I was happy with the way I played but gutted by the results, so ultimately the feeling is one of disappointment," he said.
"I've only played one game since I've been back from the World Cup and I've not backed two games up at all this season, so I'm keen to play now.
"Any game where I get an opportunity to play, I want to. The guys have been playing well while we've been away so we need to put our hands up for selection for the games coming up.
"Ally Miller and Nick Haining have done well, Luke Crosbie in particular has really stepped up and is playing a more senior role to play in the team this year, which is great to see.
"It is a huge confidence boost for us coming back knowing these guys are playing well. To get our jerseys back we need to perform to their level and higher."
Bur Ritchie has blossomed into a front-liner for Edinburgh and Scotland in the past year and he wants plenty more of that.
"My ambition is to play as often and as well as I can," he continued. "I have set a high standard for myself out in the World Cup and I would like to maintain that.
"You are only as good as your next game so for me the World Cup has gone and I am looking forward to the next few weeks."
One confidence lifter was the way that even when he had the cheekbone injury in the final warm-up against Georgia which endangered his presence in Japan, it was made clear to him just how important he was.
"I wasn't confident straight after the Georgia game, that's for sure," he said. "But I had a conversation with Gregor (Townsend) after that game and he said if he could get me out, he would.
"Once I had the operation I was confident in my cheek, did a bit of full contact training and felt good. I'd already been named in the squad so if I didn't go out I wouldn't have been able to go later. So I am just glad I got to go."
Ritchie looks likely to get his first start tomorrow against Agen in the European Challenge Cup, bringing back memories of his first trip abroad as an 18-year-old.
"It was freezing cold, that's what I remember most," he said of the game five years ago. "And also having to sing Robbie Williams' `Angels' on the bus because I was the new boy."