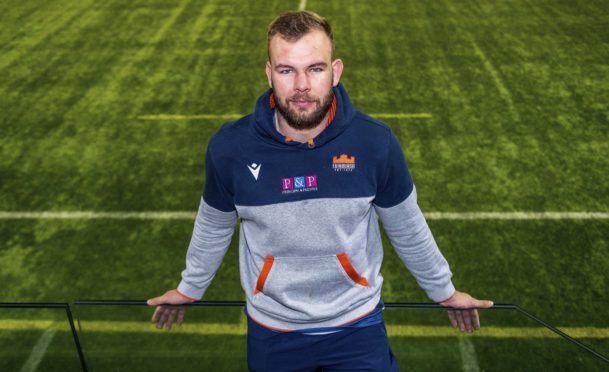 Sam Thomson has been a worldwide wanderer since leaving Glasgow but hopes to have found a home in Edinburgh and has a big chance to set a marker in Coventry tomorrow.
The 25-year-old has just a one-year contract at the capital club, having opted to take a chance on making his pro career back home after spells in England, New Zealand, France and latterly Australia, but has featured in six of the ten games this season so far.
The return game against Wasps at the Ricoh Arena in the European Challenge Cup will be his first start, however, since one game for Glasgow four years ago.
"I got a game for them but injured my shoulder, and decided to take an early release and go to Australia," he said. "I'd been all over since leaving University, but went for just a year to play for Warringah in the Shute Shield, and ended up loving it and staying for three seasons."
He also played for Sydney City in the NRC competition, and had trials for the Super Rugby Waratahs and the Brumbies.
"I was pushing for a Super Rugby contract and that was my aim, maybe even becoming Aussie-qualified," he said. "I had a pre-season with the Brumbies and was talking to the Waratahs."
But he'd also sent a tape of his best work back to his old defence coach at Glasgow, Scotland assistant Matt Taylor, and that got into the hands of Richard Cockerill.
"I hadn't really seen coming back as an option because I figured I was out of the picture but then Edinburgh got in touch and within a couple of days I spoke to Cockers," he said.
"He explained he wanted me back over and there was an opportunity there. I was waiting on the Waratahs but they weren't going to make a decision until October and they were getting a new coach.
"It was an opportunity to move close to home and it was something I'd regret if I said no. I've got a year's contract to prove I can do it and see what happens."
So far so good, although re-attuning to the Scottish weather and lifestyle has been tougher than he imagined.
"In Australia I'd be finishing training and going to the beach," he said. "If it rained the pitch would be closed and we'd train indoors.
"I hadn't played in the rain for three years but every game here there's been a downpour. You have to be a lot more switched on, your skill levels has to change.
"But as far as getting back into a full-time environment it's been awesome. I've had so many gains in the gym and in my game, and it's just making sure I'm up to speed and playing consistently when I get the opportunity."
With both Edinburgh's front-line locks due to be involved in the Six Nations, there should be plenty opportunities for Thomson.
"It was a decision I had to make quickly and I have no regrets at all so far," he said. "This weekend will be my sixth game out of ten and considering it's my first year I'm really happy with that.
"Ideally I want even more game time, and I get a start this weekend so I really want to take that opportunity and push my case."