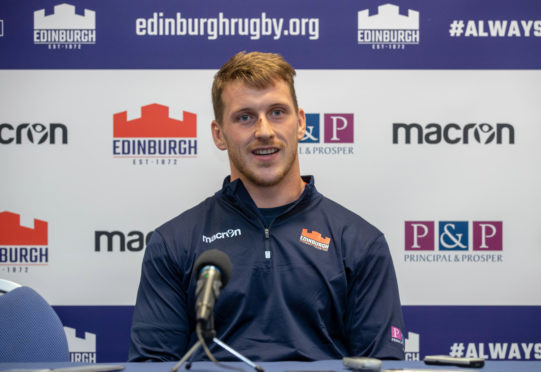 The end of "two crap years" has Mark Bennett feeling confident and positive about himself again, and he wants to make a big mark on his old friends at Scotstoun.
The Edinburgh centre is finally back and firing again at the top of his abilities after nearly two years disrupted by a serious knee injury sustained in the Calcutta Cup game of 2017, making many think he has a chance of forcing his way back into a Scotland team where he used to be a first pick.
"Ach, I just want to play," he said when asked about the international game. "I've played more rugby this season so far than I have the last two put together, so for me it is just about backing that up.
"I've had sore bodies during the week – I'm not used to playing week-in and week-out – but I'm absolutely loving it.
"I feel like – after two crap years – I am finding my feet again, and starting to show what I can do, and this weekend is another chance to do that."
Bennett credits his return to form to having a full pre-season for the first time…since 2010.
"Between Junior World Cups, Sevens, Scotland tours, World Cups, Olympics and the injuries, I've always managed to dodge a full pre-season," he said. "That's brilliant when you are fit, but I think a huge part of where my game is now comes down to having a huge training block under my belt and I've been able to crack on from there.
"To get that opportunity to get fit, fast and strong, and obviously that gets you more durable as well, so I have been able to play week-in and week-out with no real injuries. That has been a huge thing for me.
"I feel like I'm a more rounded player now. At the end of last season, I wasn't playing my best at all, I probably wasn't quite as quick or agile as I had been.
"But that gave me a chance to develop in other ways, so I'm a much better ball player now than I had been, I can kick better now, and at the minute I feel like I'm fast again and I can step again."
Going back to Scotstoun this weekend for the 1872 Cup match gives him a chance to impress his old Glasgow team-mates and friends, as well as people from his home area.
"I'm looking forward to it," he said. "I've had plenty of great days at Scotstoun and hopefully I am going to have another one this weekend, except in slightly different colours this time.
"I'm a west coaster. I grew up in Ayrshire and always supported Glasgow, I have a load of good mates there and there will be plenty of people I know at the game as well, so I'm wanting to get out there and prove myself.
"I wouldn't say that I want to rub it in, but I want to win – it's as simple as that."
Bennett would not be averse to another call for the Olympic sevens set-up – he was part of the GB 7s team that won silver in Rio – but the last one of those came without warning.
"Absolutely I'd fancy another one, it was incredible," he said. "But it's a long way away at the moment and I've got more pressing matters to deal with.
"Last time I got a phone call in April asking me: 'Next month, do you want to come?' It was as easy as that. I haven't heard anything about it yet.
"My medal's in my bedside table. Tucked away but whenever I take it out, I always think: 'That's quite cool!'"