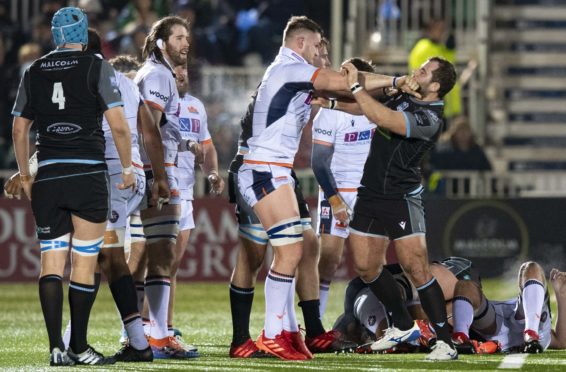 Glasgow needed to rouse themselves to care as much about the 1872 Cup as Edinburgh have done in recent years as a path to their comeback victory over their old rivals at Scotstoun on Saturday, believes Ryan Wilson.
The Warriors needed to come from behind twice in a breathless final 15 minutes that only served to highlight the brutally dull fare that the full house had endured for the first hour.
George Turner, one of five players yellow-carded and sent to the sinbin just minutes after he replaced Fraser Brown, returned to get the winning try and clinch the 20-16 win after Ali Price for Glasgow and Blair Kinghorn for Edinburgh had swapped scores and the lead for their teams.
The Warriors' captain believed that a discussion about what the derby matches meant to the fans added an extra edge to the Warriors.
"We spoke about (Edinburgh)," he said. "We always talk about the physicality and brutality of these games and try to make sure we get it right.
"If you speak to guys in their camp and guys who have been here previously, you hear a lot of chat about how they look at these games, and it sometimes seems they are more important for them than they are for us.
"This week we spoke about how important it was, not only for our league but because we didn't do very well in the 1872 cup last season and we wanted to make amends for that.
"Also, being back at home. We pride ourselves on being a good team at home but we didn't turn up against Leinster and then a few things went wrong against La Rochelle. We had two losses at home in a row, which is not good enough at all by our standards."
Wilson agreed that the old days of Edinburgh playing conservative rugby while Glasgow did the creative stuff were in the past, illustrated by the Warriors' lineout drive straight out of the Richard Cockerill playbook that produced the winning try.
"This season they have certainly played a lot more than they have in the past," he said. "They did that in this game and they went wider quicker.
"They didn't just park up and box (kick) and try to exit that way. There was a little bit more rugby going on."
Wilson, like most of the participants and both coaches, was a bit puzzled by the five yellow cards – three to Edinburgh, two to Glasgow – and 15-10 penalty count (in Edinburgh's favour).
"I don't think there was anything in them really," he said. "I'll be careful in what I say about the ref (Ben Blain), but I don't think they were vicious yellow cards; they were just the build-up of penalties that were quickly and easily given.
"I don't think there was time for niggle. With the ferocity of the contact there wasn't much of it going on. There was a bit happening, but it was slightly more tame (than usual).
"It was still a massive battle and we have to get ourselves right for the game at Murrayfield next week because that will be even tougher."
Edinburgh head coach Cockerill was, as is his custom, a lot more specific about the refereeing, although he accepted his side had been edged by the better team on the night.
"It was one of the nicest games physically I've been involved in around derbies," he said. "I'm not sure what Bill Mata went to the bin for, because we were winning the penalty count at that point. (The ref) seemed to go to the bin very quickly.
"I think Stuart McInally's (yellow) was a penalty only. That's a rugby incident all day long. Obviously, you want to look after players' safety, but I'm not sure what Stuart was meant to do there. It is a tough one."
Cockerill described it as "a fiercely contested game that could have gone either way and they just did enough to edge it".
"We'll take the (losing bonus) point. We've come a long way from two and a half years ago; from the reaction of the crowd and their team, this was like a cup final for them.
"We're heading in the right direction. We're disappointed we lost and we have to be better at what we do. Parts of our game need to improve.
"But we know we can compete with them. We'll look forward to bringing them to Murrayfield next week."
Glasgow head coach Dave Rennie will give his team until Boxing Day off to recover and enjoy Christmas, but he expected a strong reaction from Edinburgh next week.
"I'm sure there will be, and I'm sure they had plenty of fire in them coming here," he said. "We'll be the same next week. I guess we are still under a bit of pressure in our conference and it has created an edge.
"We are going to have to rest some guys in the next couple of weeks. If it is not Edinburgh it is Treviso.
"But we are playing the same enemy (on Saturday). We don't plan on changing a hell of a lot. There were a number of things we wanted to put on the park but we didn't see today, so it is going to be a case of tweaking a few of those things."