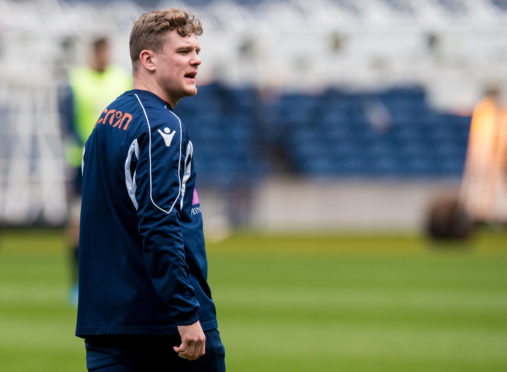 Darcy Graham was left frustrated at not quite managing to get away against Glasgow, but is certain that Edinburgh have the game to reverse the result at Murrayfield on Saturday.
Graham has had a slowish start to the domestic season since returning from Japan but looked like his elusive, quicksilver self at Scotstoun, one searing break forcing the first yellow card of the game when Ruaridh Jackson caught him late.
Graham also got away a couple of times in the second half when Edinburgh were chasing the game, helped set up Blair Kinghorn's try and was still sniping from scrum-half – for the first time in his career – when the end came.
Nic Groom's yellow card – the fifth of the game – meant Graham had to switch to 9, and his preparation was hardly ideal.
"I had never played there before – I suppose I did at sevens but that's completely different," he said. "It came in on the radio that I was the one to switch to scrum-half and that was a bit fun.
"My lungs were bursting in that last ten minutes. The game was pretty even but fair play to Glasgow, even if we're all gutted."
But back at Murrayfield in this Saturday's return match, Edinburgh don't plan much different but can expect a different result, believes Graham.
"We have this week to put things right and we are looking forward to that challenge," he said. "I think our game was going very well out there and nothing is going to change going into next week.
"It was so close this week. We played really well and the game was there for us which is why we are so disappointed. We have them next week and hope to put things right."
Graham had a slight hamstring problem when he returned from Japan and didn't look quite up to pace in his first start against Wasps in the European Challenge Cup, but all his speed and elusiveness was there at Scotstoun.
"I felt I was back to my old self out there," he said. "Looking for the ball and although I am disappointed with the result, I enjoyed the game.
"Jacko's yellow card…his leg got me pretty good and I was going flat out. Just one of those things."
That didn't stop the Scotstoun crowd giving him some stick for the incident though.
"I was getting a fair bit of abuse from the East Stand after Jacko's yellow card but I just laughed it off," he said.
"There is a difference playing at Scotstoun to Murrayfield, but the Glasgow and Scotland boys have played there plenty times so they will know what it is like."