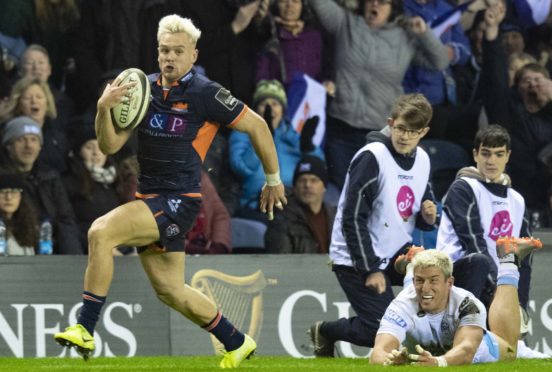 For all that they've had the mob hand on Glasgow these last few years, there was a feeling that Edinburgh's 29-19 victory at Murrayfield in Saturday's 1872 Cup second leg was a pivotal one in the club's future.
The scoreline slightly flattered the home side, who were on the back foot for the majority of the game against Glasgow's patient and relentless pounding. Had Glasgow been as clinical in finishing as Edinburgh, the scoreline might well have been in the visitors' favour.
But although the crucial score – a penalty try gift wrapped in yellow with Jonny Gray taking the hit for hauling down a maul headed for the whitewash – showed Edinburgh's accepted strengths, it's the development this season of what used to be Glasgow's forte that hints towards the new level of performance.
Darcy Graham's second try with the clock in red underlined that Edinburgh now feel they can go the length of the field in one movement instead of going in instalments by setpiece, penalty or box kick.
That belief makes them a far more confident team, a more capable of closing out matches like Saturday's, believes head coach Richard Cockerill.
"I'm still a pragmatist," he declared. "I still want us to make good decisions and kick it when we need to kick it.
"We believe in the systems we've got. Whether you like or dislike our systems, they work pretty well. But when it's on, it's on and we need to play as well."
Cockerill cheerfully admitted he was shouting for his team to take the scrum when Glasgow's last, desperate move ended with a Nick Grigg knock-on, but instead they whipped it wide to give Graham, with his pace, a run from 40 metres that was pretty much a given when the ball went into his hands.
"Bloody right I was," he said. "But we talk about when we get the ball back our first thought should be to attack."
And after the risk-averse game has often led Edinburgh to the brink of success only to fall short, that's a significant change in philosophy – especially as in this game, for the first time in 1872 Cup matches under Cockerill, the onus was wholly on Edinburgh to come off the ropes and play rather than Glasgow.
"Tonight was a big step forward for us. We had a big crowd, there was pressure on us to perform and this is something we've stumbled with. When we're under pressure we haven't coped with that pressure very well. But tonight we performed.
"At times I thought we were average tonight but at others we were outstanding. Glasgow are a quality team and we want to be thought of as that quality of team. We're a good team and we could have easily beaten them last week."
And Glasgow could well have won at Murrayfield had they not made some critical mistakes and been a little more disciplined in key areas. But the problem for the Warriors is that despite coming close, they didn't get anything from the game and they're rapidly running out of wriggle room if they plan on returning to the PRO14 play-offs.
"We have lost five games now, and we have boxed ourselves into a bit of a corner," said Dave Rennie. "I think you can lose seven or eight games and still have a chance of making the play-offs, but we don't want to try that theory out."
Rennie said that both Darcy Graham's two tries, going 70-80 metres off turnover ball, "is what we normally do".
"They don't tend to play from deep but if you have a lineout and turn it over, they've got a lot of numbers in the line and a lot of space so that was a little bit different," he said.
"We're turning over in key positions and that's what hurt us. It's hard to win big games with the amount of errors we made."
The other problem is that Rennie now feels the pressure of international player protocols – Adam Hastings, for example, has played five successive games so should be rested for next week's game at Treviso. Then they still have interest in the Heineken Champions Cup games against Exeter and Sale in successive weeks, but league points are becoming paramount.
In contrast, Edinburgh can kick back a bit with the Southern Kings due at Murrayfield followed by Challenge Cup games which Cockerill clearly doesn't consider to be of much importance.