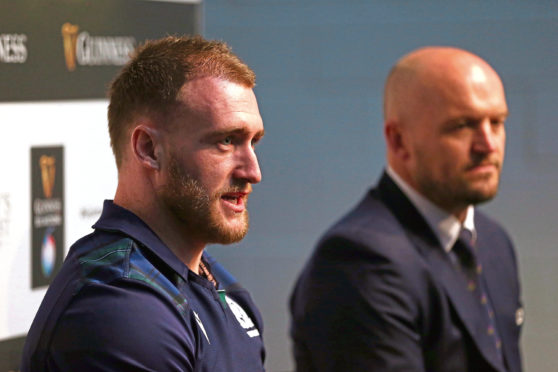 You're all very welcome to my world, for once, on this week prior to the 2020 Six Nations.
For years I've been mystified by the feeling of optimism that inevitably seems to overtake your average Scottish rugby fan ahead of the annual championship.
Being misanthropic by nature, I tend towards the more pessimistic view at the best of times, but in 25 years of covering the 6N – yes, even in 1999 – I've never felt the remotest bit of optimism about Scotland's prospects.
The results, the only facts that count, completely back this up. Scotland's record in the championship in the 21st century is downright abysmal.
Just three three-win campaigns – in 2006, 2017 and 2018 – is the best we can manage in 20 years. Championship titles? Never even close.
I detected the usual hopefulness – as usual, without any particular valid reason for it – swelling again through last December and the early part of January.
However, it's all collapsed in the last week. Superstar stand-off Finn Russell took the huff at being asked to leave the hotel bar and is out of Saturday's opener in Dublin, maybe the entire tournament.
A day later, Darcy Graham's knee ligaments twanged in training and he was gone for the "early part" of the championship, which in team-doctor-speak means probably the first three games.
Suddenly, nobody's hopeful at all and expectation is at rock bottom. At least this way no-one's going to be disappointed.
But, really, what grounds were there for optimism anyway? Scotland had a rubbish World Cup, thrashed by an Irish team for whom the perception they were past their peak was wholly confirmed in Japan – but by other teams.
Scotland's two wins over a Samoan side in decline and an out-of-their-depth Russian team didn't fool anyone and for half-an hour against Japan they were torn to pieces. They rallied to avoid complete humiliation, but an exit after the pool stages was wholly merited.
Since then Gregor Townsend has lost his chief lieutenant Matt Taylor and there appears to be an entire overhaul of the defensive system (which needed overhauling to be fair) completed in less than a month before the Six Nations.
At the end of the championship Townsend will lose his other chief lieutenant Danny Wilson, and will have to find a new forwards coach. That's if he survives the ordeal himself…a bad championship could well be terminal, some think.
And now Finn and Darcy. Ah, the irony. New captain Stuart Hogg, at the tournament launch last week, bemoaned the fact that Scotland in the past "always seemed to beat ourselves". Yeah, at least before we usually waited until the tournament actually started.
Our first hosts Ireland, undergoing some transition themselves after their poor World Cup, can hardly believe their luck. They don't fear Scotland anyway after Yokohama, but their only concern is overconfidence, and even that's hardly unjustified, given the Scots have won in Dublin just once in this century.
But, after being generally miserable, my second favourite thing is being contrary. There are some things to feel optimistic about.
Scotland have got a decent amount of talented players at the moment – it's the coaching, and especially the preparation and the tactics that aren't getting the best out of them.
Hogg, Hamish Watson and Jonny Gray are proven, quality performers. Jamie Ritchie may be set to make the step from being a merely very good player to being an exceptional one.
We have two very good scrum-halves that suit the way Scotland should play, two excellent hookers in the modern form, and a couple of top quality tight-heads. There's much more talent generally than has been available to every other Scottish coach in the pro era.
Russell is a loss, but maybe not as much as many think. Adam Hastings can play the same creative way (although less prone to freelancing) and is a better kicker, from the tee and tactically.
At 23, he's inconsistent, but so is Finn at 27, and Adam could well be the better 10 in time.
I'll risk the ire of his Glee Club scanning the internet for insults to their hero, but Darcy Graham does get found wanting on occasion defensively.
Blair Kinghorn, his probable replacement on Saturday, has his tackling lapses as well and isn't as quick – few are – but he's 6ft 5in, 16 and a half stones, and better under the high ball.
Anyway, as much as I dislike Townsend's tactics in the last year, he is still the coach and has a right to direct the team in the way he chooses, which is why Finn's huff is completely self-defeating.
Hastings will play to orders, so maybe we'll see if Toonie has been right along, as it seems abundantly clear now that Russell was a less than willing on-field driver of the coach's gameplan.
Morale cannot be great. You'd have thought the crazy Twickenham experience last March would have made them bombproof to adversity, but Japan showed that was another false hope.
We've had plenty of those. The time has come for what is potentially a good team to do something Scotland haven't done in 20 years – surprise us.