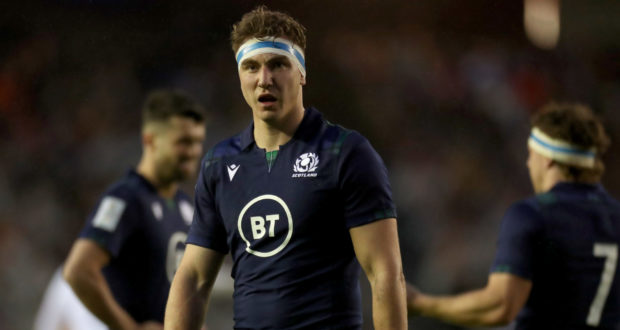 Italy will be no Roman Holiday, but Jamie Ritchie vows Scotland are poised to make the most of their chances at last and finally break their duck for the Guinness Six Nations in 2020.
Scotland have won ten of their last 11 games against Italy and the last seven in a row, so the perception that they have difficulty against the Azzurri is an old and outdated one.
In those seven successive wins against Italy Scotland have averaged 32 points and four tries a game, so with just 18 points and no tries at all from the opening two games of this championship against Ireland and the sodden scrap with England on Saturday, the Scots are gagging to get going in Rome.
But Ritchie expects a battle royal in the Stadio Olimpico, knowing that it's going to be a big occasion for the Italian's long-serving captain, Sergio Parisse.
"We'll take a good look their game from Sunday against France, but we know they'll come with a lot of passion, especially at home," said the flanker from St Andrews. "It's potentially Sergio Parisse's swansong before he retires, and they're always a passionate group.
"For whatever reason, they always seem to target our game. We know what's coming, it's on their home patch and we need to perform away from home."
Ritchie is sticking to the team mantra that they are close to winning these tight games and it'll just take a bit more for them to start winning them.
"We're here to win as many games as we can, and looking and the last two weeks, we had opportunities to win both of those games.
"We were very much in them. For us, it's about finishing us those opportunities. We've worked on that but Saturday's game it was so wet, and the game was so slow. It needs to be tight, but the opposition are expecting you to do one-pass plays and they are the easiest to defend.
"When teams defend their line, it's often very, very well. For us, we just need to stay patient and hold the ball a wee bit longer.
"Often you rely on trying to force a penalty in there, have the opportunity to try and kick or to kick the three. Just something different to try and break up the game."
Italy performed better against France than their opening shutout at Cardiff, but that's been the case most years in recent times.
"Italy probably pose us a challenge where we're going in as favourites, which we haven't had the last two weeks," added Ritchie. "If that is pressure, we need to take it on the chin and take it perform.
"We prepare just as well for any game. We back ourselves against any opposition. You saw in the last two weeks that if we'd got a few more things right, we'd have won those games.
"We'll be going in with the same kind of mindset and looking to put those wrongs right."