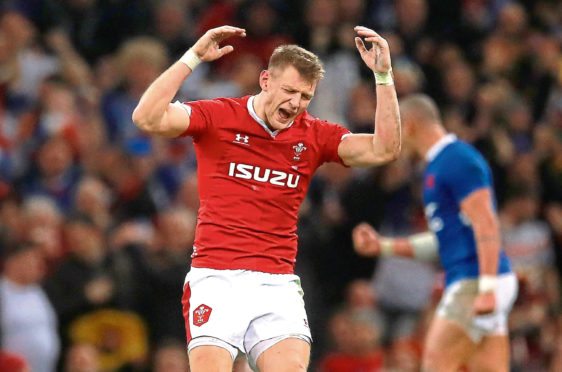 It's been an odd kind of Six Nations so far, to say the least.
Thankfully, we only waited three rounds for a really great game in Wales-France. This was in contrast to last year, when England-Scotland, the last game played, saved the championship from being a complete, end-to-end stinker.
France, with a young team that are maturing quickly, have advanced as many suspected they might once Jacques Brunel's outdated methods had been binned.
They're the team left with a shot at the Grand Slam with two rounds left seem set to go all the way. But despite Fabien Galthie having stripped the team of all the bampots, France are France and something deranged could still happen.
England, with Eddie Jones in seemingly a permanent filthy mood, are poised for any slip-up after not showing up for the first 40 in Paris. Ireland, despite two opening wins at home, seem to have maintained their slow regression since their slam of two years ago.
Wayne Pivac, the new coach of Wales, is this year's no-win guy. Do well, it's Warren Gatland's legacy, Do badly, as they seem to be doing, everybody's pining for Gat.
We've done Scotland relentlessly in the first three weeks and I'm not going back there today. Suffice to say France a week on Sunday is the pivotal match between staying the course the team are on or changing direction, probably with a new coach.
Italy? Well, Sunday's Gazetto Dello Sport headlined the report on the defeat to Scotland with "Non vinicamo mai: che sneso ha?", which a bilingual friend handily translated as "We never win: what's the point?"
Perhaps there is a place for South Africa in the championship after all: not to make Seven Nations, but to replace the weary Italians.
Anyway what are the trends of the 2020 Six Nations? More kicking (again) more scrum resets (again), somewhat less successful mauling. And of course, a scurrilous lack of respect.
Regular readers (both of you) will know I wince whenever I hear the much-repeated "this is not soccer" mantra whenever anything remotely questionable happens on a rugby field.
It's holier-than-thou nonsense, and not even correct. Rugby is really all about cheating; if you're not trying to gain an edge at the conveniently vague laws of the game, whether in the scrum, lineout, offside line or at the breakdown, you're not trying hard enough.
Anyway, "respect". There was plenty pearl-rattling at the Calcutta Cup, where Scotland fans booed England kicker Owen Farrell. Farrell has played all over the world, and been booed everywhere. He doesn't care, and it doesn't remotely put him off. Really, there are far greater issues to get worked up about.
Scotland's booing fans are mostly annoyed at Farrell (and Ireland's Jonny Sexton) for taking too long with kicking routines. And anyway, players are booed and heckled by fans everywhere in the hope they make mistakes.
Yes, even in the self-appointed home of rugby righteousness that is Munster, where if anyone sneezes while a kicker is eyeing up a shot at goal they're instantly excommunicated.
Yet whenever a ball is high in the air, the Thomond Park faithful always howl and scream in an attempt to put off the opposition player under the ball from making a clean catch.
One easily recalls Irish fans bawling and whistling at Dan Parks at Croke Park in 2010, and at New Zealand's Aaron Cruden at the Aviva in 2013. Spare us your selective "respect" and your self-appointed moral guardianship.
One issue that is really trending in 2020 is chippy players, and on this one I'm right there on the frontline with the moral guardians.
This Six Nations has seen repeated unseemly play-acting, petulance, and relentless berating of referees.
Peak chippiness was reached in the Wales-France match in the person of Welsh stand-off Dan Biggar's 80-minute histrionic tantrum.
Biggar's long had the reputation for backchat, but this went way over the top. Some French wag compiled all of his mock injustice poses for YouTube, and it's hilarious, but embarrassing.
The venerable Alun Wyn Jones was more studied in his long and pointless lecture to ref Matt Carley after a TMO decision had been looked at about 10 times from multiple angles.
Astonishingly, despite AWJ's unquestioned authority as an "icon of rugby", Carley did not change his mind.
Farrell and Sexton have plenty previous for this kind of thing and the new Ireland captain has been given free rein. He was caught on camera against Scotland feigning an injury again – a player of his unquestioned quality and standing has no business with this stuff.
Farrell's antics on Sunday, trying to demand a red card for CJ Stander after he'd illegally held the Irish back rower, were typical of England captain's habits.
Scotland haven't been much better. New skipper Stuart Hogg has been chipping at refs constantly and the "diving" gestures by several players aimed at Anthony Conway of Ireland when he was clearly obstructed in Dublin were out of order.
If players don't want to be heckled and booed, don't act in this petulant manner. Respect works all ways.