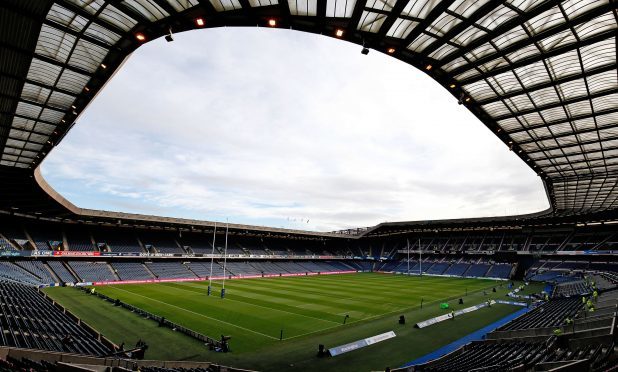 Leading figures in Scottish Rugby including chief executive Mark Dodson and Scotland head coach Gregor Townsend have agreed to salary deferrals – rather than cuts – for the next five months during the coronavirus shutdown.
It comes as the sport in Scotland tries to handle the shutdown of all rugby that came into effect on the weekend of the final game of the Guinness Six Nations three weeks ago. The final match against wales was postponed, while the domestic Guinness PRO14 league and the remainder of the club season has been cancelled.
On Monday the effects of the shutdown started to be felt acutely in world rugby with US Rugby, the governing body in America, being forced to apply for Chapter 11 bankruptcy. Rugby Australia, the governing body in that country, is facing an estimated £60 million loss in revenue from the shutdown and has laid off three-quarters of staff.
In Scotland the situation is apparently less acute – both Six Nations home games at BT Murrayfield, the main economic driver for Scottish Rugby, were played as scheduled – but following a board meeting late last week procedures have been announced.
They involve a 30% salary deferral from April 1 to September 1 for CEO Mark Dodson, who was controversially remunerated by £930,000 for his work in 2019, through salary and bonuses.
The percentage figure applies to his usual salary, which is around £450,000. Other Scottish Rugby directors and executive directors will defer a quarter of their salaries for the same period.
Similarly, Scotland head coach Gregor Townsend, director of performance rugby Jim Mallinder and pro team head coaches Richard Cockerill (Edinburgh) and Dave Rennie (Glasgow) have accepted 25% pay deferrals for the five-month period, although Rennie leaves Scottish Rugby to head coach of Australia at the end of May.
These are deferrals rather than the cuts announced in other countries, such as England where head coach Eddie Jones was among leading figures who accepted a 25 per cent cut to his total pay package, worth an estimated £750,000.
"These initial steps and other steps will be reviewed ongoing in light of the challenge the sport faces," said a statement from Murrayfield.
"Various business scenarios are being considered in respect of resumption of professional and International rugby and detailed financial modelling activities are ongoing against each scenario.
"We are currently closely analysing the Government support options being offered to organisations so that we will continue to feed this into informing our actions.
Chairman of the Scottish Rugby Board, Colin Grassie said: "We are working extremely hard to navigate the sport of rugby in Scotland through these extremely challenging times. We would like to thank all our staff, sponsors, stakeholders for their support and collaboration.
"We have a huge challenge ahead of us, but we will get there together and we will leave no stone left unturned to ensure the long term sustainability of Scottish Rugby and the sport in Scotland."
BT Murrayfield has already been offered to the Scottish Government to utilise the facilities in any way the country needs, while all main projects and non-critical expenditure at the stadium – including the ongoing construction of the new stadium development for Edinburgh Rugby – has been suspended until further notice.