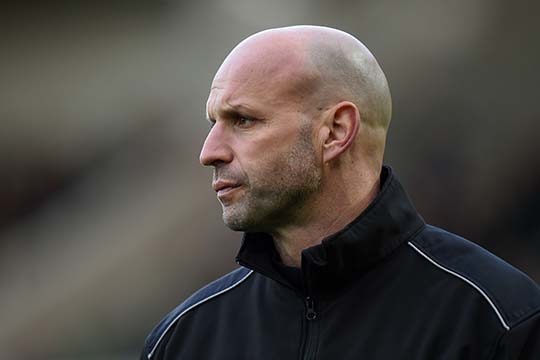 Dave Rennie's belief that runaway leaders Leinster should be awarded the unfinished Guinness PRO14 title for 2019-20 is a personal one and not shared by other senior figures within Scottish Rugby, said director of performance rugby Jim Mallinder.
Rennie expressed concern this week about player welfare if the completion of this season's campaign is shoehorned into the start of next season, even if that begins on schedule after the coronavirus lockdown. The Kiwi believes that season should end where it was stopped, and that it would be "hard to argue" that unbeaten Leinster did not deserve the title.
Mallinder said a review of the PRO14's options was taking place with all stakeholders next week, but the Murrayfield view was that the season should finish if possible.
"That was clearly a personal comment from Dave," he said.  "From an SRU point of view we wouldn't agree with that and I guess that Pro14 would probably have something to say, and I imagine (Edinburgh coach) Richard Cockerill would have something to say about it as well.
"I don't think we've played enough matches to give the title to Leinster. Clearly they've had an outstanding start, and it's been brilliant for them to go unbeaten, but there are some other sides who are playing well.
"What we've said at the moment is that there's the season, them the playoffs, then the final, and that it's the winner of that who should get it. That's why I don't agree that Leinster should be given it."
Mallinder's remit is across all elite teams from the national side to the Under-20s, and having taken over the post only in January he's been pleased by what he's seen so far.
"I think (the nation team) are making progress from what I've seen, clearly I wasn't involved in the World Cup but in the Six Nations we were disappointed we didn't play that Wales game because potentially it was one we could have won," he said.
"If we went through it, the Ireland game I thought we played well, we attacked well, defensively we were clearly better throughout the tournament, there's been some big improvements there, set piece-wise the scrum was real bonus and that went on throughout the tournament."
That means that Mallinder and Gregor Townsend both want to keep the two specialist coaches in the areas of improvement, Steve Tandy (defence) and Pieter de Villiers (scrum).
"Those areas were real strengths of the team," he continued. "I was delighted with both coaches – I knew Steve Tandy a little bit, but had not really come across Pieter de Villiers before and was very, very impressed with him and his coaching ability. I think we saw the success of that translate on to the field.
"Steve's already on a long-term deal and with Pieter we should hopefully have some good news coming out soon."
There was no rush to fill the vacancy left by Danny Wilson as forwards coach with no international rugby now likely until the autumn, he added.
"Gregor and I are in conversation about it at the moment, clearly there's no real immediate concern but we've certainly got a few coaches we're in dialogue with," he added.
"We'd want it all sorted before they next play. It looks as if the summer tour's not going to go ahead now and we don't quite know the structure of the autumn internationals but hopefully we will be playing some rugby there. It would be great to have the coaching team complete by then."
Mallinder hasn't been involved in the situation with Finn Russell and Gregor Townsend, but as effectively the line manager he wants it sorted as much as anyone.
"My main dealings are with Gregor as opposed to the players and I have been in constant chats with him," he said. "He clearly sets the vision and the way forward he wants that national team to go, and he will ultimately pick his side.
"But I am certainly in discussion with him and what we want is all our best players playing for Scotland. We want to have that strength in depth, and certainly Finn Russell is an outstanding player we want to have involved playing for Scotland again."
Mallinder, a former coach of Northampton who was lured from the Twickenham set-up by Scottish Rugby has been encouraged by what he's seen so far north of the border.
"I watched with fascination the Under-20s side in the Six Nations, and how competitive we were for such a small nation we did fantastically well – we probably should have beaten England and could easily have beaten France, we were probably the better team on both occasions," he said.
"I think we've got a good system and I have already seen a few ways we can improve that. I know our players have been going towards working a bit more and being more aligned to the pro clubs and I think that is something that I am going to be encouraging.
"We need to get these best 18 and 19 year olds playing at the Super6 level as much as we can, and hopefully training with the pro first teams.
"I think there is nothing better than mentoring so I need our senior players from the pro teams – our international players – to be mentoring our 18 and 19 year olds, whether that is a scrum-half, a fly-half or a hooker, there are some real good lessons we can learn there."