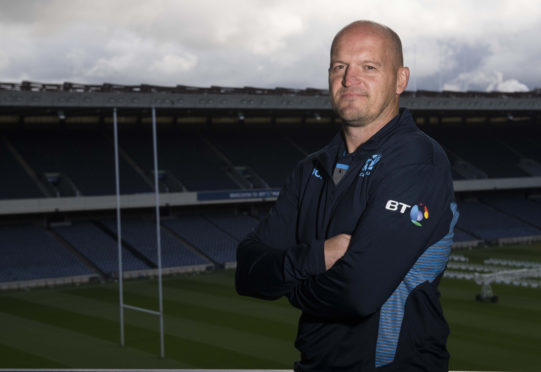 The "fastest rugby in the world" wasn't good enough on its own to break down modern defences, which is why Scotland's attacking game is still evolving, says Gregor Townsend.
The Scotland head coach this week gave a close insight into Scotland's change of tactics after an initial burst of success in his first 18 months as national head coach, and how perhaps the team's most thrilling game under his tenure – the spectacular 38-38 draw against England at Twickenham – brought a change in emphasis.
The head coach admitted that a consistent plan wasn't quite there for the World Cup in Japan – where Scotland lost the two key games in their pool and exited before the knockout stage – but there were clear signs that the new philosophy was starting to bed in during the Six Nations this year, where they won their last two games and performed far better than they had in Japan overall.
"We had more emphasis on defence, that's something that started after the 2019 Six Nations," he said. "When you concede 38 points in your last Six Nations game, it obviously becomes something that has to improve.
"But there is a couple more things to this, and the first one is consistency. We just weren't consistent enough in our performance – there were times in games we played some excellent rugby, but there were other that we didn't play as well.
"The difference between our best and worst is now much closer than it was before this year's Six Nations."
Scotland's "fastest rugby in the world" philosophy was a term Townsend mentioned in private to his squad on their first tour that ended up being something of a millstone around the coach's neck after a player mentioned it in an online article.
It did prove successful in many games in 2017 and 2018 against quality opposition like England, Australia and New Zealand, but had a short shelf life.
"What I believe and what we believe as a coaching group is that we put our strengths on the field, and they are more aligned with speed and skill," he continued.
"We don't want the game slowed down because we don't have bigger players than the teams we're up against, we're going to try and break it up as much as possible.
"One way of doing that is kicking more, where the goal is a positive outcome, not kicking to slow it down and just defend. That's been a work in progress and it has brought some reward, our ability to get counterattack ball off those kicks which is one of our biggest strengths when we have players in our back three like Stuart Hogg."
Hogg's spectacular solo try in Rome during the Six Nations was one good example of how a kicking exchange manipulated space for the full-back's pace, and the other change has been less focus on quick ball and more on attacking where defences were weak, continued the head coach.
"Defences are getting so much better organised that in the past our goal was all about getting quick ball and that's still the key factor is destabilising defences, but now that's not good enough," he added.
"All defences are similar in their structure, they'll have 13 in their front line and they'll chase hard round the corner, and a couple of years ago if you were producing very quick ball you'd get into those spaces and lot easier than you can do now.
"So what we're doing is encouraging our player s to look at where the defence is weak, perhaps not going with such shape and structure as we have in the past, but looking at opportunities, and that could be a chip kick, a forward calling for the ball on the blindside.
"That's the direction in which we've moved. Sometimes you see the rewards in a game, sometimes you think, we've still got a long way to improve that."
Two elements that have helped Scotland become more consistent and threatening this season were that evolving defence, and the hugely improved scrummage, he agreed.
"We had varying success with the defence, we had two games in the World Cup where we didn't concede a point, so the players showed defensively they can be strong," he went on.
"But we improved that in the last 6 Nations, and partly that's down to this playing group we have, and their appetite to defend. We also brought in a new coach and we wanted to give him coaching time so he can get his philosophy over, and partly down to Steve's excellent work and how he's connected with the players. He's got a different way of defending which the players bought into very quickly."
As for the scrummage, it had been a "huge" factor in Scotland's improvement, he said.
"I think the scrum provides a confidence right throughout the team," he said. "We have been so pleased with the scrum performance and also with the work that (new scrum coach) Pieter de Villiers has done.
"Credit goes to the players first of all – Rory Sutherland hadn't played international rugby for a long time, hadn't started more than two games in a row, I think, for Edinburgh and started four games for us and played very well.
"Looking at some of the stats in the scrum, I believe we were the best scrum in the competition because we won the most penalties. That's a huge advantage if your scrum is winning penalties, and also you can attack with scrum ball.
"And we're doing all we can to make sure that Pieter is going to be with us in the long term. There's been nothing announced yet, but there's certainly a commitment from both parties."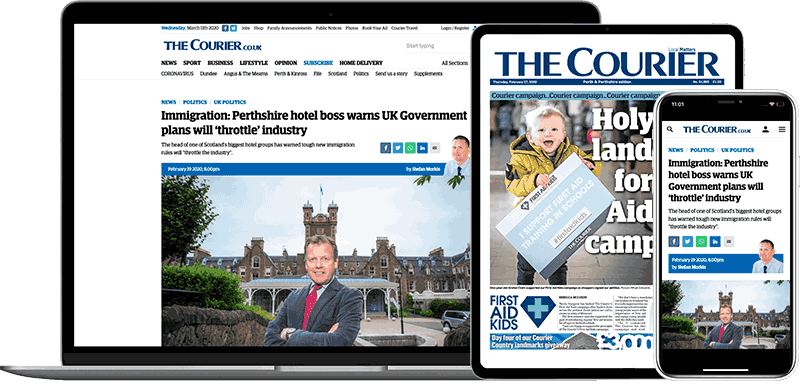 Help support quality local journalism … become a digital subscriber to The Courier
For as little as £5.99 a month you can access all of our content, including Premium articles.
Subscribe