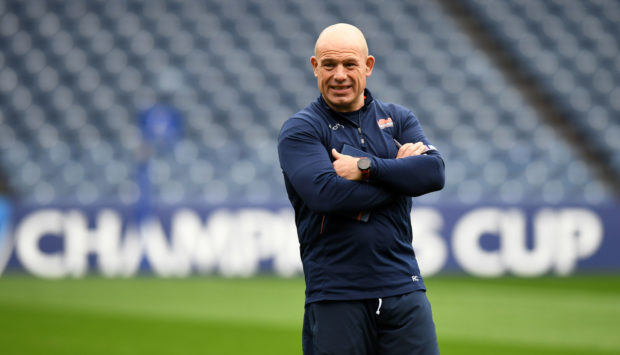 Richard Cockerill loves a challenge, and after the success of the first one – three years knocking Edinburgh into shape – he's faced with an entirely new one now.
The coronavirus lockdown and the reality that budgets have been frozen with no revenue coming into the international game means the Edinburgh head coach has a juggling act in terms of playing and financial resources on his hands as rugby start to emerge for the enforced shutdown.
However he's up for the challenge and certainly up for discussing a contract extension at Edinburgh, where even the first stage of his rebuild is only partly done.
"I'm out of contract next May and if the Union want me to stay on then I am very open to that, I have never alluded to anything different," he said, when asked about chief executive Mark Dodson's stated intention to re-sign him and Scotland head coach Gregor Townsend.
"We've got a good group of players, a new stadium, we are headed in the right direction, so it is all positive in terms of an Edinburgh point of view.
"Things are going to slightly different now because of budget and those sorts of things but you just have to work with it, the whole world is in a difficult place at the moment."
English Premiership club Gloucester, minus a director of rugby and head coach right now, did contact Cockerill's agent but it didn't go anywhere, he continued.
"I was aware that they had made contact with my agent and we had a discussion, and it was nothing more than that," he said. "I am very committed here, I think that is an important thing to be because I am going to ask a lot of the players.
"It is always flattering to be associated with different jobs, they are a good club and I'm sure they will get the person who is right for them, but at this moment in time that is not me."
It's not a given that eventually he'll end up back in England or France, where he coached at Toulon, he insisted.
"I don't really have any plans. I never have done as a coach. I just work hard and get today right and the job done here," he continued.
"I don't see any reason why Edinburgh can't be a force in the European game, we just need to keep building and working here. There is a good player base here, there's lots of positive things happening so we just have to make it work."
Players running with 15 metre gaps in lanes cordoned off around Murrayfield or in isolation doing individual weight sessions is the slightly bizarre scene as Scottish professional rugby players returned to training for the first time in three months this week, but Cockerill is in no real hurry to see proper contact work.
"This will continue for four weeks and we'll see where we get to with the government guidance," he said. "Whether that's small groups or large groups, contact or ball work we have to make sure we're sensible on reducing the risk as much as possible.
"The key point from a players' point of view is there will be some contact in training as time goes on, but when you're away from this environment as players, as coaches and as staff we still make sure we reduce the risk of getting infection so that we can come back and play and keep the game going.
"There will be some hiccups along the way, because we've seen the experience from other sports that there have been people who have been less than cautious and put themselves at risk."
Cockerill would love some hands-on coaching but knows that he and the players will have to patient.
"I'd love to get the guys doing their rugby now but it's not possible for obvious reasons," he added. "We have to find how we train as well as we can under the restrictions we have around safety, health-wise, the furlough and making sure we know how the finances work.
"It's not as if we're behind the competition and everyone's doing different things, in rugby in the Northern hemisphere, we're all doing the same thing."