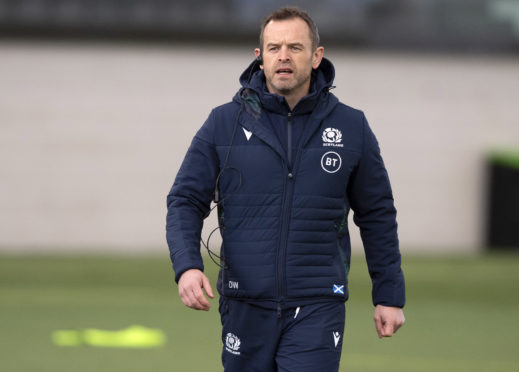 Glasgow's chances of making the Guinness PRO14 play-offs have been rendered exceedingly slim by the coronavirus stoppage – they need to win the two post-lockdown 1872 Cup games with five-point bonuses for a start – but they'll be "going for it" until it's impossible, vows head coach Danny Wilson.
Not only do the Warriors need to beat Edinburgh twice in six days at BT Murrayfield scoring four tries in each – just beating their rivals has proved hard enough in recent times – but they need Ulster to not record a single point in their two re-start derby games.
It looks much too tall an order but Wilson isn't going to consider how Glasgow play out the completion of the season until they're officially out of the reckoning.
"We've got to play that first game (on August 22) to try to get five points and see what happens with the Ulster game," he said. "After that game we can assess how we go into the second game.
"Do we then make adjustments and changes based on the fact we are not in the competition any more? It gives me and the coaching team a chance to look at different combinations.
"Or do we say, we have an opportunity here, if we get another five points and Ulster don't get a point from their last game, we have to be going for it. We have to put out a side that resembles going for it and play rugby that resembles going for it."
If they didn't get it, there is a three to four week window in which they can built on the three short weeks of contact work that will start on Monday.
"We could get some more pre-season training done and have more opportunities for us as coaches to put our own stamp on it," he said.
"Right now, you're not going to change everything and cram everything into a very short window before you play two derbies. You make the adjustments you can and the changes you can and want to, and then we'll make the other adjustments leading into the start of next season."
It wasn't ideal to have just three weeks of contact coming into the two games against Edinburgh, he agreed, but at least everyone was in the same boat.
"Every coach will tell you they want more time," continued Wilson. "But in terms of the plan that was put in place, I think it is safe and suitable for the fixtures we are going to be playing against Edinburgh.
"We have done a fair amount of building towards contact work. But what we need to do is bridge the gap between not playing for six months to playing and that means building the contact slowly but surely in a safe way.
"A derby is a derby, so the intensity will be there. Both teams still have something to play for. Mathematically, we have something to play for, but Edinburgh probably more so.
"I think it will make for a really exciting derby based on that. But we are also, all of us, aware that these boys haven't had a game of rugby for almost 6 months. That's a long time to be out of rugby and then come back in to playing a derby.
"It's going to be a challenge for both teams. But what an exciting way to come back to rugby at Murrayfield."
In his return to being a head coach, Wilson faces a tricky juggling act with his squad slightly reduced because of coronavirus cuts but more demands on his international players now that an extra three weeks of internationals have been added to the programme.
"Obviously we are waiting for announcements and final confirmation of fixtures around international rugby, but I think we could be looking at a very unique season," he said. "The real positive is that that will get money back into the game, the international game is where we will get the money back that we're all desperate for.
"The knock-on effect for Glasgow and for Edinburgh is that it will be pretty tough if the international period clashes with Pro14 fixtures because of the amount of players we lose.
"We are going to have quite a challenge on our hands. But the positive of that is that we will get to look at and blood some of the younger players.
"Frankly, we'll have to. It will be a good test of where our squad is at."