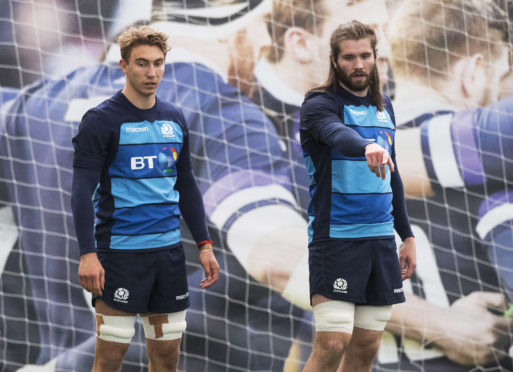 Richard Cockerill's selection for Edinburgh's Guinness PRO14 semi-final against Ulster is not without its risks, but he still has enough options to pick any XV that should be good enough to reach the final.
Scotland lock Ben Toolis returns for the first time since lockdown and shoulder surgery, while Jamie Ritchie is on the bench similarly having had no minutes at all in the two games since rugby emerged from the pandemic.
Cockerill has left his talismanic loose head Pierre Schoeman on the bench but apart from Henry Pyrgos, he has a full squad to select from, and selection decisions have led to a somewhat "tetchy" week on the training field.
"Schoeman wants to start but he hasn't played as well as (Rory) Sutherland in the last couple of weeks, so Sutherland gets to start because that's the right thing to do," said Cockerill. "We've got that (choice) in a few positions.
"There are six very good front rowers there. You could have picked either front row and there would not been much of an eyebrow raised. I pick on current form and these three are the best to start.
"You can tell Schoeman is pretty cheesed off the way he has been racing around training this week and he will bring that energy when he gets on the field.
"It is an 80 min, 23 man game and those three who come off the bench in the front row have to really show what they can offer. We were poor at the set piece last weekend scrum wise and that has to be a hell of a lot better."
Toolis and Ritchie's inclusions, even though they didn't play any part of the doubleheader against Glasgow in the last fortnight, is based on their training ground play but also, obviously, a question of pure quality.
"Ben has been coming back quite conservatively for that as we knew we wanted him back for the semi-final," said Cockerill. "We did not rush him back last week because there was no point, but he has been training fully for the last two weeks.
"He is such good quality you have to pick him if he is available for selection, he and (Grant) Gilchrist are such a great partnership. Of course he is not as match fit as we would have liked, but he worked hard away from the group during lockdown and and he is desperate to play.
"This is the first time we have made a semi-final in the league and guys want to be part of it. Ben will be hugely valuable tomorrow and have a huge impact on the game. He's a world class player and he will play as he is a cut above most second rows."
Ritchie suffered a "nasty" dislocated finger in training but it now recovered and ready.
"The way Jamie has trained this week gives you that confidence that he is ready to go, and he's just got that but of devil and steel about him that shows you why he is doing what he's doing at Test level," said Cockerill.
"But the team does pretty much pick itself. We've got a good group and the non 23 have been excellent this week helping to keep the intensity high.
"We're ready to play. We've just got to make sure mentally that we are resilient enough and robust enough to deliver what we've said we are going to deliver. That's the challenge."
The head coach has no truck with the social media noise about the selection of Irishman Frank Murphy – a former player for Cockerill at Leicester – as referee, saying PRO14 ref chief Greg Garner cleared it within him first.
"I signed him, and then I fired him," Cockerill said of Murphy. "Frank has transitioned to refereeing very well: he's progressed over the last 24 months into a very good ref. The two that have been picked this weekend are the two form referees.
"Greg Garner rang me about that, asked me if I had an issue with an Irishman refereeing the game, and I just said 'Is he the best referee?' Frank's a good referee.
"Last weekend he sent two players off, others to the bin, and doesn't care that it might affect the game or not. Frank refs what's in front of him and I trust him to do that."
Cockerill doesn't have any qualms about a disciplinarian with the whistle either as Edinburgh are one of the least-penalised and carded teams in the PRO14.
"The players know if you tackle someone high and your shoulder hits their head, you're going to get sent off or if you lead with your elbow and hit someone in the face, you're going to get sent off," continued Cockerill.
"We don't have to remind guys of that. There's been lots of attention paid to the new interpretation, but the laws are still there for everybody to follow as normal.
"We would hopefully be as disciplined as we normally are. We're not a particularly highly penalised team, and we very rarely get guys sent off the field, so I hope that continues for both sides."
Ulster have managed to patch up Jacob Stockdale and Jordi Murphy to get them on the pitch at BT Murrayfield, but there is no Iain Henderson and you'd be hard pushed to say this was a stronger Ulster team than were routed in last season's PRO14 semi-final against Glasgow.
Edinburgh team: Blair Kinghorn; Darcy Graham, Mark Bennett, Chris Dean, Duhan van der Merwe; Jaco van der Walt, Nic Groom; Rory Sutherland, Stuart McInally (capt), WP Nel; Ben Toolis, Grant Gilchrist; Magnus Bradbury, Hamish Watson, Viliame Mata.
Replacements: Mike Willemse, Pierre Schoeman, Simon Berghan, Andrew Davidson, Jamie Ritchie, Charlie Shiel, Nathan Chamberlain, George Taylor.