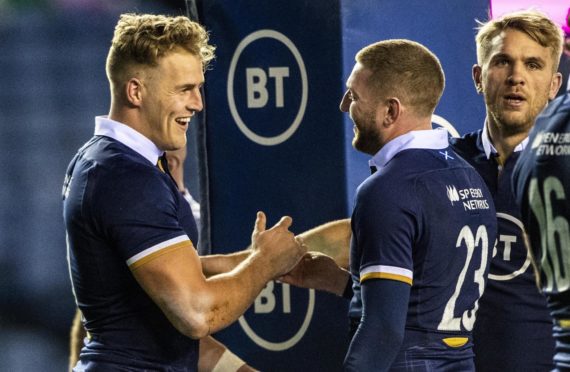 Duhan van der Merwe didn't want to take off his first Scotland cap after being presented with on Friday night, after an emotional moment within the dressing room after the defeat of Georgia.
Team officials organised a Zoom call so that family and friends of van der Merwe, fellow new cap Oli Kebble and the man reaching his half-century milestone – somewhat belatedly – Finn Russell could witness the presentation of their commemorative caps.
And the big South African-born wing had got the tip from the returning Russell that put the icing on the cake of his first Scotland appearance.
"Finn just gave me a word before the move `just run on my inside'," said van der Merwe, who had been well marked by Georgia in the wide channels and struggled to get up to his formidable full pace.
"I just did what I was told and he put me away. It was very special to score on my debut,"
"It was live on Super Sport in South Africa so my family and friends back home watched, and then to have then on Zoom call when I got my cap presented to me by our captain Fraser Brown in the changing room, that was very special.
"I had to keep it on the rest of the night but that's okay, I think it suits me."
Van der Merwe admitted he didn't know quite what to expect coming into the Scotland camp but the welcome could not have been warmer – even from Glasgow players!
"It was a new environment, I was stressing about all the new calls being chucked at me, and obviously making new mates, but the Scotland camp is amazing.
"I've played for Edinburgh against Glasgow, so you are a bit like 'oh, what are the boys going to be like?' But everyone has been fantastic.
"I think is amazing as a new player coming in. I was really shocked at how they treated me, and how we became mates in a week and a half. I've loved it."
He admitted also that he found a difference playing international rugby almost immediately.
"I was actually saying to myself after the first five minutes 'wow, I feel really marked, there is not much space'. Obviously, in international rugby they really analyse you and stuff, so I just have to work around that and find ways to beat guys.
"Getting my first dot-down was incredible so if I can get a couple more in the future it will be even better."
The plan was to get him on the ball ten times – "if we can do that, we'll be in a good spot", said Gregor Townsend during the week, but they fell a bit short of that.
"We spoke about getting me on the ball, and that meant coming in from the wing a bit," he said. "I was obviously nervous, but getting on Finn's inside at the end was perfect."
Head coach Townsend now takes his team to West Wales and Llanelli to finish the 2020 Six Nations finally against Wayne Pivac's side, who lost to France in Paris in an entertaining game on Saturday night.
"Belief is a key ingredient of success," he said of Scotland's poor record in Wales, where they haven't won since 2002.
"You can't just magic belief, you've got to create it from within, create it from what you're doing in training and your overall view of your own performances and what the team can do and on the back of previous games.
"There is a lot to suggest we can go into the week with optimism but there is also a lot of work we have to do."
Stuart Hogg and Jonny Gray came through Exeter's Premiership final against Wasps with no ill-effect, and the double champions joined the camp at Oriam last night.
"It's also likely our team will change next week, with the likes of Stuart and Jonny coming in, so it will be a new camp this week with new players coming into our squad," added Townsend.