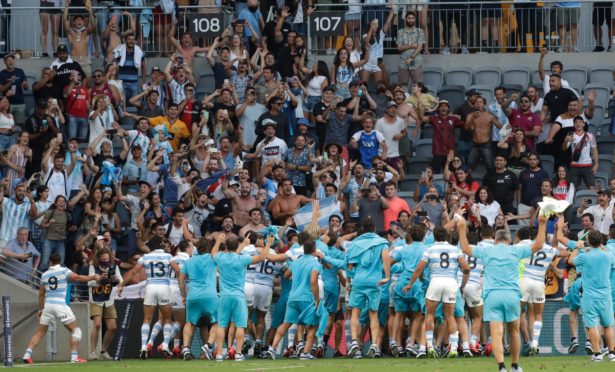 Apologies to first weekend of the Autumn Nations Cup, but the big story in international rugby last week was Argentina beating New Zealand in Sydney.
The Pumas had not been together since the World Cup (which was as disappointing for them as for Scotland). But they summoned their traditional emotion, the backing of what are now the best fans in the sport – even a scattering around the 30,000 capacity Western Sydney Stadium made an unholy noise – and belief to beat the All Blacks handily.
The scene of the season so far, for me, was one of the hardest men of recent rugby history, former Pumas hooker and now coach Mario Ledesma, breaking down in tears in the coaching box as the game drew to a close and it become clear his side would win.
This was the first time Argentina had beaten New Zealand, which leaves just Scotland of the other top eight "traditional" nations without a victory against the All Blacks.
Had normal circumstances prevailed, Scotland would have played New Zealand twice in 2020 – in Dunedin in the summer in our first test in that country for 20 years, and this very weekend at BT Murrayfield.
Could either have been that elusive first win? Accepted wisdom now has it that the Scots were probably lucky not to spend the summer playing two tests away against the world champions South Africa and that one in New Zealand.
Instead this Sunday's ANC game at home to France could be the sixth win in a row, equalling the all-time record currently shared by the fabled 1925 and 1990 Grand Slam teams – there are also two instances from the late 19th century, but it's stretching a point to count them.
Even Gregor Townsend's greatest admirers wouldn't believe that Scotland would have won all three summer tests. But there's also an assumption that the Scots simply couldn't have won in Dunedin nor in the game originally scheduled for this weekend.
I even heard some express relief that we weren't taking on New Zealand when they're coming off the back of two successive defeats (having lost to Australia in Brisbane a week earlier). There's realism, of course, but there's also outright defeatism – this should be the time we're gagging to have a shot at the wounded All Blacks.
Scotland will playing France for the second time this year on Sunday. There's a strong argument to be made that they're the best team in the world at the moment – Townsend thinks they are – having beaten everyone they've played this year…except for Scotland.
The 27-17 victory in March at BT Murrayfield was conclusive, even allowing for the fact France played 50 minutes with 14 men after Mohamed Haouas connected with the plate in Jamie Ritchie's cheek.
The Scots had the ascendancy throughout, with possibly the departure of stand-off Romain N'Tamack with concussion at an early stages a more telling absence than Haouas.
The outstanding young Toulouse 10 will not play this weekend due to injury, and while we cannot expect his likely replacement, Mathieu Jalibert, to play like a headless chicken in defence again – the Bordeaux playmaker is an outstanding talent but his defence (ahem) need some work – Scotland are right to be confident that what worked in March can work again.
Obviously, traditionally, the French are a much more fragile proposition to exploit than the All Blacks have been down the years. But there's no question there's a transition going on for both at the moment.
France are trying at last to erase the bampottery that leads to the likes of Haouas getting sent off and Sebastien Vahaamahina's brainless red card in the World Cup quarter-final and ally their flair and invention to relentless efficiency. This will be a longish process, but they have players – Antoine Dupont, Charles Ollivon, N'Tamack – who would walk into any side in the world right now.
New Zealand appear to not want to transition at all, promoting Ian Foster from Steve Hansen's assistant to be his successor in a move that seems aimed at cohesion. Fair enough, but after the World Cup and the way England dismantled them there, perhaps a change in direction was due.
Last weekend certainly suggested it. New Zealand produce too much talent to spend too long in the pack of decent-but-not-great nations, but this would appear to be a time when you'd really fancy your chances if you were, say one of the top three or four nations in Europe, for example.
Scotland should count themselves in that group right now. They've seen Ireland win over New Zealand at last in recent times – twice – and now Argentina as well.
In the game at Murrayfield three years ago this week, Scotland were one inside pass away from beating what was a much better New Zealand side than the current vintage.
Rather than be fearful and defeatist, maybe we should embrace the possibility of beating the All Blacks at last – whenever that opportunity may occur.