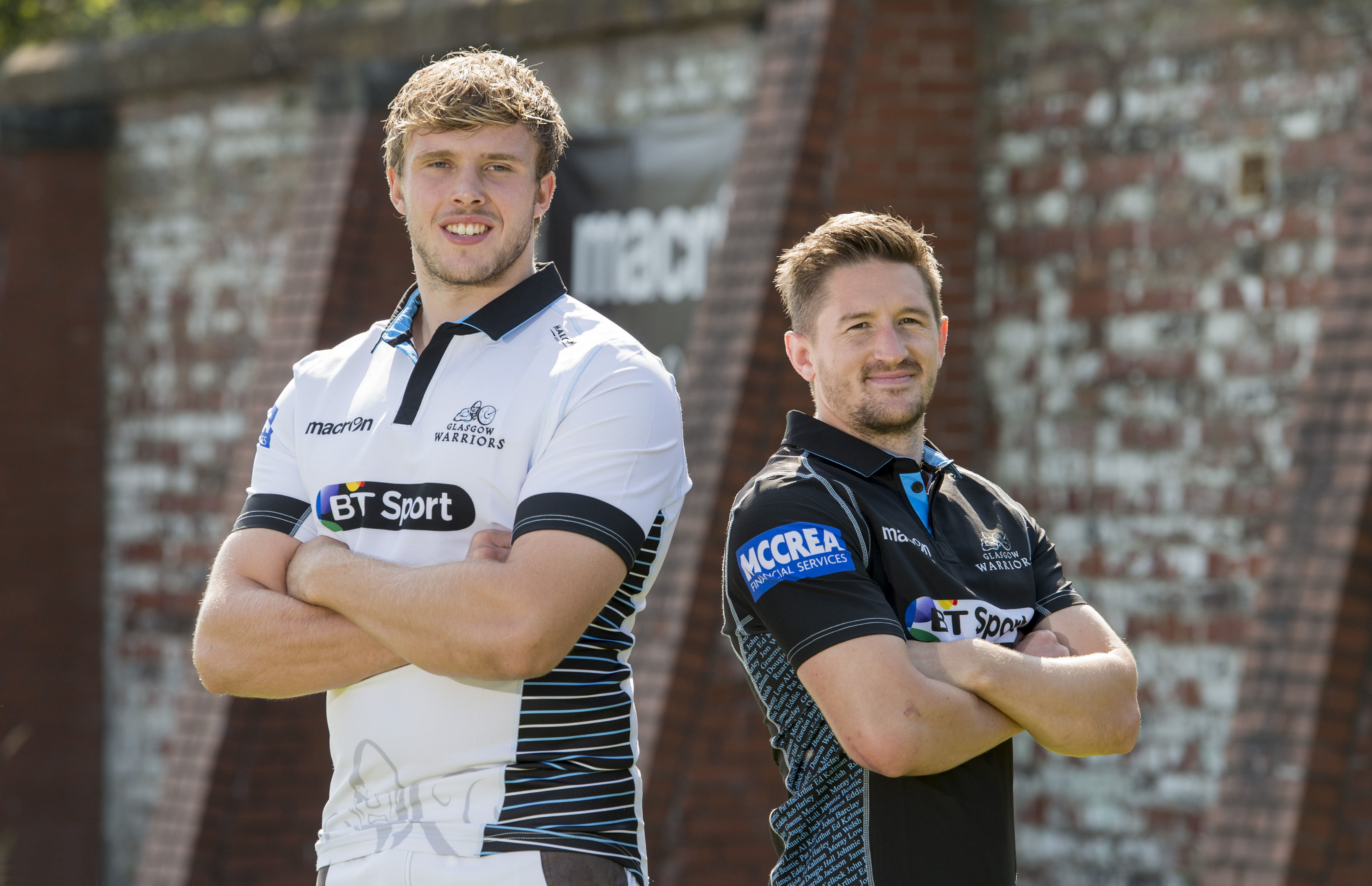 The culture that honours their predecessors is now part of the Glasgow Warriors shirt and will form the backbone of Jonny Gray and Henry Pyrgos' new co-captaining of the team.
Scotland lock Gray was last year's captain of the Warriors but will share the duties with international scrum-half Pyrgos this season in a new move by head coach Gregor Townsend – heading to Scotland at the end of the season as announced yesterday by Murrayfield.
Both players want the process to evolve, but are certain that the carefully constructed club ethos at Scotstoun will bring a collection of views from senior players.
This year's new home kit underlines that by featuring the names of every player who has played 100 games or more for the club – although not Pygros, who was just a few short at the cut-off point of last January.
"I think it's a great thing, there's a legacy here at Glasgow and it's great to honour the guys who were long servants to the club," said Gray.
"There are lots of those kinds of people at the club like Rob Harley, Josh Strauss and others who have skippered the club and there's always communication. But this is a new thing to us and I'm just honoured to have been asked to be captain of my home town club again."
Pyrgos, who has captained Scotland in Grieg Laidlaw's absence, thinks it's a thing that will develop.
"It's something that will definitely evolve because nothing's set in stone at the moment," he said. "It's new to us but it's something Gregor suggested as there are teams who have done it in the past in New Zealand particularly.
"We're still learning and developing it as we go along. In certain weeks one of us will probably take the lead a little bit more, depending on the game situation, or referees.
"Even last year Jonny often looked to another senior player when making decisions. It's not always a group decision, but you never have just one guy who speaks. We have people like Cory Flynn who is new to our squad but is a really experienced player"
It may develop into a backs-forwards thing, with Gray continuing to call lineouts, while Pyrgos' position allows him to be close to the referee at all times.
"I've always felt that senior players help you here," said Gray. "That's the kind of culture we have at Glasgow. Everyone steps up and you never feel isolated in any situation. We are all in this together and it's like that in training as well."
The new plastic pitch is still being laid at Scotstoun but Glasgow get underway again this season with a weekend friendly against Harlequins in London.
"The end of our season was tough," admitted Pyrgos, recalling the successive defeats to eventual champions Connacht that led to the Warriors missing out on the PRO12 final.
"We won the title a couple of seasons ago and we're desperate to get back to the top. Guys have put an incredible amount of work in and we have our first pre-season game this weekend.
"It's like any season, you take it week by week, and it's going to get tougher and tougher every year. But it's exciting to look forward to the  battle to get back into that top four and secure a home semi-final."