 Just three fixtures ago Howe of Fife's BT National League One status looked all but over, but it seems there's a whole lot of life in this team yet.
Last week's win at Falkirk – their first away win in league rugby since October 2015 – showed that the improved performances against Hamilton and Dundee High were not isolated, and the team is definitely moving forward.
One could argue that they're pretty unlucky not to be in the midst of a three-match unbeaten run to follow that dispiriting year-long run of successive defeats that ended against Hamilton in November.
Howe can now even lift themselves from the foot of National One with another win this week against Aberdeen Grammar, which would be a huge boost and a perfect way to draw the line under what has been a difficult 2016 – on the pitch at least – going into the festive season break.
Grammar are themselves in a desperate run of 10 successive defeats dating from the return fixture against Howe on the second week of the season back in September, and would replace Howe at the foot of the table if they lose at Duffus.
But after looking pretty clear-cut in terms of relegation in National One for the first three months of the season, it's now pretty much open season. Howe will be aiming at Hamilton, Stewarts Melville and Musselburgh, who have a safety net getting smaller by the week.
Dundee's reaction to their somewhat fortunate escape against Howe was just about what head coach Colin Sangster would have wanted for an hour at Mayfield last week as they ran up a half-century and eight tries.
Again, the last quarter saw standards slip a little allowing Hamilton a try bonus point but overall some of the attacking rugby was first class, with George Arnott in particular slotting back into form after a long absence through injury.
Howe are now just a point behind fourth-placed Falkirk but there's plenty ground to make up on the top three of Marr, Jed-Forest and Edinburgh Accies who have become detached at the top of the table.
This week High are at Selkirk on whom they put 60 points in the second week of the season, but the Borderers are usually a different proposition at Philiphaugh.
Kirkcaldy's 31-all draw with Aberdeenshire finally ended a run of defeats and extended their cushion over the relegations spots to nine points, mostly by virtue of having the largest bonus point haul of any club in BT National Two.
Converting soemn of those losing bonuses into wins has to be the target for the second half of the season, starting with a trip to Burnbrae against West of Scotland, who lie a place and three points above them in the division.
Perthshire could only pick up a losing bonus at home to Glasgow Accies in National Three and have a tough task away to St Boswells this week before the three week break.
The regional leagues have all gone into festive hibernation a week early, with one re-arranged fixture being played in Caley Two Midlands, league leaders Grangemouth visiting Crieff.
BT League matches this weekend:
National League One: Howe of Fife v Aberdeen Grammar, Selkirk v Dundee HSFP.
National League Two: West of Scotland v Kirkcaldy.
National League Three: St Boswells v Perthshire.
Caledonia League Two Midlands: Crieff & Strathearn v Grangemouth Stags.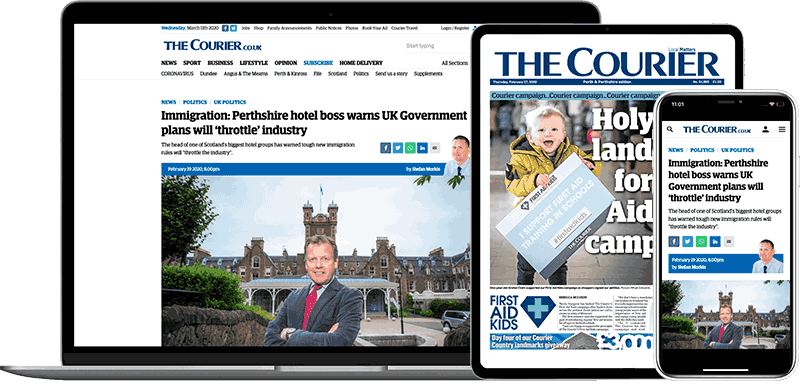 Help support quality local journalism … become a digital subscriber to The Courier
For as little as £5.99 a month you can access all of our content, including Premium articles.
Subscribe