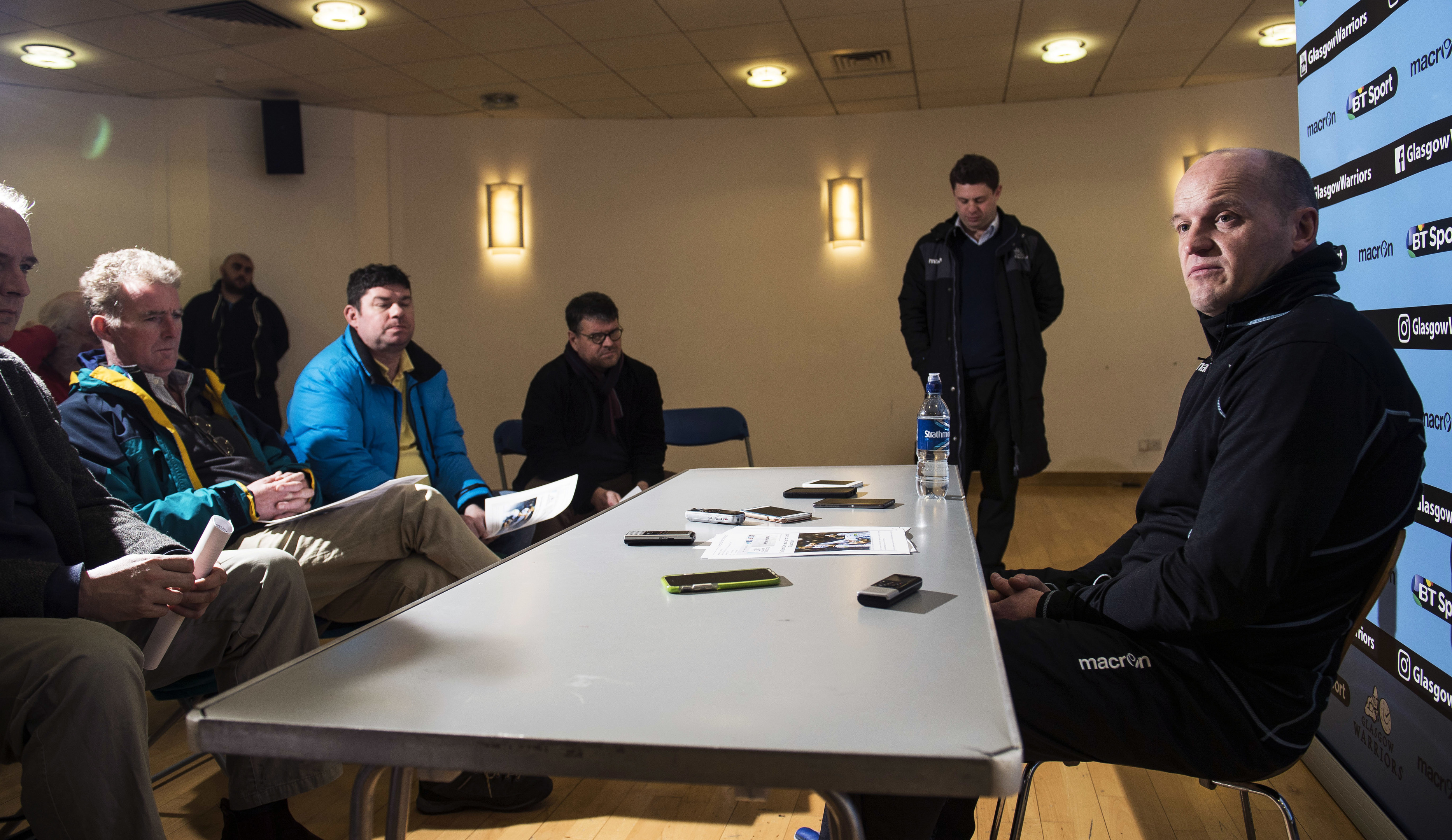 Gregor Townsend called on World Rugby to return to the "morality" of banning the courting of contracted players after approaches made by French and English clubs to Scotland and Glasgow stand-off Finn Russell.
The Warriors and Scottish Rugby will not agree to any plans to buy the 24-year-old out of the remaining 18 months of his present deal with the club or entertain approaches to any of their in-demand Scotland players, Townsend stressed.
Reports had Russell – back in the Warriors starting line-up for tonight's Guinness PRO12 meeting with Cardiff Blues at a sell-out Scotstoun – being approached by big spenders Toulon, Montpellier, Bath and Gloucester despite his current contract lasting until the summer of 2018.
The Warriors head coach is angry and revealed that in the case of the one player the club did allow a buy-out – Fijian international Leone Nakarawa – it was after officials from cash-rich French club Racing 92 approached the player in the Glasgow team hotel on the morning of a European game between the clubs last year in Paris.
"If clubs are speaking to our players when they have still got 18 months of contract left it is not right," said Townsend. "If what has been said is correct World Rugby has to do something about it.
"Before there was understanding, comprehension, and morality in terms of not speaking to players until they got to the last year of their contract.
"Yet we had an incident last season when one of our players got approached on the day of the game by officials of the team we were playing against.
"Clubs will do that to destabilise our players and it's just not right. In the case of Leone, we made the decision to let him go a year ahead, we had enough cover in the second row area, but the situation there was wrong as well.
"If these are the developments of the modern game then the governing body has to come out with some kind of decree to say that this is not good enough.
"Finn is a big part of what we do. He will be a Glasgow player for the next season and a half."
If Toulon or any other big club came to the Warriors instead of the player asking to negotiate a contract buyout, they would get the same answer, and the difference between the Russell and Nakarawa cases was the Scotland perspective, he added.
"It is massively important because players get a rest, they can be managed," he said.  "The club game is important and we are still involved in two tournaments this year which is great.
"But part of the reason that the pro teams exist is make sure the international players can be managed to be fresh at international level.
"Players who play regularly in internationals get managed (rested) every five games. You will play fewer games, you will play in bigger games, you will be rested appropriately and you get the week off before the Six Nations. That doesn't apply (to those playing) outside Scotland.
"The level of competition and play here is at a really high standard.  We have beaten Racing home and away this season. We've got to the Pro12 semis in the last few years, and we can still do better.
"This is a really good place to be right now for a Scotland international player."
Russell, Jonny Gray – another contracted player rumoured to have been a target for Toulon – Alex Dunbar and Mark Bennett return for the Warriors tonight, but Townsend is worried about World Rugby's new tackle directive which comes into force in this weekend's games across the globe.
"I'm really concerned about what the games could end up being the next few weeks," he said. "There's going to be a huge level of interpretation on what constitutes an accidental tackle.
"I just really hope that common sense prevails, but I think it will be difficult, for refs and players especially to do it mid-season.
"You just hope the game comes through it with common sense because right now you get one yellow card and it affects the nature of the game.
"When you get two or three yellows or a red the game is going to be totally different for the supporters and the players."