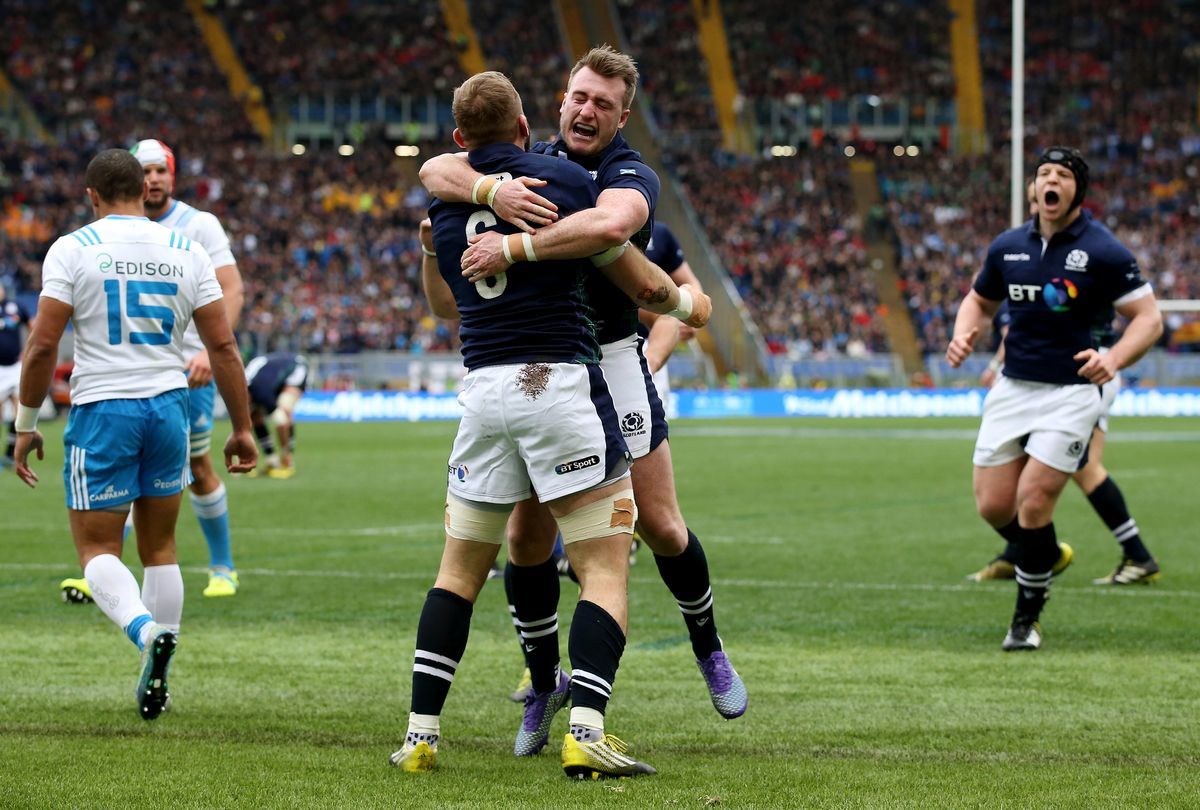 Scottish Rugby has been nurturing some excellent young talent, and they are now dazzling on the pitch. Brought to you by Royal Bank of Scotland, we spotlight some of the names to watch out for in 2017.
Over the years Scotland has produced some world class players – and the current crop has some great talent among it.
Everyone wants to watch players who can get them up off their seats – and this bunch certainly do that!
Top of the tree is Stuart Hogg, the 24-year-old maverick full-back who gets fans jumping and can create something from nothing.
His talents are widely recognised, but a man who plays alongside him and does not grab as many headlines – Tommy Seymour – is also world class.
The winger grew up in Northern Ireland, America and Dubai, but his mother Sue is from Glasgow and it is since he joined the Warriors in 2011 that he has really turned himself into a very dangerous try scorer.
The 28-year-old has a knack of creating space and coming off his wing to run a great angle. He is always a valuable man to have in support too and more often than not if a Scottish player is heading towards the try line then Seymour will be on his shoulder.
Before this year's RBS 6 Nations began he had 14 tries from 31 caps for Scotland and he has scored some vital ones since his debut back in 2013.
Also in the backline there is no doubt that Finn Russell is getting better and better at controlling a Test match from stand-off with each passing outing while in the centres there are two men with real talent.
Alex Dunbar has been frustrated with injuries throughout the last two years or so, but there is no doubting his qualities.
The 26-year-old, who learnt his trade in Annan at grassroots level, was injured badly during the 2015 RBS 6 Nations and missed the World Cup.
He also had some niggles in 2016, but in recent months he has been back to his best and is very solid in defence and attack.
To date Scotland have only seen fellow centre Huw Jones in action a few times, but the 23-year-old has the 'x-factor'.
He scored two tries against Australia in November and has a bit of class that can really help Scotland going forward.
In the pack it is not just because he is 6ft 6in tall and has blonde hair that Jonny Gray stands out.
The consistent performances of the second-row do that for him and he is up there with the best in the world in his position at the minute.
In the back-row Scotland have two high quality openside flankers who push each other on and have helped take each other's games to a new level.
John Hardie and Hamish Watson both love securing turnovers and putting their bodies in where it hurts for their team.
Former Scotland centre Graeme Morrison, who now works for RBS, said: "I think players like Stuart Hogg, Jonny Gray, Finn Russell and others really know how to mix it with the best now, while it is exciting to see the likes of Hamish Watson and Zander Fagerson coming through.
"It is great to see young players looking so assured at the top level and the fans are right to be excited by these guys."
Royal Bank of Scotland has long been a supporter of rugby right across Scotland, backing more than 150 Scottish clubs through RugbyForce in the last two years. Read more and win great prizes at the RBS rugby website.