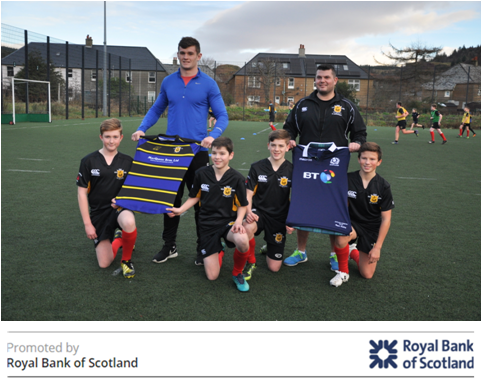 Scotland's rising stars were outstanding players for their local clubs – now the world is at their feet.
Everyone loves to see players come right through from their local club to the international arena and in recent years a number have done that in Scotland.
And the great thing about the players who take this route is that they never forget their roots and do their best to spread their love of the sport.
Last November Magnus Bradbury, the Edinburgh Rugby back-row who is originally from Oban, earned his first full Scotland cap against Argentina.
Aged just 21, it was a massive moment for him and his family, but one of the first things he did following that match at BT Murrayfield was return to his old school.
Murray Hamilton, a teacher at Oban High School, said: "It was no surprise when he texted me asking if he could come in and see the boys train.
"We managed to get all of our S2 and S3 players together for an impromptu training session which Magnus was happy to get involved with and pass on some great tips to the players.
"Magnus is a fantastic role model to these young players, he promotes hard work and determination and is living proof that you can make it regardless of where you start playing so long as you put in the hard work."
Magnus, whose mother Dee is the vice-president of Scottish Rugby, said: "It was amazing to get a Scotland cap and if I can inspire the next generation then that would be brilliant."
Scotland Women's cap Jade Konkel has always gone the extra mile to make her rugby dreams come true.
Now 23, the No. 8 has 23 caps to her name and is a professional player.
Jade grew up on the Black Isle with a family that was rugby daft. When she was 17 she headed down to Edinburgh for a day for up-and-coming rugby talent from around the country and she impressed enough to be put into the Scotland under-20s set-up.
As a result she joined Hillhead/Jordanhill in Glasgow to get some top level club experience under her belt and most Sundays she would travel from home to play matches.
She recounts: "It was a long drive, but I was determined to make it and now I am in a privileged position and I want to act as a role model to young girls."
Former Scotland centre Graeme Morrison, who now works for RBS, said: "These two players are perfect examples of people coming from their local club and making dreams come true and it is great to see."
Just like Bradbury and Konkel, RugbyForce inspires grassroots players – the next generation of superstars are just waiting to be discovered.
Royal Bank of Scotland has long been a supporter of rugby, backing more than 140 Scottish clubs through RugbyForce.
To find out more and for the chance to win great prizes*, visit Royalbankrugby.co.uk (*Ts&Cs apply.)