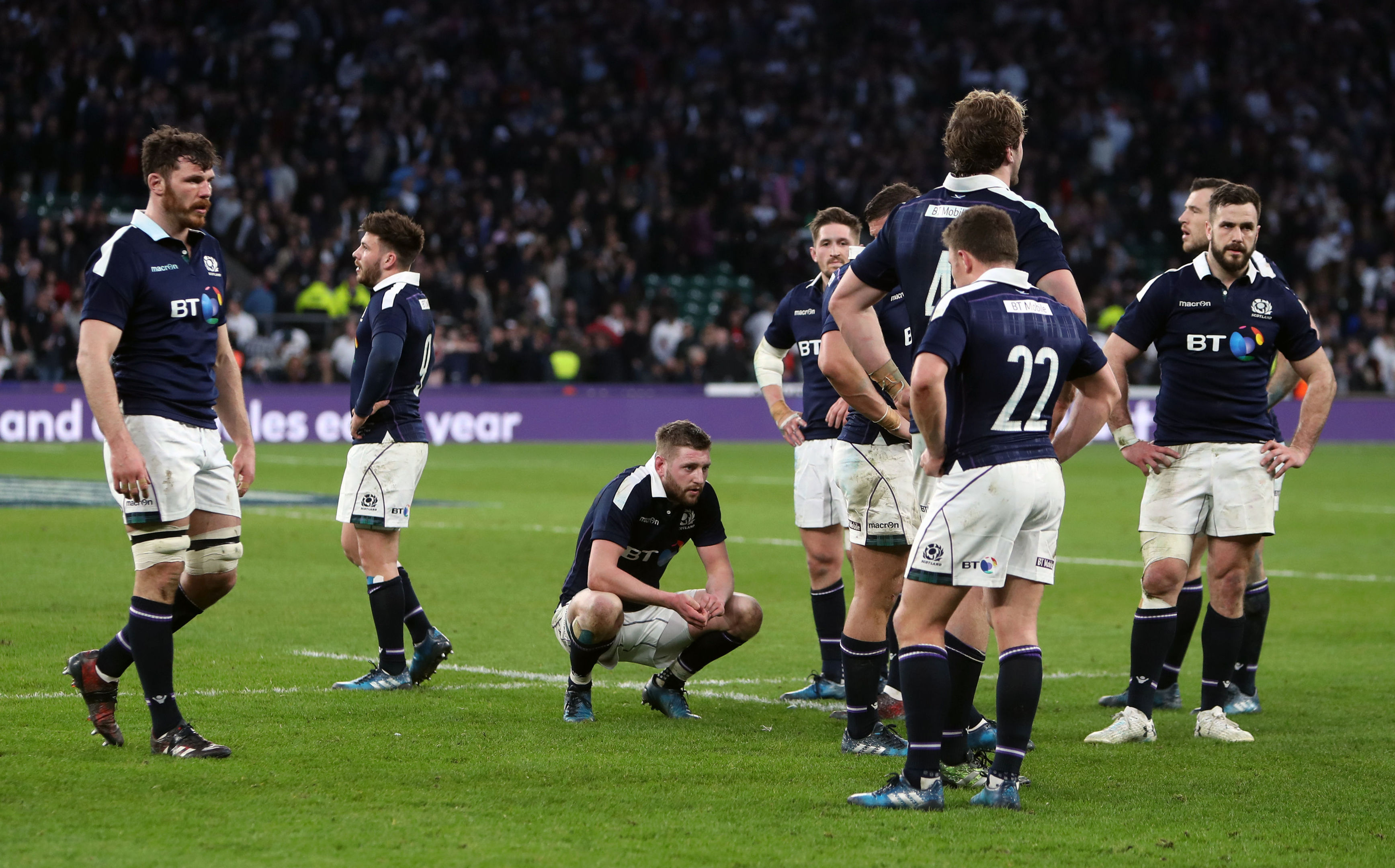 Days like Saturday's humiliating rout at Twickenham were supposed to be in Scotland's past.
I don't mean the run of defeats in South West London, which grows ever longer and ever more unlikely to be ended. The talk of winning at the weekend, silencing the constant braying of "Swing Low" and consigning the 1983 vintage to history was always pretty fanciful even before Jonathan Joseph started sliding through a hole in the Scottish defence as effortlessly as the kayakers on the Thames at Richmond.
No, we thought these disasters, where calamity falls upon calamity and Scottish fans wince at the field or plead with the game clock to go faster were behind us. Scotland may not win every game but at least they're competitive.
They were not even a shred of competitive on Saturday. For all the talk of coming to Twickenham with a purpose, with a sense of expectation rather than hope, the team utterly failed their biggest examination to date.
Captain John Barclay, chastened and making no excuses, said that the team did not allow the disastrous first 20 minutes to define the game. Well it did, unequivocally, and it has actually defined Scotland's entire Six Nations season.
Maybe those who compile the highlights packages will be able to paper over this one with shots of glory in the Ireland and Wales games, and maybe even some of a restorative win over Italy at BT Murrayfield next week (although I wouldn't be quite so confident about that).
But those scoreboards at either end of the vast Twickenham bowl reading `England 61 Scotland 21' will surely be the chief memory of the 2017 season. It was that cataclysmic.
It was notable – and a bit annoying to be honest – that Eddie Jones and the English players resisted the temptation to grind Scotland's nose in the dirt off the field after they had done it so clinically on the pitch.
Certainly the final passage of the game, England playing deep into the "red clock" of added time to score their seventh try and go over 60 points, was a fairly obvious statement.
But afterwards the English party was wholly gracious when they might have been forgiven for further gloating about Scotland's claims of finally being a threat on their precious home ground.
Furthermore they must have been tempted to note some of the Scotland camp's amusement at England's struggles with Italy two weeks earlier and point out how that had been turned utterly on its head.
The narrative was that England were so regimented that they couldn't cope with something they didn't expect. There's maybe an element of truth in that but on Saturday England's homework on Scotland was exemplary, and unlike against Italy, there was nothing this team in blue did to confuse them.
The English analysts had spotted a soft spot in the Scottish defence – "they defend hard inside, soft outside" said Jones – between Alex Dunbar, one of the best defenders in the team, and his midfield partner Huw Jones.
Fraser Brown had been sent for a ten minute break after only a minute for a brainless tip tackle that was only a yellow by virtue of Elliot Daly landing on his shoulder and back rather than his head, so the Scots were already disadvantaged by the time England first probed at this pressure point.
From clean lineout ball England ran a fairly basic move, a dummy run by Nathan Hughes taking out the covering Hamish Watson, good hands from George Ford and Owen Farrell allowing Joseph to get on the outside shoulder of Dunbar and his speed and footwork doing the rest.
Bad that it should happen once, but each of England's first three tries – Joseph scoring again and then feeding Anthony Watson for the third – came off the exact same move.
It was astonishing and downright alarming that the Scots couldn't adapt – a less obvious failing than England's confusion against Italy but more damning in the final analysis, as England had attacked Scotland in roughly the same way two years ago at the same venue, albeit with less devastating results.
Yes, Scotland suffered badly through unfortunate injuries, the shuffling of players about the park reminding one of another devastating defeat, in 2010 at Cardiff. But none of the injuries or even Brown's sin-binning directly affected the area England successfully exposed.
The inexperienced Jones was maybe England's target, but if he struggled in defence he bounced back to score two tries and that was reflective of the team.
They never gave up, some of the frantic defence in the last few minutes showing that there was plenty fight in them.
But once those three early tries were bagged England were assured and confident in their superior power and could play how they liked. Scotland's biggest hope was to frustrate them, and from the third minute that never looked like happening.
So how are the team lifted for Italy? It's been a devastating season for the Azzuri, but they always see the Scotland game as the one they feel they can win. Nothing they saw at Twickenham will have dissuaded them from that view.
There may be some clamour for wholesale change, but it should be resisted. This was a brutal reality check for Scotland, and one that will forever recalled as the mark of the 2017 season.
But it can and should be isolated; Scotland surely did not become hapless losers again in one appalling 80 minutes.
The trick is, once heads have cleared, to understand how they tactically mismanaged this game and make sure it never happens again.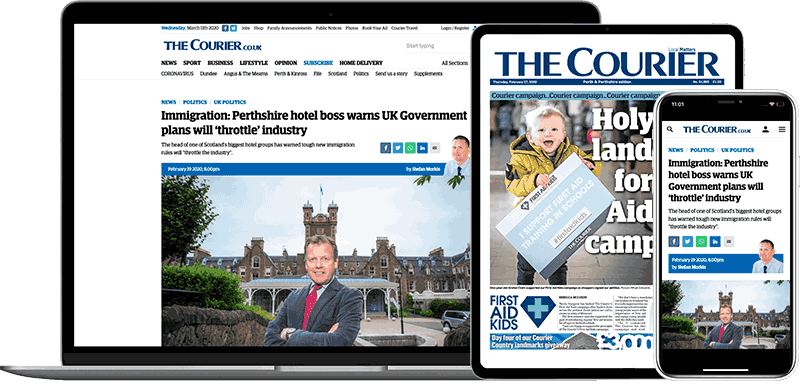 Help support quality local journalism … become a digital subscriber to The Courier
For as little as £5.99 a month you can access all of our content, including Premium articles.
Subscribe