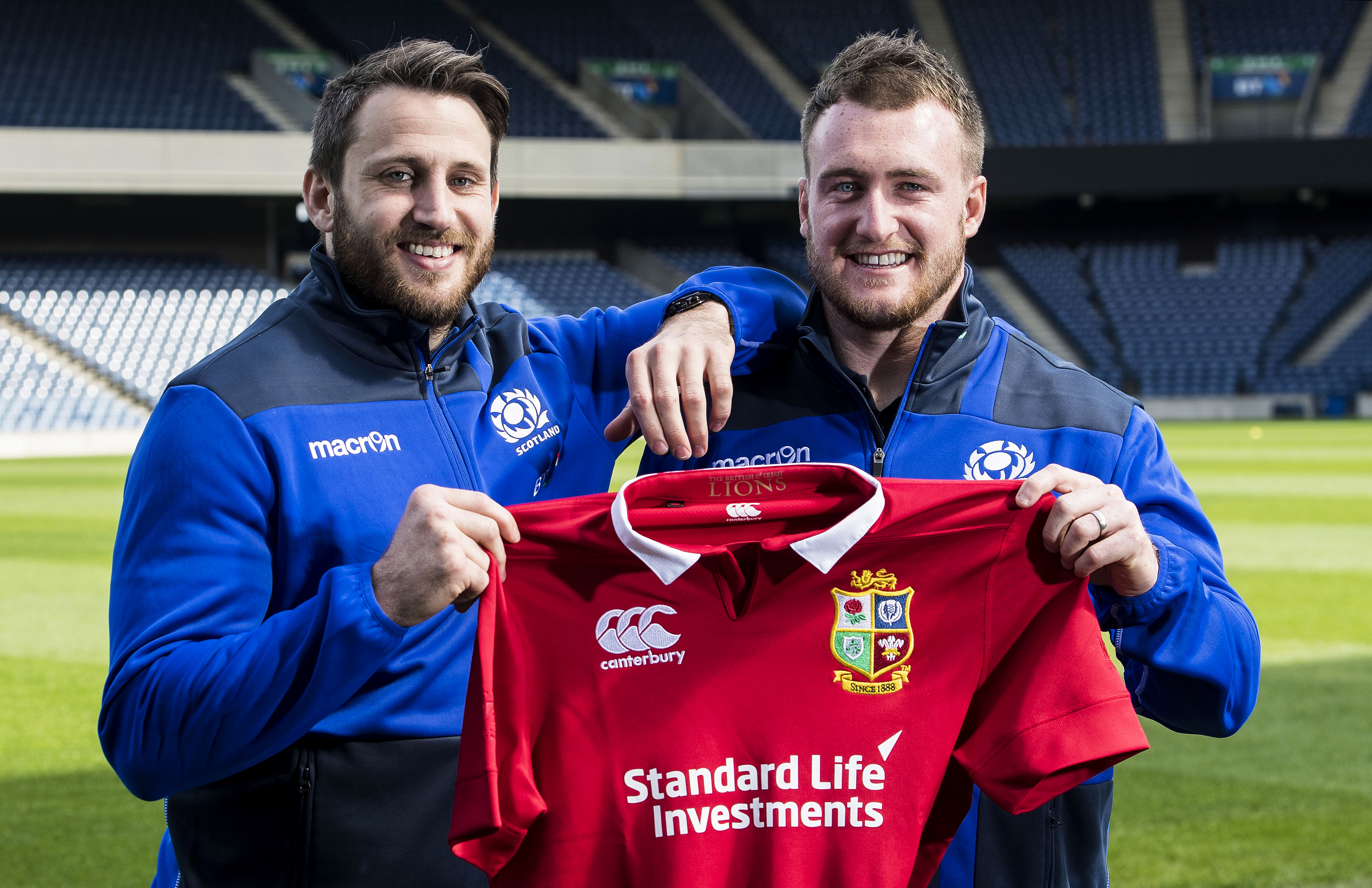 Stuart Hogg's aim on his second selection for the British and Irish Lions is to be the first Scot since 2001 to start a test match for the tourists when they take on New Zealand in Auckland on June 24.
The Glasgow and Scotland full-back and Warriors team-mate Tommy Seymour were the only two Scots to make the cut in the 41-strong squad named yesterday. 16 Englishmen will tour, 12 Welsh and 11 Irish, despite Scotland winning three games during this year's Six Nations and defeating both Wales and Ireland in their head-to-head meetings.
In the modern era it equals the lowest representation in an original squad, from 2009 when Euan Murray and Nathan Hines were the only players named, although prior to that tour party leaving Mike Blair and Ross Ford were called up because of injuries.
But Hogg was always a surefire certainty to tour and after serving his apprenticeship during the 2013 tour to Australia believes he is ready to claim a starting jersey.
"I'm chuffed to bits to be going to New Zealand, massively excited and honoured," he said. "These are the reasons why we play rugby, this is the ultimate challenge of taking on New Zealand in their own back yard. It's going to be incredibly tough but it's a challenge I'm hugely excited by.
"The hard work starts for us now. It's not just a case of being happy to be selected, it's now about working hard and aiming for a starting jersey."
Claiming the No 15 shirt worn by Scottish legends like Gavin Hastings was now his target.
"That's the clear goal now," he said. "I think I'm a better player since the last Lions tour.
"The biggest thing I learned from 2013 is the need to be professional 24/7. I certainly wasn't that going into the last tour but I believe I am now.
"I think I've matured over the last few years and he's hoping I can get a bit of game time."
He didn't ever believe he was a certain a selection as many suggested, he added.
"You never take anything for granted, whether that's at Glasgow, with Scotland or for the Lions. You take nothing for granted.
"It is a strong squad, with world-class players throughout. I'm hugely honoured to be part of it. I think with all the success England have had in recent years, it's right that they should have a lot of players there."
It is tempered with some disappointment that more of his colleagues won't be joining him.
"I would obviously have loved to have seen other boys going. But you've got to look the squad – and the pressure Warren Gatland has been under to pick it. I wouldn't like to do it, that's for sure.
"The fact that me and Tommy are going is down to our team-mates, whether that's at Glasgow or Scotland. The fact that the ball gets out wide makes us look good.
"I think there are a few boys who just missed out. Finn (Russell) along with a few others, are just unlucky to miss out. But there is still plenty of time, still plenty of games to be played, injuries happen so I think you could see a few more."
He's also proud of his friend and Warriors colleague in getting selection.
"I phoned him when the squad was announced and shouted at him down the phone "you absolute legend!"
"He's been fantastic tyhis last few years with Glasgow and Scotland and fully deserves selection. He's incredible in the air, great at the high ball both in attack and defence.
"I think that sets him apart from the other wingers. Also his finishing ability, he's got plenty tries over the last few years and fully deserves his call-up. Here's hoping that we can play together."
Hogg still has plenty rugby to play between now and the tour party leaving and intends to make the most of it.
"I think the focus changes tomorrow," he said. "When I go back into Glasgow training, we've got Leinster coming up and that's purely my focus just now.
"I will be trying to finish off the season with Glasgow as best as I can. As soon as that's done, the focus will be on the Lions.
"I will speak to the coaches, speak to the players and see what they're expecting from me. I will work incredibly hard to be the best I can."
Seymour said he was still having trouble traking it all in after hearing the announcement.
"I still can't quite believe it, it's a massive thing," he said. "I want to play in as many games as possible but I'll be targeting the games against New Zealand."