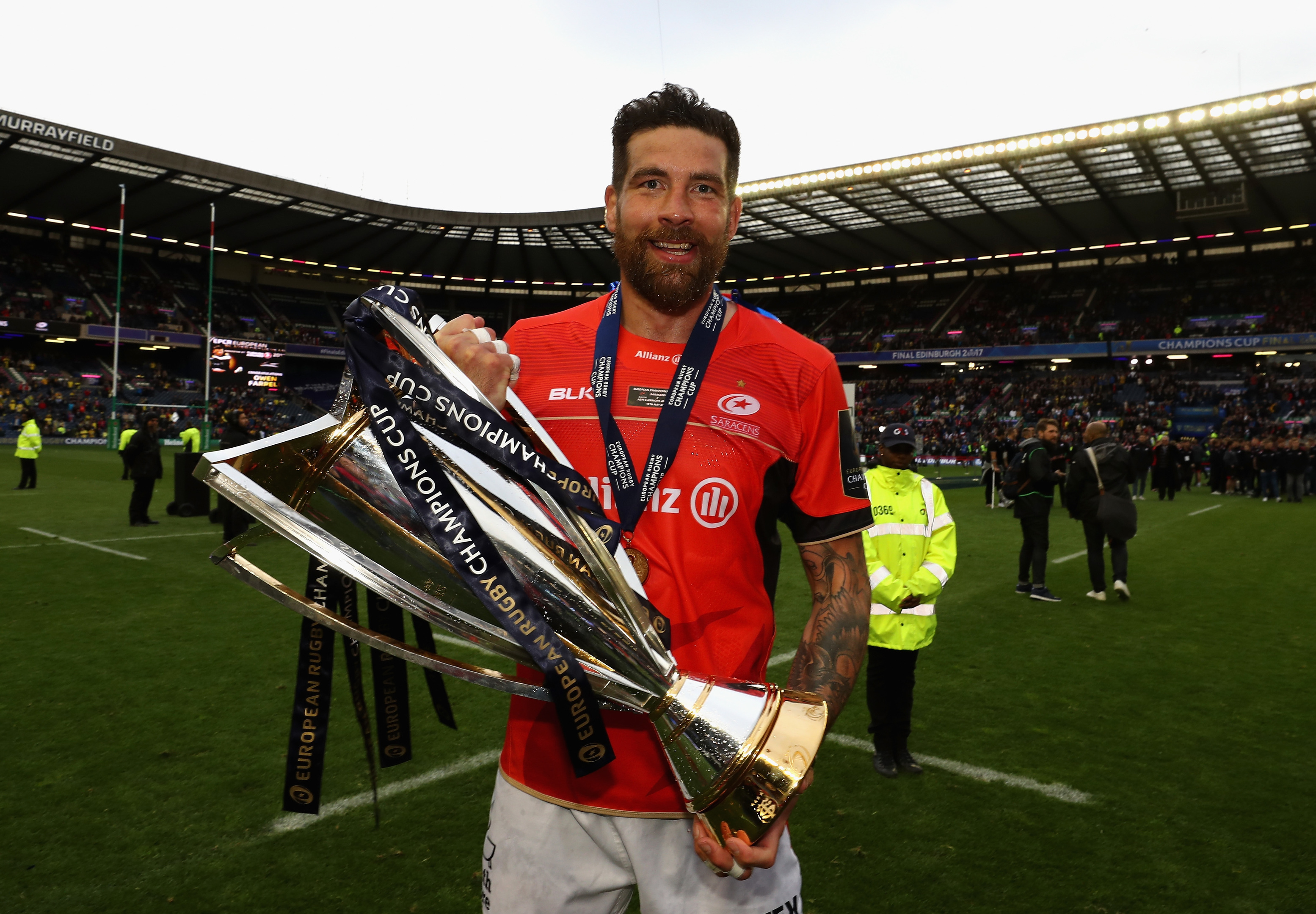 Jim Hamilton sat in the No 5 booth in the international dressing room at Murrayfield with the European Cup in hands and quite reasonably decided it wasn't getting any better than this.
The big veteran lock announced that this will be his last season after a brief cameo at the end of Saturday's European Champions Cup Final where his Saracens team once again unpicked a quality side with a performance of relentless efficiency, and he made the final decision in the dressing room booth he'd occupied for so many years for Scotland.
Not many of those 63 caps were good days in a rough era for the Scotland national team, he conceded, but "some were great, great days". Saturday's 28-17 win over Clermont-Auvergne in a rip-roaring final worthy of the occasion was another, and although Hamilton had an option to join London Irish next season, the 34-year-old decided now was the time to walk away.
"I feel the time is right to finish," he said with a second European Cup medal to go with the three Premiership winners' medals which makes him quite clearly the most decorated Scottish player of the pro era.
"It is not a rash decision to bow out after this win and we still have a couple of games left, but sitting the number five booth with the trophy just now having sat there for eight or nine years for Scotland, it seemed to be right to end it there."
Like his long-time Scotland team-mate Sean Lamont, Big Jim only felt the call of retirement as the end of this season approached.
"Yeah, in the last couple of months has taken its toll on my body," he said, after playing more often for Sarries than he might have expected due to George Kruis' long-term injury, a shift recognised by him being named the Saracens' supporters player of the year.
"I know what my place was on this team, Maro (Itoje) and George are going with the Lions and they are always going to be the starters. But I've played in every game this season bar one, so I know I deserved to be on the pitch at the end."
He is proud to have been part of this Saracens team, and no squad experience in his career comes close to these last two years with the club, he stressed.
"Even the world class players we have, a lot have come through the club academy; Jamie George, Owen Farrell, the Vunipolas, Maro and George Kruis, these guys have come through the system. For me at the end of my career it has been a pretty special place to be.
"It is about just the 23 guys today. Sean Maitland who was injured has been a big part of our success;  it is not a cliché but everyone, backroom staff  included, we are a big family. Having kids on the pitch at the end like today is not a one off. Every single week it happens, win, lose or draw."
And for a guy who by his own admission "is not the most talented or athletic player" he is more than chuffed with his career.
"I feel incredibly honoured to play this game," he said. "I have worked as hard as I possibly can and I have made the most of every opportunity presented to me so I am extremely proud.
"Playing for Scotland has been one of the best things that has ever happened to me," said the man who will always by the 1000th Scottish international, and one of his many tattoos is a permanent reminder of that number.
"We did not have many good days in my time but we had a few great days. To say I played for Scotland is probably my biggest achievement, that and having my children."
He's also pleased to go out at the same time as his friend Kelly Brown, who will also retire once Saracens have completed the Aviva Premiership play-offs.
"We have always been close but in the last two or three years we have become even closer," he said. "Our careers ended up very similarly.
"He got 64 caps, I got 63 which he still gives me stick for. But he has been a great friend and a good mentor. Someone I can go to when it has been tough, when it has been tough for Scotland.
"We've shared some incredible memories. Our kids are friends, our wives are friends. We will be friends until it all ends."