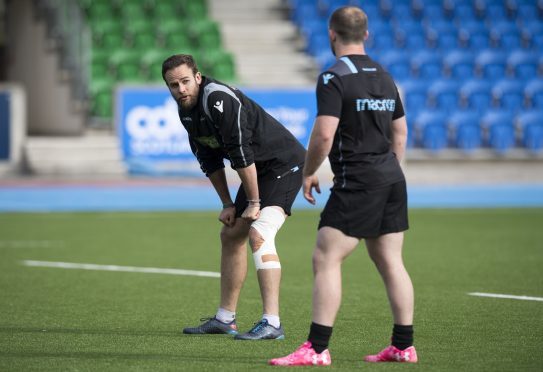 Ruaridh Jackson doesn't care that Stuart Hogg is coming up fast as he's sure he's made the right move in coming back to Glasgow Warriors.
In the absence of the Scotland and Lions full-back after shoulder surgery, Jackson returned to Scotstoun after three seasons in England and has been outstanding filling in the No 15 shirt as the warriors have won all of their first six games of the season.
Hogg was back in contact training this week ahead of the opening European Rugby Champions Cup match against Exeter Chiefs in Devon on Saturday, but it's expected that he'll be held back this week and on the bench against Leinster next week.
That may mean Jackson has to give way but he's more than happy with how the return has worked out so far.
"I have been enjoying it," he said. "I just love being out playing with the boys again.
"If it is playing full-back then I will be happy, and if I get a shot at ten I will be happy too. At this stage I wouldn't rule anything out but we have a lot of depth at ten. Hoggy has been injured, the door has been opened for me so I have just been making the most of it."
Injuries and rotation meant it's a while since Jackson had six games in a row, but Dave Rennie hs shown faith in making him an ever-present so far.
"I can't remember the last time I played six on the bounce but it has been nice putting a string of games together, that's for sure," he continued.
"It gives you confidence playing week in and week out. I am feeling good for it and the body is holding up so far. There are a few aches and pains but that comes with the territory. "
Not least the lungs, legs and everything else on the epic interception run in Bloemfontein last Friday, when Jackson set up Callum Gibbins' second score despite the altitude and him perhaps not being quite as rapid as he once was.
"I can't be that fast because I fell ten metres short," he joked. "Ten years ago I maybe would have made it.
"It was three guys chasing me `please give me a bit of support'. Thankfully Finn and Callum got there. The lungs were burning after that, I think it was a good two to three minutes later that I felt back in the game."
The atmospheric condition at Sandy Park won't offer the same physical issues but there's plenty of atmosphere at the West Country ground, as Jackson remembers from his Wasps and Harlequins days.
"It doesn't get much harder down at Sandy Park," he said. "They are coming off the back of the championship last year.
"They are a fit team, a physical team and have a really good squad that has a tightness about them.  They have won 11 games on the trot at home so it is going to be a really big challenge for us.
"I love playing there, it's a good track and the atmosphere is always good fun. The crowd really get into it, and even if it is against you that is good fun. Hopefully we can get down the right end and quieten their chants down a bit.
"We've both won championships since we were last down there, when we got the win home and away. Their team has actually not changed all that much since then, but they have a core squad that has developed and moved forward."
Jackson has gained confidence at 15 in the recent run, and it's flowing through the team, because they feel there is much more to come.
"The confidence levels are huge, even if we are still pretty critical of ourselves as we set high standards," he added.
"There have been a few games we have put ourselves under pressure when we did not need to. The fact that we won games not at our best and got some performances of high quality, shows if we get things right from minute one to eighty we will be in a really good position."
As for him, are there thoughts of rejoining Scotland in November?
"Hoggy's back by then so I'm not even thinking about Scotland," he said. "If I get that reward in November then that is great but if not I'm happy to keep playing here and enjoying my rugby."