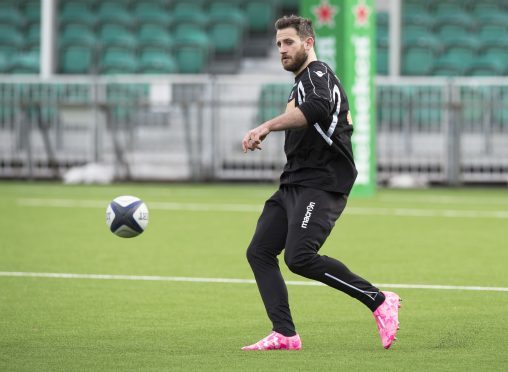 No matter how hard it seems that only the second game of Glasgow Warriors' European campaign is already a "must win", that's the nature of the beast that is the European Rugby Champions Cup, believes Tommy Seymour.
"I don't think that's unfair, I don't think that is too big a statement to be quite honest," said the Scotland and Lions wing of tomorro'ws big clash with Leinster. "It's fairly well documented by the media, players and coaches that home games are vitally important.
"We didn't manage to win in round one, and people talk about the group stages being as close to knock-out as you can get in a group scenario, that's the way it is.
"This game has real significance and we are not going to shy away from that. Its a close to a must win as you can get. We have an incredibly strong pool, that's pretty obvious, so you can't allow margins to get too big between teams and certainly we will be looking to carry on the home form from earlier in the year."
The other issue is that because Glasgow's is such a tough and tight pool, there's only likely to be one quarter-final qualifier, he added.
"I think every team starts with the idea that they want to win it, and the strength of our pool you could argue that maybe only one team is going to creep out of there," he continued.
"It doesn't change our mind set, we still want to win the pool and when it comes down to our pool you have to have that or it is going to be tricky."
The loss in Exeter, although sobering after their six straight wins to start the PRO14 season, doesn't have the Warriors questioning their ability, he added.
"Absolutely, the belief hasn't dropped off," he said. "We don't want to get too negative. We've won six out of seven, we won all our league games and Europe is incredibly different to the league.
"We didn't really click at the weekend and that isn't taking anything away from Exeter, but we left a few things out on the park, there are definitely things we can fix.
"We've got full belief that coming back to Scotstoun and getting on our home paddock in front of our fans, and while we have a lot of things to rectify, we can definitely go out there and get a win."
The visitors, although nursing a few injuries at present, are always able to put together a quality XV, he added.
"Leinster like to play with a lot of tempo in the game and you know it is going to be a real physical encounter," he continued. "You are going to have to go from the word go in terms of trying to nullify the vast amount of threats they have across the park.
"We've had a lot of different styles of games against them, we have had some close ones, some wins quite significantly for either side as well, I've no doubt this game is going to be a cracker as well."
Last time Leinster were at Scotstoun it was a red letter day for Seymour, with a four-try hall in the memorable comeback win. He's hoping to show them a clean pair of heels again this week – flaming pink ones, with him rocking boots for Breast Cancer Awareness this month.
"Peter Horne, Nick Grigg, Lee Jones and myself are wearing them and it's just a nice way of making a statement," he said. "I think you'll see quite a few players across Europe wearing them, it's exactly the same as the initiative they've had in the NFL in the US during October.
"To be honest, I like them enough that I'd wear them anyway!"