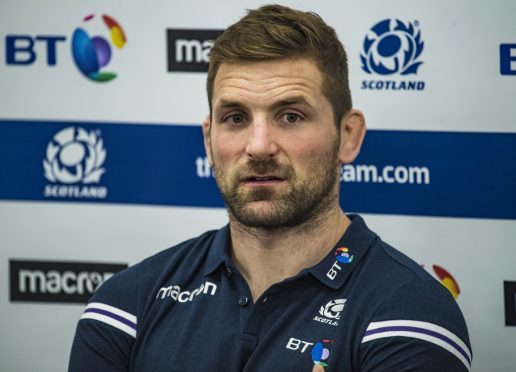 Scotland captain John Barclay says his case is exactly the reason why rugby's system with dealing for concussion is "flawed".
The 30-year-old, now recovered from a bout of concussion symptoms which saw him miss five weeks of action, will skipper his country again against Samoa at Murrayfield on Saturday but admitted the detailed tests he underwent were "scary".
Barclay was knocked out in his club Scarlets' game with Edinburgh in the Guinness PRO14 on September 23 – in an innocuous collision with Scotland squad colleague Magnus Bradbury –  and although he quickly cleared all the cognitive tests that would have allowed him to return to action, he still felt unwell.
"I've had head knocks before but I wouldn't say I'm prone to them," he said. "I've had my fair share as a professional rugby player but it was one of those ones that just dragged on a bit.
"In one respect it was one of those things you'll look back and probably think it was a good time to get a break, and my body will probably better for it. But the symptoms I had and the way concussions are it was hard to relax for all those weeks.
"I was irritable, had migraines. It was not even a case of sitting back, maybe doing weights or other stuff. It was a case of doing very little for six weeks."
Even in that case, he passed the basic tests which would have allowed him to play.
"I passed the cognitive function test, and technically I could have said I felt fine," he said. "That to me that is where the system is so flawed.
"If I had said I felt fine I could have played because I had passed all the tests but I still did not feel right, so right there is obviously where there is room for improvement in the assessment of players."
As an experienced player, Barclay knew he had to sit out, but he thinks younger, more impressionable players may not be as wise.
"I have played at bit of rugby, I have two kids and my wife is pregnant," he pointed out. "I am not going to risk long term ill health or do something stupid just so I was fit to play in a rugby match, whether it was playing for Scarlets or Scotland.
"That is just my approach but I know some of the other guys may not have done the same.
"It's still frustrating because there's no golden rule for it. It takes as long as it takes. I had some symptoms and had to just wait and bide my time for things to go away."
Suffering from migraines, irritability, light-headedness  and sensitivity to light, Barclay underwent a brain scan in Birmingham to get the all clear.
"I went for brain scans and stuff which sounds quite extreme and scary, but they found that everything's okay, which obviously puts your mind at rest," he continued.
"The stuff clubs do is great as a preliminary, but this was way more detailed and takes hours to do. The professor there admits what he's doing isn't perfect. He's trying to find stuff that's going to give them a better idea of how to treat these things.
"So he just said your cognitive function's good, your brain is actually okay, so you just need to start trying to get back into things."
Barclay – who said he hadn't heard anything about the rumoured move to bring him to Edinburgh at the end of his Scarlets contract at the end of this season – had 60 minutes at the weekend and is straight back into training with Scotland.
And he's been delighted to see one of his great friends Kelly Brown, who has joined the Scotland coaching team this autumn as contact specialist coach.
"We're just waiting for Johnnie Beattie to show up," he said, referring to the "Killer Bs" back row trio that played for Glasgow and Scotland at the start of this decade.
"Kelly's still one of my good friends. There are a handful of guys I keep in contact with regularly and he's one of those guys I would still phone to catch up and see how everyone is. It's great to catch up with him and see him more regularly."
He's looking forward to the next three weeks and would "love" to captain Scotland through to the World Cup if asked.
"It's going to be a tough few weeks, the ticket sales have been amazing; almost sold out for Samoa which I don't think has been done before. It's exciting and we've got a great group of players."