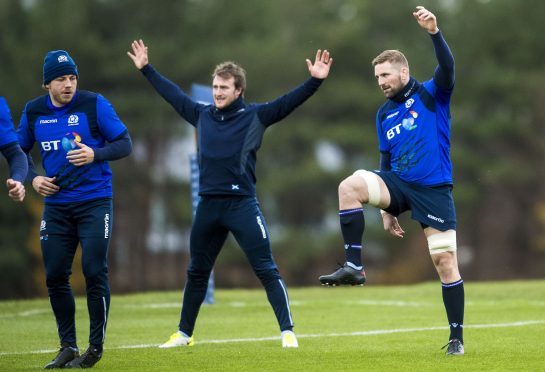 The idea that New Zealand are vulnerable because of occasional losses is "comical" according to John Barclay, but Scotland are not about to get caught up with the All Black aura.
The skipper hears nothing but All Black talk from all quarters as the world champions come to BT Murrayfield for the first time since 2014, not least about the fact that the Scots have never beaten them in more than a century of trying.
"That is quite normal to be honest, I suppose," he said. " They are one of the greatest teams in sport, never mind rugby. There is excitement in town for them being here, but wherever they go that excitement follows them.
"We try not to get caught up in all that, and try as much as we can to realise they have been beaten a couple of times this year, so it doesn't make sense to be in awe of them."
But vulnerable? No.
"I saw a few things written after the Lions Tour saying the All Blacks would be vulnerable on this tour, but that is a bit comical really when you look at their record," he continued.
"They are still really good. They have to have a strong mentality otherwise they would not produce these teams year in year out. They don't have an inherent right to do so but they still do.
"I am sure they are very confident."
For Barclay the visit of New Zealand brings his decade long international career full circle, as it was against them he made his international debut in the 2007 Rugby World Cup, in a "second string" team sent out by then coach Frank Hadden to save front line players for the crucial meeting with Italy in Saint-Etienne six days later.
That still stirs some controversy now, even if Hadden's plan worked as the Scots beat the Italians – who they'd lost to at Murrayfield earlier that year – to make the quarter-finals.
"It was my first cap, and I remember the speed of the game mostly," recalled Barclay. "It was their big pool game to prepare for the quarter final and they were hacked off we had put out a second string team.
"It was tough for me because before we kept getting asked about putting out a second string team. I loved the occasion, getting my first cap, the whole week was great. But as far as first caps go the result was not what i always dreamed of.
"They're still as good now, their record has not been matched. What they do is very good but we have looked at how to beat them, how other teams have done it.
"The Lions beat them with players from teams we have beaten this year having a big influence."
What's certain is that the Scots can't afford the kind of patchy performance they had against Samoa if they are to push New Zealand as close as they did in 2014, when they were within a point with seven minutes to go and Greig Laidlaw missed a key penalty.
"I am not going to say what we have planned but what I will say is that we have to play at a far higher level at the weekend and with much more accuracy," he said.
"We know we have to hold the ball a lot better. Defensively we can't sit back. We know we have to bring a lot more line-speed.
"But we also know they are far too skilful a team for us to sit in the blocks and try to contain them, that is not going to work. We have to come off the blocks fast, be physical, and those are the fundamentals.
"We need to take it to the next level. We talked about the Australia game in the summer and we have to be at that level, plus some more."