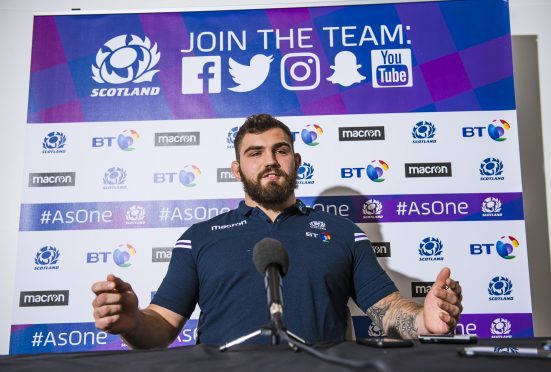 Jamie Bhatti could have still been in the slaughterhouse or in the police, but instead he seems likely to line up against Australia for Scotland for his first start in this weekend's third Autumn Test.
The 24-year-old has been a full-time player for only two years, and it's been a whirlwind last six months as he's graduated from Academy player to international before he can barely take it all in.
But it could all have been so different for the prop from the Hillfoots club in Clackmannanshire, had he not "froze" at his interview to get into the police.
"There was a time when i thought pro rugby had passed me by, I was looking at other careers," he said. "I was a slaughterman at the time and I'd have done anything to get out of there. I didn't want to do that all my days.
"So I applied for the police and I passed the fitness test, passed the written test and then came to the formal interview and made a complete mess of it; I just panicked and froze.
"It was maybe a godsend I didn't get it, because I would probably have stepped away from rugby. I'd have still played socially if I'd stayed in the abbatoir.
"Remembering being there makes you want it more. I'll work that bit harder so I don't have to go back and do the manual labour, get up at half five in the morning."
Instead, Bhatti excelled with Stirling and Melrose, got an Academy contract relatively late at 22, did that for just a year before getting a pro contract, and now after playing all but one game this season for Glasgow Warriors he's in the Scotland front row.
And with fellow newcomer Darryl Marfo nursing an ankle injury from Saturday's epic battle with New Zealand, Bhatti could be into the starting team for the Wallabies.
"I don't have time to reflect on it," he said. "Maybe once the Autumn tests are over. It's been a short space of time but I am just enjoying it, I look on it as every game is just another game of rugby and I'm learning something all the time."
Playing against New Zealand is not just another game of rugby though, and he might feel hard done by that a referee's too-quick whistle cost him a debut try.
"I haven't even scored for Glasgow yet so imagine, first try for Scotland," he pondered of the incident when Kieran Read's "slap" fell into his hands near the posts but ref Matt Carley blew for the penalty instead of allowing advantage.
"I have seen it back, I am not a ref but I would say it should be play on," he said. "I didn't see the slap but I reacted to it, picked the ball up and the sticks were there so that was it.
"But I heard the whistle, so there was never any celebration."
And the aim is to back up the New Zealand performance with a similar display against Australia.
"It will be a tough test against Australia this week and they had a bad loss against England, but they are a world class side so we have to be at our best to beat them," he added.