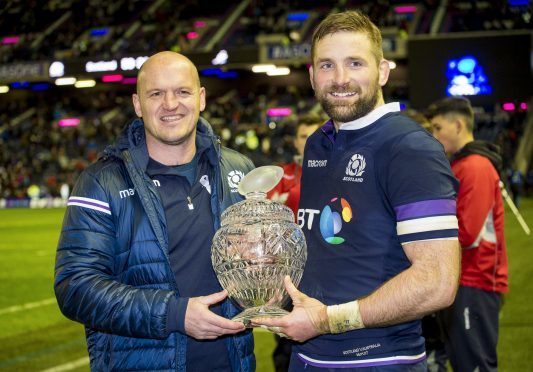 As an arch pessimist – unlike Scotland coach Gregor Townsend – I'm duty bound to find fault with Saturday's record 53-24 annihilation of the Wallabies in the final Autumn Test of 2017.
The result? Don't be silly. Scotland have never ruthlessly obliterated one of the Southern Hemisphere giants like this.
As Peter Horne said afterwards, the compelling instinct after the game was to get the All Blacks back and beat them this time, or the Springboks and get some proper revenge at last for the infamous 68-10 game in 1998.
The occasion? Not even a notch down from last week's against New Zealand.
Once the crowd had digested the dreadful news that Stuart Hogg had withdrawn at the 11th hour with a hip injury, and a couple of annoying early penalties, Murrayfield was immediately shaking to the rafters again. We've never seen the stadium like this since 1990.
Scotland's direction under Gregor Townsend? You must be joking. The team not only play ruthless rugby, it's fantastic to watch. Not since five tries in 15 minutes in Paris in 1999 have we had a spell like in the second half, where Scotland attacked from everywhere with all hands, and scored six tries almost at will.
I'm not even going to pinpoint Sepoke Kepu's mindless assault on Hamish Watson which left the Wallabies a man short for 42 minutes. Australia did lead 12-10 at the time but the feeling was that this was simply a temporary blip; clearly the better team were trailing.
Nobody was making any caveats when New Zealand were down to 14 men for 20 minutes last week, or indeed when the Wallabies successfully negotiated two yellow cards for the same period at Twickenham.
Even if the red card left a door ajar for Scotland, the way they kicked it down and poured through was illustrative of the way the team are now.
I suppose I'm not totally in love with the new All Blue kit. And of course, the pessimist can cling to the old chestnut – we've been here before, only to be disappointed.
Autumn Test Series have been decent in the past but have rarely translated to Six Nations campaigns. It's been a repeating narrative over two decades.
Townsend is so much a details man there's no question he'll have plans to address this. But anyway, while we've been here before, we haven't been here in quite this exalted state.
Take a look at the two teams who played Australia (and beat them) this year. There were only five survivors on Saturday from the starting team in Sydney in June – Finn Russell, Ali Price, Jonny Gray, Hamish Watson and captain John Barclay.
Two-thirds of the team changed. This has been the real story of this autumn, Scotland not only have found strength in depth but Townsend seems to have come upon a game plan with interchangeable parts that works no matter who is plugged in there.
The props Darryl Marfo and Jamie Bhatti are the obvious ones, but you'd have rightly laughed derisively at anyone who would have suggested in September that Scotland would finish off Australia with Bhatti, Phil Burleigh, Byron McGuigan and Ruaridh Jackson on the pitch.
It seems you can pluck a McGuigan off the bench 20 minutes before kick off or a Horne into midfield at 24 hours' notice and nothing seems to change.
Townsend made this a theme of his tenure at Glasgow – give a player a chance, and watch him take it.
"Darryl and Jamie had played at club level and we thought these are the two guys in form, they might not have the experience and both are uncapped, but let's see how they work in our environment," said the head coach.
"They grabbed their opportunities. That filtered right throughout the squad."
As for the new optimism and expectation, they'll embrace it.
"We should be optimistic but we have to realise there's a lot of things we can do better," continued Townsend. "We're not going to get carried away.
"Now the players have to take the onus, they have to show in the next two months that they're still in form and that they've become better players these last few weeks, while the players coming back from injury have to show what they can do to get back in the squad.
"There's a few players over this three weeks we've changed our perceptions of where they are in the pecking order."
Scotland have shown they can cope without Finn Russell, without Richie Gray, without WP Nel, without Alex Dunbar, without a whole bunch of top-order players and even, amazingly, without Stuart Hogg.
We'd rather not, obviously. Imagine this gameplan and a team at full strength (whatever that may be now) in Cardiff next February. That's enough to make any pessimist turn optimist.